Dry skin is a skincare concern that we all experience, but it can become harder to manage if you have mature skin. That's because the skin becomes thinner and prone to more laxity as we age, according to Dr. Marla Diakow of Schweiger Dermatology Group, which she says is the result of the natural decline in oil production and breakdown of collagen. She recommends using hydrating and nourishing products that "provide moisture retention and barrier renewal" to ensure that the skin stays moisturized and healthy.
This is especially true for the under-eyes, which are the most prone to dryness and loss of elasticity due to the thinness and sensitivity of the area. Dr. Diakow and other dermatologists agree that using an eye cream can help restore the delicate under-eye area's moisture and eventually strengthen, brighten, and lift the skin over time. Need help finding the best hydrating under-eye cream for mature skin? Biossance's new Squalane + Marine Algae Eye Cream is powered by natural humectants that work hard to prevent moisture loss and promote refreshed, youthful-looking under-eyes.
Biossance Squalane + Marine Algae Eye Cream ($54)
Shutterstock
Everything You Need To Know About The Best Under-Eye Cream For Mature Skin:
What It Does:
This hydrating eye cream is formulated with Biossance's Marine Algae Complex, which reduces the appearance of lines and wrinkles in as few as seven days. The Squalane + Marine Algae Eye Cream's melt-in texture delivers thorough hydration and a crease-free canvas for makeup, while the natural pink tone color corrects without using mica.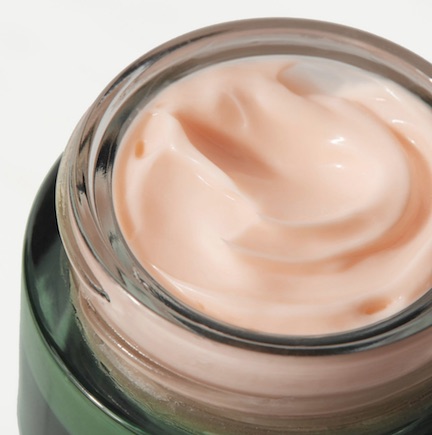 Important Eye Cream Ingredients At Work:
Highlighted Ingredients:
Paracress Extract: Paracress is one of the star ingredients in the eye cream and works to visibly lift, smooth, and firm the look of skin.
Marine Algae Complex: This ingredient helps deliver younger-looking under-eyes by reducing the appearance of fine lines and wrinkles. Algae has demonstrated anti-aging properties by inhibiting enzymes that break down collagen in the skin," Dr. Jennifer Vickers, a board-certified dermatologist with Sanova Dermatology, tells The Zoe Report. "Some algae can also reduce the break down of hyaluronic acid within the skin, thus improving hydration and suppleness."
Squalane: Biossance fans know that the brand loves squalane and always incorporate the antioxidant-rich ingredient in their products. "Think of antioxidants like vitamins for the complexion," Mollie Jensen, Biossance's Senior Sustainability & Compliance Manager, tells SheFinds. "If you replenish your skin with antioxidants every day, they nourish and help keep it healthy looking and glowing." Aside from being a powerful source of skin-healthy vitamins and minerals, squalane also helps lock in moisture and supports the skin's natural moisture barrier.
SheFinds receives commissions for purchases made through the links in this post.