Dryness and loss of firmness are just some of the many skincare concerns that come with turning 40, which is why it's important to update your skincare routine to ensure that the products you're using will help your skin adapt to its new rhythm. Dermatologist Dendy Engleman, M.D., credits these changes to perimenopause, which occurs in the years leading up to menopause when the body's estrogen levels begin to decrease. This then leads to thinner skin that becomes "dull-looking," she says. Thankfully, using hydrating and restorative products like anti-aging serums can help transform your complexion!
Need help finding the best serum for over 40 skin? Dr. Engleman and other dermatologists suggest opting for formulas that contain hyaluronic acid, which is renowned for its moisturizing and plumping effect on the skin. Neutrogena's Hydro Boost Hydrating Serum is an affordable hyaluronic acid serum to start with and it comes recommended by Dr. Joshua Zeichner, M.D., director of cosmetic and clinical research at Mount Sinai in New York City! "Jam-packed with hyaluronic acid, this serum helps hydrate and plump dry skin," he says, noting that hyaluronic acid also helps strengthen the skin barrier for a dewy, glowing complexion.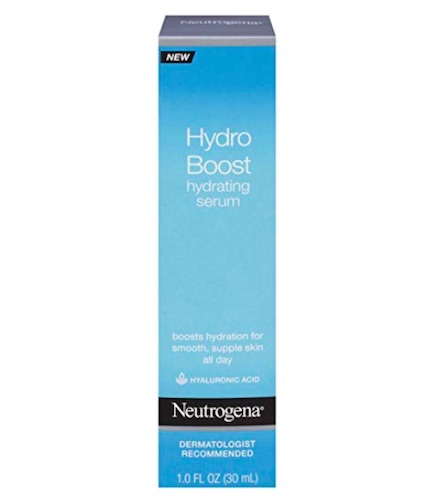 Shop The Best Serum For Over 40 Skin
TRY IT: Neutrogena Hydro Boost Hydrating Serum ($15.99)
Shutterstock
Key Hyaluronic Acid Serum Benefits For Aging Skin
-Delivers stronger hydration levels for dry, aging skin.
-Reduces the appearance of dry, fine lines.
-Helps skin stay smooth, supple, and radiant.
Promising Hydro Boost Hydrating Serum Reviews:
"First I want to say, I've had horribly dry flaky skin on my face for three years (since my daughter was born). I've wasted so much money on products that do nothing. I was surprised when I tried this and it worked. I originally only tried the water gel and wasn't satisfied. But after I bought all 4 products - toner, serum, eye cream, and water gel - and use them all together, my skin is in great shape. Very hydrated and soft. I'm extremely pleased, but I wanted to advise others to use as a set instead of just individual products and you'll have better results." - steve3
"I have tried many serums from drug store to high-end, and I have not found one that I liked...until now. I felt like serums that I tried did nothing to hydrate my skin, and I stopped using them. Since I really like Neutrogena's Hydro Boost cleanser and water gel, I decided to give this a try. OMG- it is awesome!! It goes on smoothly and feels like I'm adding a layer of water to my skin." - ARenee
"I have really dry skin and this works wonders when paired with the other Hydroboost moisturizer. I was scared it was going to be greasy but it wasn't greasy at all! It actually goes on really smooth and then dries very clean. I really like using it under my eyes too as it makes them soft and plump without feeling heavy." - Danielle J.
Shutterstock
Other Important Skincare Products For Over 40
A hyaluronic acid serum isn't the only product that will help you achieve younger-looking skin. Dermatologists say that those with over 40 skin need to follow a skincare routine that exfoliates, repairs, hydrates, and protects in order to create glowing, more youthful skin. Here are some of the skincare products that experts say every woman over 40 should be using:
A Gentle Exfoliant
"An exfoliating scrub should be an essential part of a patient's everyday skin-care routine," Dr. Greenberg explains to Reader's Digest, who is a cosmetic plastic surgery specialist with Greenberg Cosmetic Surgery in New York City. "By using a gentle exfoliator, patients can expect improvement in skin tone, texture, and clarity, ultimately providing for brighter-looking skin."
A Nourishing Moisturizer
Not only does using a moisturizer help keep the skin healthy and hydrated, but Dr. Whitney Bowe, Medical Director of Integrative Dermatology, Aesthetics & Wellness at Advanced Dermatology, P.C., says that it can also help reduce and prevent the signs of aging. "Dry skin results in more pronounced fine lines whereas hydrated skin appears plump and healthy," she explains.
A Restorative Eye Cream
The skin around the under-eyes is the most sensitive and prone to damage, which is why board-certified, Los Angeles-based dermatologist Annie Chiu recommends using an eye cream that contains anti-aging ingredients like vitamin C and retinol. "Regular use of eye cream over time will keep the eyelid skin elastic and can improve or prevent against some fine lines or collagen loss," she explains. "Over time it's about maintaining the health and thickness of the eyelid skin. Improving the skin quality in this area early on ensures that the eyelid skin does not easily lose laxity and its smooth appearance later on."
Sunscreen
"While there are many expensive skin care treatments on the market, nothing is better at preventing both skin cancer and premature skin aging than sunscreen," Dr. Zeichner says. "The best treatment for aging skin is preventing ultraviolet light damage to begin with. Skipping one day will not result in too much loss, but if you regularly take a pass, your skin will ultimately pay the price."
SheFinds receives commissions for purchases made through the links in this post.