As a natural dirty blonde, I've spent years trying to not only achieve that perfect bottled icy blonde, but to maintain it too. If you're a beauty aficionado like me and spend serious dough at a pricey salon to achieve that natural sun kissed "I just recently vacationed in Italy" hair color, it can be daunting to think of all the maintenance that comes along with it. Seasoned salon goers know the drill. Don't wash it everyday. Use a heat protectant. Get regular haircuts.
What you don't know is that one of the most vital products that will keep your hue fresh and lustrous is hiding in your shower. If you want to keep coloring your hair, the cardinal rule for upkeep is using a shampoo that is intended for dyed hair to keep your strands looking like the day you left the salon. When looking for the best shampoo for color treated hair, it can take years to figure out which works best. From eliminating brassiness to moisturizing your ends, these are hands down the top 5 best shampoos for colored hair that will continue to maximize your locks:
1. Kerastase Bain Chromatique Riche ($30)
2. Kristin Ess Purple Shampoo ($12)
3. Aveda Color Conserve Shampoo ($22)
4. Kiehl's Color Conserving Shampoo ($19)
5. R + Co Gemstone Shampoo ($24)
1. Kerastase Bain Chromatique Riche ($30)
What I thought:
I've used this shampoo for a week and already my hair feels silkier and softer. I've been a huge fan of Kerastase since I began taking my hair seriously back in 2013. This is one of the best moisturizing shampoos for color treated hair because it uses aqua-ionic technology to lock that moisture in and results in keeping your hair soft and smooth. If your hair is already far past damage, this gentle cleansing shampoo helps restore your hair so you don't have to stress about any harsh chemicals and can take the steps to restoring your hair's former glory.
What other shoppers thought:
"I have been using another product for color treated hair and it seemed to stop working. I recently tried this product and my hair is shiny and rich again. It detangles great too as I have very fine hair. Would highly recommend."
2. Kristin Ess Purple Shampoo ($12)
What I thought:
While you may love brass accents on the hardware in your home, brassy blonde is my personal nightmare. I was so excited to see that the hairstylist behind Pretty Little Liars actress Lucy Hale's gorgeous locks has an eponymous hair care line that launched at Target. Not only does every product I've tried smell heavenly, but also this shampoo is a lifesaver for blondes that want a sulfate-free toning shampoo that is also super budget friendly. This fights hard to eliminate brassiness and yellow tones which is a priority for anyone going to the light side.
What other shoppers thought:
"Took out all my brassiness in one wash and helped me love my hair again. I found it to be gentle and effective and left my hair clean and bright. I would say it is "strong" so definitely follow the instructions. Great product at great price."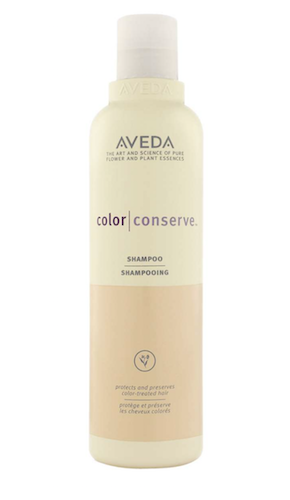 3. Aveda Color Conserve Shampoo ($22)
What I thought:
My hair salon is an Aveda salon so whenever I ask for product recommendations from my hairstylist, Aveda is the go-to choice. I love that Aveda is known for being one of the best salon shampoos in the hair care business and it smells great without being overpowering. This color friendly shampoo wins due to its ability to remove any product residue without stripping your gorgeous hair of its color. While the 100% organic fragrance is enough of a reason to buy this ASAP, it also helps make hair more manageable and protects against environmental stresses.
What other shoppers thought:
"I ordered aveda color conserve shampoo for the first time and i'm in love! I've always love aveda products and since i have colored my hair now, first thing comes to mind is no other than Aveda! My hair felt so smooth and smells great! My hair color looks more vibrant than ever! I recommend aveda 100% to my family and friends :)"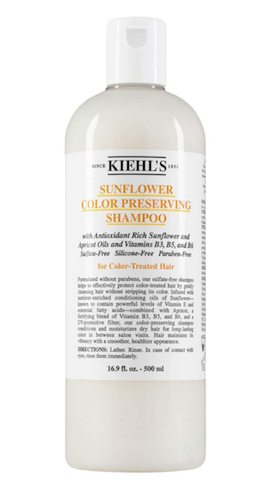 4. Kiehl's Sunflower Color Conserving Shampoo ($19)
What I thought:
I love the fact that Kiehl's is an all natural brand and I feel safe using it on my eyes, face and hair. It's a paraben-free, silicone-free and sulfate-free shampoo that really helped minimize the amount of hair I was shedding which was a surprising bonus I didn't expect. With all natural ingredients, this Kiehl's shampoo is necessary for anyone's hair that has become dry and brittle with continued coloring. Infused with conditioning oils of sunflower and apricot, you can lather this gentle shampoo on to give your hair a more vibrant and healthy appearance.
What other shoppers thought:
"All Kiehls products are amazing! I love that their natural and safe, I even use their baby shampoo on my son. This product does not disappoint. After getting a keratin treatment I needed a sulfite free shampoo (had been using the amino acid line) and this works wonderfully."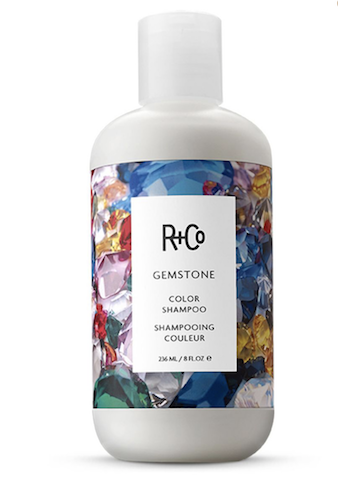 5. R+Co Gemstone Shampoo ($24)
What I thought:
I've always been obsessed with R+Co's products which I originally stumbled upon because I loved the packaging. However, they continue to impress me with the quality and results I get from using their products. R+Co's Gemstone shampoo is exactly what it says it is, a gem. It helps prolong your hair color which allows for a few extra weeks in between salon visits. Even better? It doesn't discriminate against any color processed hair so blondes, brunettes and redheads can all safely lather, rinse and repeat.
What other shoppers thought:
"OK I am a bit of a shampoo flirt, but I think I have found my forever (at least for now) shampoo! This shampoo gives my highlighted short bob (which I shampoo and blow dry pretty much everyday) hair shine and manageability and somehow doesn't fade my color. I also use the gemstone conditioner as well."
More on SheFinds:
-These Are The Top 5 Hydrating Face Masks To Give You Baby Soft Skin
-These Are The Best Natural Serums You Should Be Using, According To A Facialist
-These Comfortable Work Heels Are SO Good They Might As Well Be Flats
SheFinds receives commissions for purchases made through the links in this post.