So, you're the kind of Halloween reveler who prefers to stay on top of trends rather than follow the pack and copy the latest style? Well, have we got the perfect Halloween costume for you — especially if you're a fan of Marvel comics.
Meet Captain Marvel.
Stand Out With This DIY Captain Marvel Halloween Costume
As two alien races rage on, as seen in Avengers: Infinity War, and minutes before Nick Fury and Agent Maria Hill are turned into dust, Fury calls for help by sending a symbol on his pager. The symbol is a mysterious one — a gold eight-pointed star on a gold stripe, separating a blue and red background. If you're a devoted Marvel comics reader you may have already known who was being called to the rescue — and if you aren't familiar with the symbol, we have the answer and a great idea for your next Halloween costume: Captain Marvel.
Captain Marvel will be played by actress Brie Larson in the film version, which will be released in March 2019 (we told you it's the perfect costume for anyone who is ahead of her time). In the comics, her character is named Carol Danvers and she is an Air Force pilot who was given a portion of the powers possessed by the original Captain Marvel, who died of cancer (the story is a bit complex than that and Marvel is being coy with regards to how Jude Law, who is expected to play the original "Mar-Vell" character and Larson will interact in the upcoming movie, but that's the gist of it).
Captain Marvel could be as huge as DC Comics' Wonder Woman. And she certainly has the look and the costume to compete with other heavy hitters.
Which brings us back to this easy DIY Captain Marvel Halloween costume that you can create using affordable separates you'll find on Amazon. If partygoers ask you who you are, remember to tell them you're only the most powerful hero in the Marvel lineup and one about to save the universe.
How To DIY A Captain Marvel Halloween Costume With Only 5 Items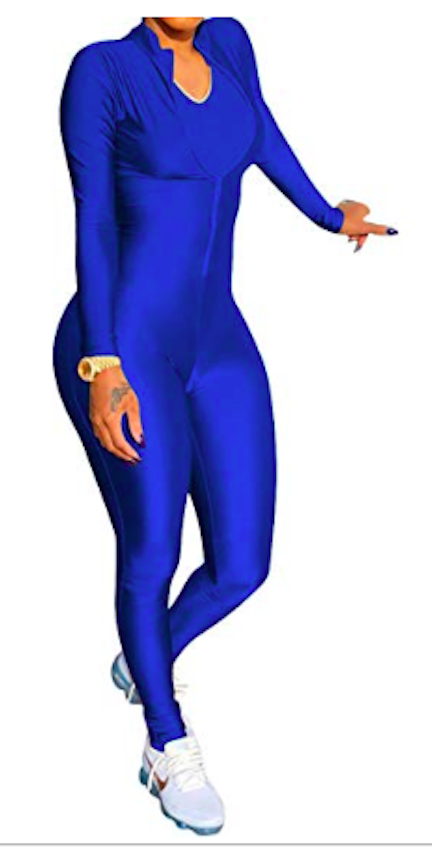 1. A Blue Jumpsuit
Jokhoo Bodycon Jumpsuit ($19)
Many superhero costumes start with this one simple piece — a blue long-sleeve jumpsuit that's stretchy enough for you to wear while kicking butt all over the universe. This romper-style suit comes in sizes small to extra large and serves as the base piece upon which you'll build your DIY Captain Marvel Halloween costume. And it costs less than $20, which makes it a score.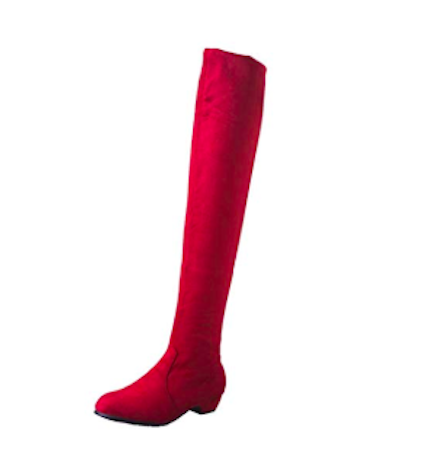 2. Red Boots
Ninasill Boots ($12)
For the most part, Captain Marvel dresses in patriotic shades of red and blue with gold accents. Like many other superheroes, her choice of footwear is a classic red boot with a flat bottom. But, let's face it, boots are expensive. This pair of long red boots is an exception, and though there's no guarantee they'll hold up throughout a cold, snowy winter (but, hey, anything's possible), they will add the flair you need for this costume without breaking the bank.
3. Superhero Red Gloves
Largemouth Superhero Costume Gloves ($15)
Be careful when shopping for superhero red gloves for Captain Marvel. All too many pairs of red gloves are elegant, long, and resemble something you'd wear to the opera. These tough PVC red gloves are exactly what is needed — they'll help your Captain Marvel character kick butt.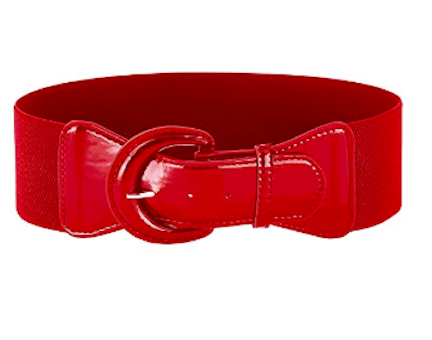 4. A Wide Red Belt
Grace Karin Cinch Belt ($4-11)
So, technically, Captain Marvel is wearing a red holster where she keeps her weapons. But if you're trying to save money this Halloween, a wide red belt like this one, which resembles a holster, is cheaper than an actual costume holster.
5. An Eight-Point Star
My Simple Products Eight Point Star ($6)
The eight-pointed star appears in a slew of spiritual traditions in both Muslim and Chinese texts. It's meant to symbolize all of life, from birth to death, and is Captain Marvel's most identifiable emblem — and one she always wears.
For this reason, your DIY Captain Marvel Halloween costume will require one small, actual DIY skill: sewing this eight-point star onto the center top of your blue jumpsuit. We promise it's an easy procedure (and if you don't own a sewing kit, your local tailor will likely be able to do this for a few dollars).
SheFinds receives commissions for purchases made through the links in this post.