If you haven't seen the music video "Apeshit" by The Carters (a.k.a. the one and only Beyoncé and Jay-Z) you're missing out on a work of art. This stunning vid featuring the couple was actually filmed inside of Paris' famous Louvre museum — imagine for a minute how big a queen and king you'd have to be to convince the Louvre to let you pose and dance in front of the Mona Lisa and The Coronation of Napoleon. And of course, their fashion choices are on point yet again, which explains why everyone is going to try to recreate their iconic looks to create a DIY Beyoncé and Jay-Z "Apeshit" Music Video Halloween Costume this year.
The Outfits You Should Copy When Making A DIY Beyoncé and Jay-Z Apeshit Music Video Halloween Costume
Bey and Jay aren't just visitors at the museum — they transform into living breathing works of art as the video progresses. Their clothing, which includes Baroque prints, dramatic capes, and major jewelry, is pulled straight from top designers, with everyone from Balmain to John Galliano represented. But the most memorable looks had to be the gorgeous pink and mint green pantsuits the couple wore at the beginning of the video, which is what we think everyone will be copying when making their own Beyoncé and Jay-Z "Apeshit" Halloween Costume.
Where To Find The Pink & Green Pantsuits For Your DIY Beyoncé And Jay-Z Apeshit Halloween Costume
Need help finding the stylish pieces needed to pull off the Carters' iconic outfits? We're here to help and eliminate any stress so you can have the best costume this year. Sure, Beyoncé and Jay-Z have expensive taste when shopping for their vibrant pantsuits and accessories, but we found some affordable dupes on Amazon that are almost identical to the clothes they wore in the video.
It isn't easy to choose just one look from the "Apeshit" video to recreate this Halloween. But the one that stands out as beyond memorable is the pastel power suits and dramatic accessories worn by Bey and Jay-Z in the opening shot.
Here's Everything You Need To Create A DIY Beyoncé And Jay-Z Apeshit Costume: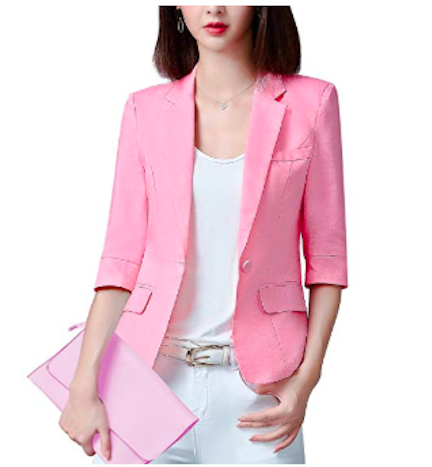 1. A Pink Blazer For Beyoncé
ShyVelvet Short-Sleeve Blazer Jacket ($29)

In the 'Apeshit' music video, Beyoncé's stunning pastel pink smoking jacket and suit pants were designed by Peter Pilotto and are naturally beyond gorgeous and perfect.
When recreating this look for a lot less money, the goal isn't to replicate it exactly, but to style pieces in a way that calls the original look to mind. This pink blazer will work and will be even more spot-on if you feel comfortable wearing it without another layer underneath it.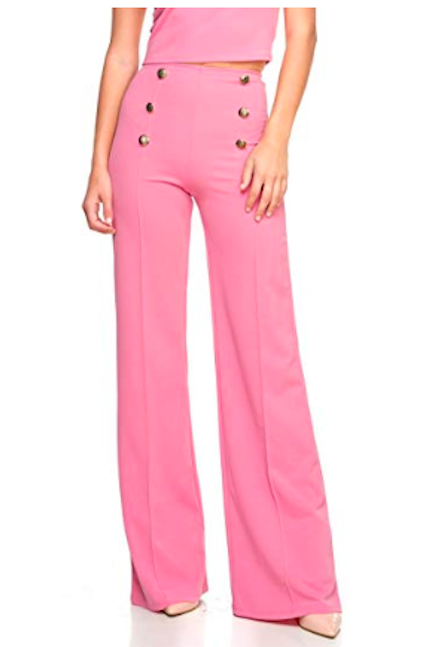 2. Matching Pink Flared Pants
Cemi Ceri J2 Love Sailor Flare Pants ($12-25)

These high-waisted sailor bell-bottom pants in pink are sharp enough to pass for suit pants when you wear them under your pink blazer. And they get bonus points for their elastic waistband and 5 percent spandex construction, making them a comfy piece to wear all night.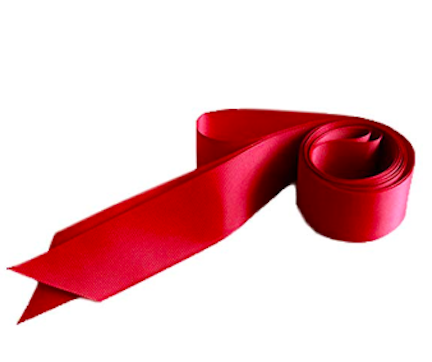 3. A Bright Red Ribbon For Bey's Belt
Yucou Simple Belts Classic Sash ($7)
The bright red sash that Beyoncé wears as a belt breaks up all of that pink and makes her suit look even more fierce. You don't have to spend more money on an actual belt to get this look; a simple red ribbon tied several times around your waist and a pink blazer will do just fine.
4. A Huge Statement Necklace
Holylove Costume Statement Necklace ($16)

The word "statement necklace" doesn't even begin to describe the Messika diamond jewels worn by Beyoncé in the "Apeshit" video. In the opening scene, the singer is draped in pear-shaped diamonds that dangle from both her neck and ears.

This major costume jewelry necklace shares a similar shape to Beyoncé's necklace and has exaggerated gemstones that aren't quite diamonds but will get the point across--the point being that you're a queen!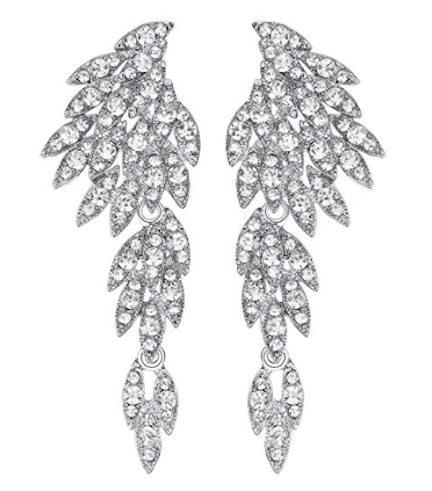 5. Statement Faux Diamond Chandelier Earrings
Mecresh Crystal Wing Dangling Earrings ($12)
Don't forget to finish accessorizing with a major pair of faux diamond chandelier earrings.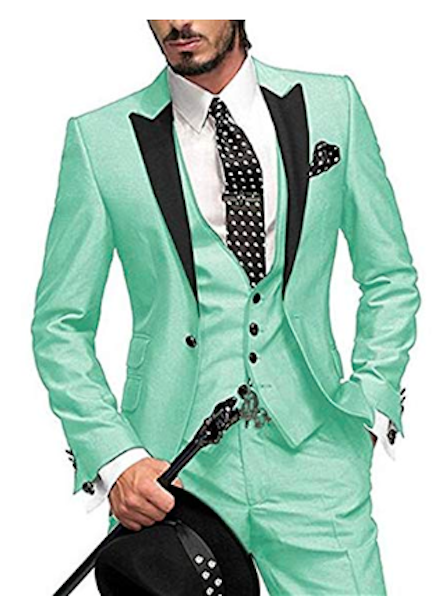 1. A Mint Suit For Jay-Z
Lovetoo Slim Fit 3-Piece Suit ($70)

This mint suit is the one and only costume piece, which isn't actually a costume, that you'll need to alert everyone to the fact that Jay-Z is in the building. It's made from polyester, rayon, and spandex, and is a single-breasted style, so it's not identical to Jay-Z's double-breasted version, but close enough to the original! It's best worn without a shirt underneath, but you can get away with pairing the vest with it if you don't feel comfortable shirtless.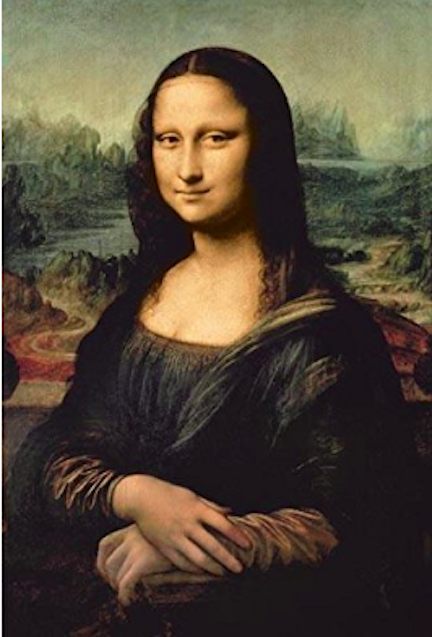 Optional: A Mona Lisa Poster
Pyramid America Mona Lisa Poster ($7)

There's no need to frame this poster of the Mona Lisa (unless you're feeling inspired). Just taking turns holding it, or walking around at your party holding it together, will make everyone think of the "Apeshit" video. There's no better accessory to complete your Beyoncé and Jay-Z Apeshit Music Video Halloween costume!
SheFinds receives commissions for purchases made through the links in this post.