If you are a fan of the original Mamma Mia! film or its hilarious and fun sequel, Mamma Mia! Here We Go Again, or if you just really love '70s fashion and a good ABBA song or two, we've got just the thing for you–our ultimate guide to making the best DIY Donna and the Dynamos Halloween Costume!
How To Make A DIY Donna And The Dynamos Mama Mia Halloween Costume
The Mamma Mia! franchise takes place on a gorgeous Greek island and focuses on Sophie, played by Amanda Seyfried. Sophie is about to get married and is on a quest to find out the identity of her real father after learning that her mom Donna Sheridan (played by the one and only Meryl Streep) actually had three hot and heavy love affairs in the same summer her daughter was conceived. The audience gets plenty of flashbacks and real-time glimpses at how Donna has enjoyed a pretty wild, amazing life — which includes a long-time stint as the singer in Donna and the Dynamos, a band she formed with her two best friends when the trio was still young.
Donna and the Dynamos had their most epic performances in the 1970s, so it's no surprise to find that their stage style inspiration is all about bell bottoms and groovy chic pieces. And that's what makes this DIY Donna and the Dynamos Halloween group costume so much fun. Here's everything you and your two best buds will need to recreate this look for Halloween:
What You Need For A Donna And The Dynamos Mama Mia Halloween Costume
Hoohu Bell Bottom Flare Pants ($19.99)
Bell Bottom Flare Pants

The major benefit of grabbing a few friends and dressing as the members of Donna and the Dynamos is that your costumes will be super similar in style – so you don't have scramble to find a number of different pieces.

The bell-bottom flare silhouette of these shiny metallic blue pants is in line with a more modern-day Donna and the Dynamos vibe. They come in a wide range of sizes, from medium to XX-large, and are made from 60 percent breathable cotton and stretchy polyester, so you can expect them to be comfortable to wear all night long.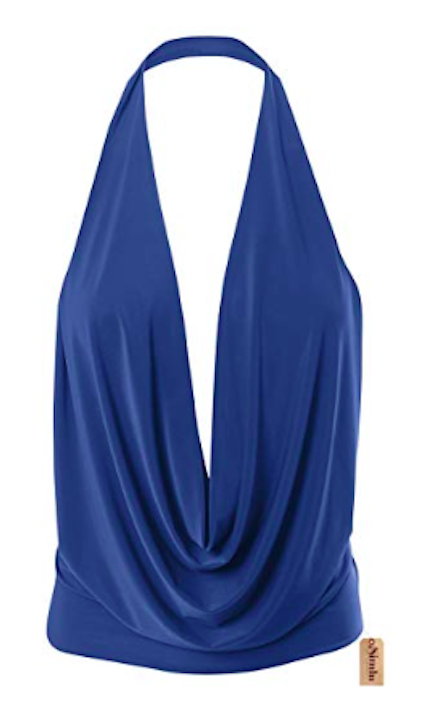 Simlu Low Cut Halter Top With Stretch ($15.59)
A Deep V-Neck Blouse
Snag this deep V-neck halter blouse in blue to wear with your metallic blue bell-bottom flare pants. The retro style is perfectly '70s and hip. It comes in sizes small to XX-large and is completely backless. Iit also comes in a range of colors, just in case you want to stock up for after Halloween!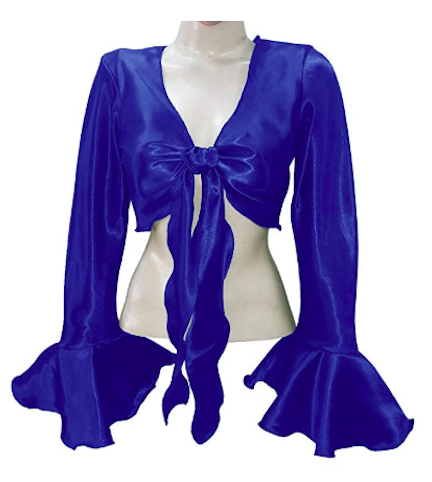 Indian Trendy Satin Ruffle Sleeve Tie Top ($18.99)
A Ruffle Sleeve Tie Top To Help Distinguish Donna From The Group
Donna Sheridan is the queen of flamenco sleeve tops (and pants) and ruffles galore. One option that will set your Donna apart from her friends and co-singers Tanya and Rosie is to pair her bell-bottom flare pants with this satin ruffle sleeve top, which has plenty of '70s flair and is perfect for a bold lead singer.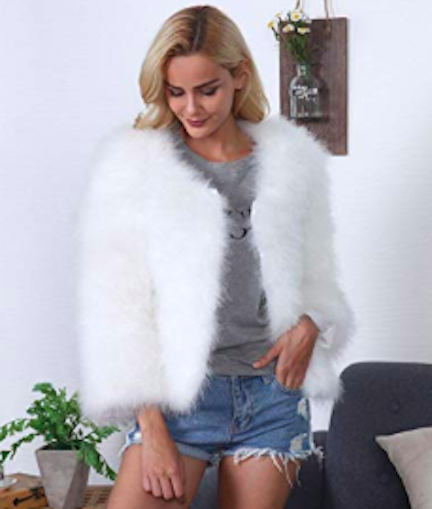 Qingfan Ostrich Feather Parka Jacket ($20.98)
A White Feather Jacket For Donna

In one scene, Donna rocks a sizable white feather jacket that makes it clear to everyone in the audience that she's in charge--even though they're all good friends and their band is clearly a democratic effort. This cute ostrich feather jacket comes in sizes X-small to XX-large and is fuzzy and super chic. Bonus points: It's warm to wear on Halloween night!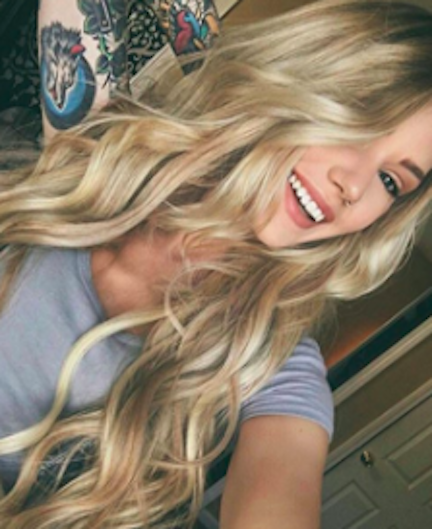 Zenith Synthetic Wavy Wig ($38.99)

A Long, Wavy Blonde Wig

Donna's hair is the stuff of legends. Whether we're seeing her in flashbacks (in which her character is played by Lily James) or as a modern-day Greek goddess with hair texturized by the sea, a wavy blonde wig in the mid-blonde shade range is a necessity if you're going as Donna Sheridan this Halloween.
Beistle Glittered Microphone ($4.47)
A Glittery Microphone

The only accessory you need to complete your Mamma Mia! Donna and the Dynamos group Halloween costume is a trio of glittery microphones that look as if they were pulled straight from the Me Decade. This novelty silver and black microphone is fun and won't break the bank.

And if you're feeling truly inspired, create an ABBA playlist on your phone and arrange to have it play (loudly!) every time you and your Donna and the Dynamos group members enter a room.
SheFinds receives commissions for purchases made through the links in this post.