Kylie Jenner and her mini-me daughter Stormi are as adorable as adorable can get. Since giving birth to Stormi in February, the 20-year-old CEO of Kylie Cosmetics and reality TV star has stepped effortlessly into her new role as mom to her little one, making this adorable mother-daughter duo the perfect inspiration for your Halloween costume this year. Need help picking which adorable moment to choose for your DIY Kylie Jenner and Stormi Halloween Costume? We found the perfect one that is super easy and super adorable.
Choosing Your DIY Kylie Jenner And Stormi Halloween Costume
Loyal Kardashian-Jenner fans know that has Kylie become a lot more selective when it comes to posting photos of Stormi on her social media but has still blessed our timelines with a handful of precious moments. When it comes to creating your Kylie Jenner and Stormi Halloween Costume, we think that you should go with the first picture Kylie shared of her new baby. It dates back 5 months ago and features a camouflage-clad Kylie holding Stormi, who is wearing the cutest onesies we've ever seen!
Where To Buy Pieces For A DIY Kylie Jenner And Stormi Halloween Costume
We pulled clothing and accessories from Amazon that will help you create a DIY Kylie and Stormi Halloween costume using pieces you'll actually be able to wear long after Halloween is over. If you don't have a baby–or can't offer to babysit your BFF's little one–no worries! A cute baby doll will do the trick!
Unlike Kylie's camo jumpsuit, your DIY Kylie Jenner Halloween Costume won't break the bank. We did the shopping for you and found a KarJenner-approved camouflage hoodie and sweatpants set that will have everyone thinking you're Kylie Jenner.
Everything You Need To Make The Best DIY Kylie Jenner And Stormi Halloween Costume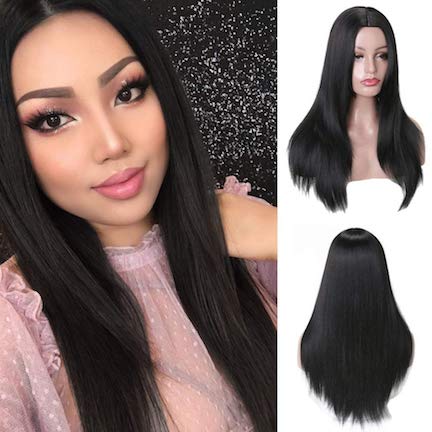 Miss Wig Natural Long Black Wig ($17)

A Long, Black Wig

Kylie is as famous for her changing hairstyles as she is her liquid lipstick shades — and becoming a mother has not affected her ability to continually shock us with new, bold looks. She has tried every style from platinum blonde and lovely violet locks to a short black bob.
The hair she settled on when caring for Stormi during those first few months was super long, super sleek natural black hair without bangs. This wig, with its middle part and incredible shine, is the perfect piece you need to kickstart your DIY Kylie Jenner and Stormi Halloween costume.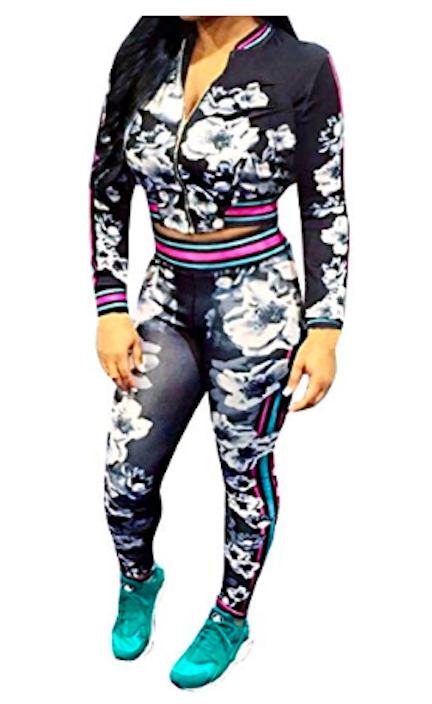 Chellysun Casual Floral Printed 2-Piece Tracksuit ($25)

A Floral Two-Piece Tracksuit

Kylie does tracksuits unlike any other celebrity and always manages to make them look cool and fashion forward. Her matching two-piece tracksuit is perfect for the early days of parenthood that are spent feeding and bonding with baby. Coincidentally, a warm tracksuit with a zippered top is going to keep you snug on a cold Halloween night.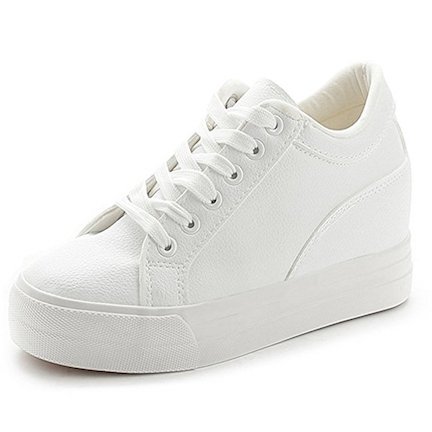 Buganda Women's Fashion Leather Sneakers ($26)

Bulky White Sneakers

Kylie has been flipping over bulky white sneakers lately, which is good news for you because it means your feet will stay comfortable the entire night. These platform white sneakers won't break the bank, have an anti-skid rubber sole, and are cute enough to possibly earn a place in your regular wardrobe once Halloween season is over.
Hamaka Full False Nail Fashion Design Tips ($4)
Long Orange Nails

The best costumes are all about nailing (get it?) the smallest details. Get Queen Kylie nails without clocking in major time in your manicurist's chair. These salon-grade fake nails are super fancy and long enough to make Kylie proud. But they're also simple to take off when you just want your natural nails back. And you really can't beat the price: you get 500 pieces in total — for less than $5.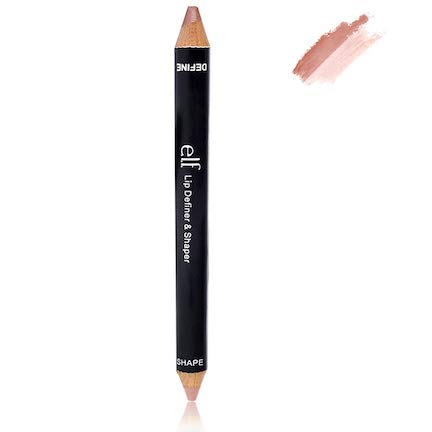 e.l.f. Studio Lip Definer & Shaper ($4)
A Nude Lip Liner
You don't have to drop serious money on one of Kylie's gorgeous Kylie Cosmetics Lip Kits. But every DIY Kylie Jenner Halloween costume requires an application of nude lip liner, drawn slightly beyond your natural lip line, to make your pout appear super full.

This is a dual-sided lip liner with one side that defines lips to create the perfect shape and another side to highlight lips and make them pop. For the ultimate trademark Kylie smile, be sure to top it off with a slightly darker shade of matte lip color.
LOTUCY Onesies Jumpsuit ($15-21)

A Bear Fleece Romper

There are few things on the planet that are cuter than Little Stormi wearing her warm, snuggle bear suit outerwear--even if we can't get a glimpse of her face, we get the feeling she's one content little bear. Whether you have a baby who will playing dress-up with you or you plan on outfitting a doll for the day, this bear fleece hooded romper is the ideal piece you need to complete your costume.
SheFinds receives commissions for purchases made through the links in this post.