Skincare fads come and go and we love to try them all, especially when they promise to reduce puffiness and get glowing skin. That's why we were super excited to try jade rolling. These cool little guys have been popping up all over our Instagram feeds and we've heard nothing but great things about their anti-puffiness properties, so we decided to put them to the test. But before we get to our jade rolling experiences, here's a little background on jade rolling:
The History Of Jade Rolling & Why It's Suddenly So Popular
A jade roller would be nothing without jade, which is a coveted healing crystal that is believed to protect against negative energy and help restore balance to body's energy. Not only does jade rolling help promote better spiritual energy, but it also boasts several physical benefits as well. To start, Ling Chan of Ling Skincare, says that it's a great way to boost blood circulation in your face by moving it across your facial muscles. By doing this, Chan says you increase blood circulation, assist lymphatic drainage, and diminish the appearance of fine lines. "Our facial muscles store a lot of tension," she tells Byrdie. "This tension can cause wrinkles and fine lines, especially around our forehead and eyes."
Plus, jade rolling can also help you get better use of your skincare products. When applied after performing your skincare routine, the gentle pressing of the jade roll can help improve how your products are penetrated into the skin. So if you're using an anti-aging moisturizer or serum, a few rolls of a jade roller can help those ingredients get deeper into your skin.
How To Use A Jade Roller
Not only is jade rolling super effective, but it's also an incredibly easy-to-use tool that can be incorporated into any skincare routine. You can jade roll whenever works for you, whether it be in the morning or at night. Most experts recommend using it in the morning so you can get rid of any puffiness from after you wake up.
Here's how to do it:
1. Apply your favorite serum or moisturizer.
2. Roll the jade roller in an upward motion, working from your neck toward the forehead.
3. Flip the roller over to use the smaller stone for your under-eyes and lids, continuing the same upward rolling motion.
Pro Tip: Leave your jade roller in the freezer for a couple of minutes before you use it. This way the jade stones are nice and cool, which will help decrease puffiness.
SheFinds
Here's What We Thought Of Jade Rolling
Emily's Review
As someone with acne-prone skin that suffers from cystic acne, I'm always looking for new products to help my skin. I was really interested in jade rolling when I found out that it helps your products absorb better into your skin. Everyone always points out that better absorption benefits those with mature skin who are following an anti-aging skincare routine, but those with acne-prone skin and breakouts are rarely factored into the equation.
I started jade rolling with Herbivore's Jade Facial Roller after a major breakout and wanted to see if it would help make my brightening serum more effective to get rid of any leftover scaring and marks--I used Kora Organics Noni Glow Face Oil.
While the results weren't immediate, I do believe that jade rolling made a slight difference. My skin looked radiant and felt more refreshed, which is something I feel it's always lacking. My skin also looked less puffy and the act of jade rolling was very soothing and relaxing. I recommend adding it into your morning routine if you can find the time--it woke up my skin better than my morning Starbucks!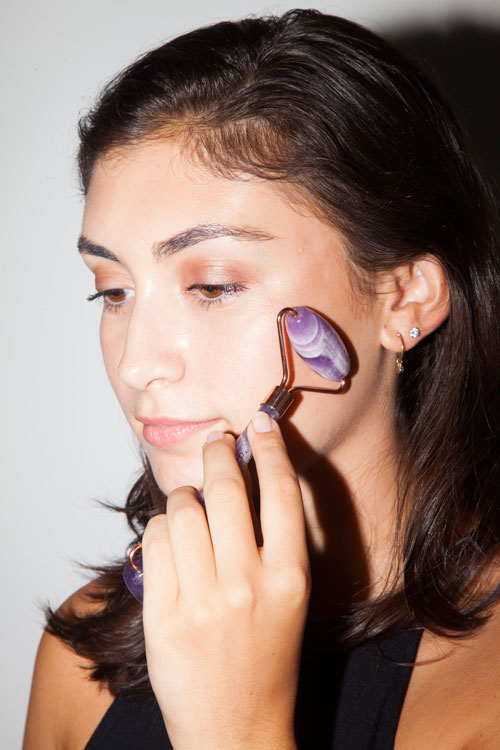 Jessica's Review
I cherish my skincare routine dearly. I use it as a way to unwind and mentally prepare myself for bed every night, and jumpstart my day every morning. With that said I had always been intrigued by the concept of jade rolling and was super excited to add it into my daily routine.
Like Emily, I had always heard that jade rolling enhances your products and enables better absorption. After I cleansed my face and sprayed on my toner, I used my Honey Belle Shop Amethyst Facial Roller. The Amethyst crystal is supposed to help with overall positivity and insightful relaxation by alleviating stress and attracting positive energy.
Coupled with Honey Belle's Elixir: Organic Facial Oil, I committed to rolling out my face for a good 3 minutes every night. You can use any serum or facial oil of your choosing, but I loved the Elixir because it's packed with Omega 3s and 6s that increase elasticity, retain moisture and helps brighten dull skin.
My impression: this feels SO good. Jade rolling helped release tension in my face and the cool stone made my skin feel super refreshed. Not to mention, the entire act of setting aside 3 minutes to focus on jade rolling your face is relaxing and great for self care. As I rolled the stone over my face, it helped press the Elixir into my skin better. When I finished the entire process, my face looked wide awake and glowy. After keeping up with it for two weeks straight I definitely saw a decrease in puffiness, too.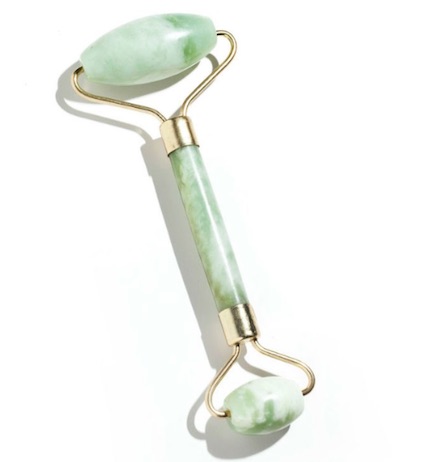 Herbivore Jade Facial Roller ($30)
Kora Organics Noni Glow Face Oil ($68)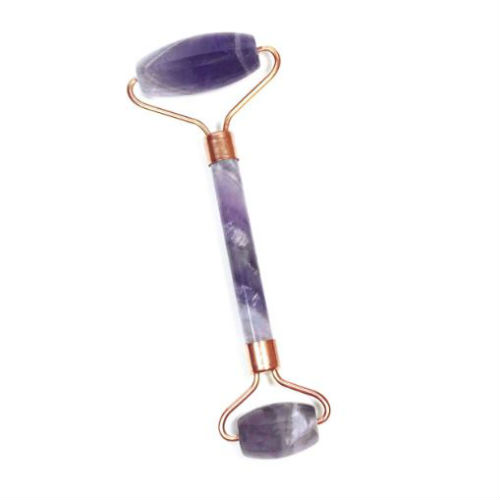 Honey Belle Amethyst Facial Roller ($34)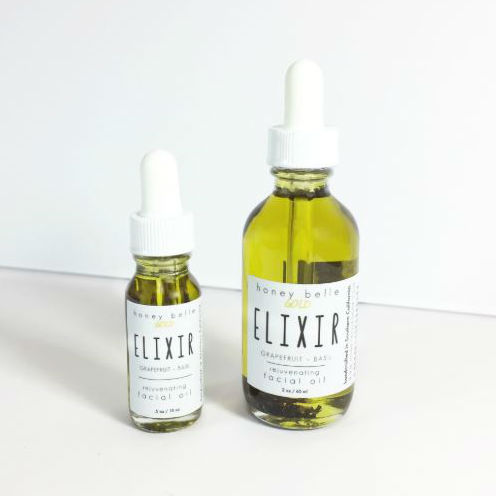 Honey Belle Elixir: Organic Facial Oil ($34)
SheFinds receives commissions for purchases made through the links in this post.