One of the most popular and beloved films of the last few years, "The Greatest Showman" is the story of how P.T. Barnum and his partner came to dominate the circus and dazzle audiences with extravagant performances and incredible feats of courage. Naturally, a film about the circus is going to translate to one heck of an amazing group Halloween costume — and we're got the affordable pieces you need to put together an inspiring Greatest Showman Halloween group costume.
The Greatest Showman Group Halloween Costume
Whether you want to portray Hugh Jackman's P.T. Barnum, Zendaya's adorable trapeze artist Anne Wheeler, Keala Settle's infamous "Bearded Lady," or Michelle Williams' sweet Charity Barnum, you'll find a costume here that is just perfect for the Greatest Show on Earth.
What You Need For A Group Greatest Showman Halloween Costume:
1. P.T. Barnum: A Traditional Ringmaster's Costume
Forum Novelties Ringmaster Costume ($38)
In the film, Barnum's costume is arguably one of the most luxurious and specific, but it's also the easiest to put together for Halloween. Jackman's character wears a classic ringmaster's costume, complete with a vivid red jacket and top hat.
Costume Designer Ellen Mirojnick told the L.A. Times her inspiration for all of the looks in the movie was period clothing, but not typical, dated costumes — more like "Vogue editorial" fashion with a period twist. And, not surprisingly, Jackman transformed into the character the moment he put on his red ringmaster's jacket.
"It's the most magnificent coat in the entire world. In wool and silk, with custom-made buttons, gold bullion trim and embroidered with the B monogram," Mirojnick says. "It's cut for his body and designed to allow him to move in any way possible. I've seen a lot of actors become the essence of the character [in the costume fitting]. But Hugh transformed in a way I have never, ever seen. He slowly put on the pieces, and when he put the red coat on, P.T. Barnum was born."
If you're crafty, you can always experiment with monogramming this tailcoat jacket with a "B" and replacing the buttons for old ones. If not, no worries: this costume gets the message across of who you're portraying.
2. Anne Wheeler: Purple Leotard
Romwe Ruffle Sleeve Bodysuit ($17-20)
Zendaya looks like magic in this film and her trapeze artist character get both a dose of major color and freedom of movement when she wears a fancy purple leotard that works well against her soft pink hair. The ruffly sleeves make this leopard just a little bit more special and turn it into one you could picture a performer wearing in front of a large audience.
Anne Wheeler: Gold Jazz Boots
Msmax PU Jazz Boots ($25)
How cute are Anne's little gold boots in the movie? These solid-gold jazz boots are perfect for this costume — and you'll probably want to wear them long after Halloween is over. They feature a soft, comfortable suede sole and are made from PU leather material.
Anne Wheeler: A Pink Wig
Kadiya Pink Cosplay Wig ($15)
Pink hair, don't care. You can't pull off Anne Wheeler's trapeze artist without her signature pink hair. This adorable wig does the trick.
3. Charity Barnum: A Long Pink Dress
ReoRia Maxi Dress ($17-23)
When designing Michelle Williams' costume for Barnum's first wife, Charity, Mirojnick told the L.A. Times:
"I thought that Charity was a fairy tale princess but living a real life. Michelle is so delicate, feminine and beautiful that there is not a fussiness about her. It was all delicate colors, delicate fabrics, very soft, flowing shapes. She was pure sweetness, but touchable."
This pink maxi dress relies on comfortable, modern-day fabrics, but it's got the perfect silhouette and romantic quality that encompasses Charity's character.
4. Lettie Lutz: A Purple Hoop Skirt
Wowbridal Hoop Skirt ($20)
In today's world, a "bearded lady" would never qualify as an attraction in the circus, but back then, Lettie Lutz was the most famous "bearded lady" of all — and the one folks paid to come and see.
Keala Settle's purple costume is extraordinary but expensive. Here's a more affordable idea: pair this purple hoop skirt with the next two pieces.
Lettie Lutz: A Purple Bustier
Alivila Y. Lace Purple Bustier ($17-23)
Pair your purple hoop skirt with this lacey purple bustier.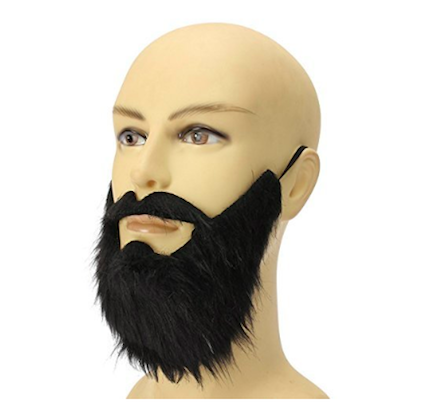 Lettie Lutz: A Fake Beard
This is the one accessory that is a must for Lettie Lutz. It stays in place around your face with a comfortable elastic band.
SheFinds receives commissions for purchases made through the links in this post.