Stressing over your thinning hair? Thankfully, there are plenty of remedies and treatments that can help prevent further hair loss. In addition to taking a daily supplement and improving your hair care routine, experts say that incorporating an herbal tea into your diet can also help promote hair growth and prevent thinning hair–but, not any herbal tea will do. It turns out that one of the best teas to drink for hair loss is chamomile tea!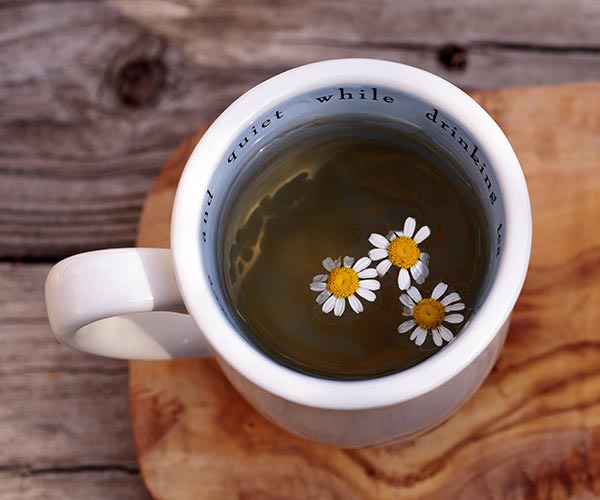 Shutterstock
Chamomille tea is known for its nourishing and rejuvenating properties. In fact, it has "a stellar reputation for healing, and with good reason. It is prepared from dried flowers and it brings an oasis of calm and tranquility," according to Mr. Amit Anand, Owner of Mingle Tea.
The popular tea contains chamazulene, which an aromatic chemical compound that possesses anti-inflammatory, analgesic and antispasmodic properties.
Shutterstock
Experts note that chamomile tea has been proven to promote healthy, thicker hair thanks to its soothing effect on the scalp. The tea calms scalp irritation and can even help eliminate and prevent dandruff, giving your hair the environment it needs to foster hair growth.
So, pour yourself a cup of chamomile tea to help strengthen your strands and prevent further fall out.
Shutterstock
Not into drinking tea? Jean Valnet, author of "The Practice of Aromatherapy," recommends rinsing your scalp with an infusion of chamomile flowers to reverse balding.
Here's how to make a chamomile rinse for healthier hair:
1. Boil one quart of water and put a small handful of flowers in the pot.
2. Steep the flowers for 20 minutes.
3. Strain and let it cool.
4. Pour the cooled infusion over your hair and scalp after washing your hair.