When you're trying to lose weight, dessert is (sadly) one of the first things most people eliminate from their diets. And this move usually makes sense — most desserts that we consider decadent and delicious, like German chocolate cake or ice-cream sundaes, are, of course, filled with sugar and won't have a positive impact on your weight loss goals. But all desserts are not created equal, and a few bites of something sweet could help ward off cravings and keep you from binging.
In other words: you needn't banish dessert from your life — just choose healthier, guilt-free desserts that are actually good for you (in moderation).
Here are six high-protein desserts you can eat non-stop and actually still lose weight.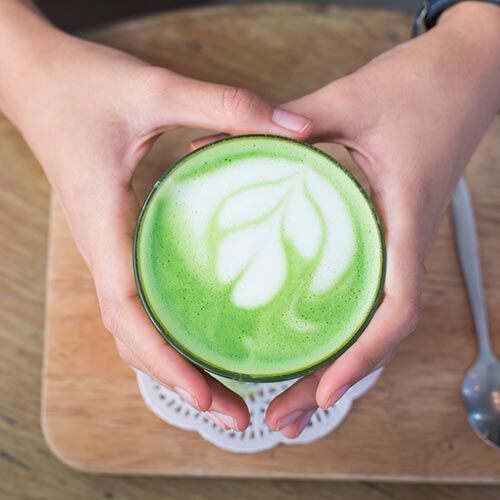 Shutterstock
Vanilla Mint Matcha Protein Shake
There's no dessert rule that says you can't drink your tasty dessert treat. A Vanilla Mint Matcha Protein Shake takes match green tea powder, which has numerous health benefits, and adds it to ingredients like protein-rich plant-based yogurt and vanilla protein powder to create a healthy dessert that provides plenty of fuel that you need to get through a busy day.

According to Dr. Andrew Weil, matcha is powerful because it contains vitamins A, B-Complex, C, E, and K, as well as an antioxidant compound called catechin polyphenols.

"These compounds offer protection against many kinds of cancer, help prevent cardiovascular disease and slow the aging process. They also reduce harmful cholesterol in the blood, stabilize blood sugar levels, help reduce high blood pressure and enhance the resistance of the body to many toxins. The most important polyphenol in matcha is EGCG (epigallo-catechin gallate), which is the subject of many medical studies. Matcha tea has a significant amount of dietary fiber and practically no calories."
Shutterstock
Dark chocolate (the higher its cacao content, the better) is a source of antioxidants and the addition of nuts in this chocolate bark recipe provide protein and healthy fats that fill you up.

"I specialize in weight loss and the ketogenic diet, so this is a sweet treat that satisfies the craving while remaining low-carb, low-sugar, and providing all the health benefits of antioxidant-rich chocolate and the healthy fat of nuts," Courtney Schuchmann, MS, RD, LDN Registered Dietitian, Department of Gastroenterology at The University of Chicago Medical Center, told Aaptiv.

The dessert requires just five ingredients:

Dark chocolate chips
Chopped pecan pieces
Shredded coconut
Coconut or vegetable oil
Coarse mineral salt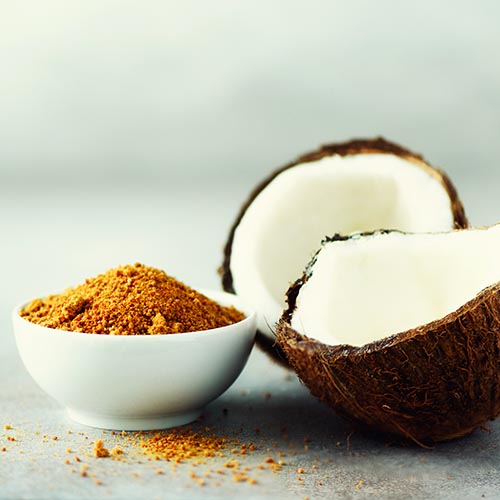 Shutterstock
These bake-free bites give you plenty of protein, courtesy of almond butter and chia seeds. And coconut and maple syrup provide a sweet kick without packing in too much sugar.
Dietitian Danielle Stadelman tells Aaptiv: "These little bites are perfect for any occasion, from a tasty dessert to a quick post-workout snack. Better yet, this recipe can be meal prepped on Sunday and stay good all week long. Just be careful not eat them all in one day! I love incorporating more whole grains into my diet, and oats have been a nutritional powerhouse for years. Not only are they loaded with vitamins, minerals, and antioxidants, but oats are rich in fiber—more specifically a type of fiber called beta-glucan, a particular type of fiber known to help lower cholesterol. The fiber in oats also keeps you feeling full, so you'll eat less later on during the day."
You'll need:
Rolled oats
Unsweetened coconut flakes
Coconut oil or coconut butter
Almond butter or another nut butter
Maple syrup
Chia seeds
Vanilla extract
Salt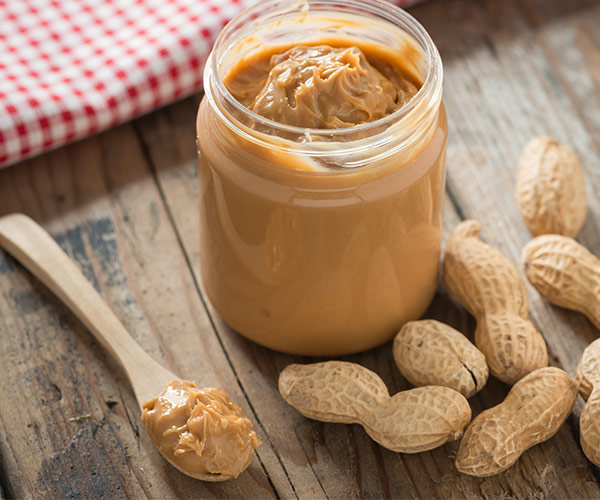 Shutterstock

Even science stands behind the fact that peanut butter is good for you. According to University Health News: "Peanut butter is known for being high in protein, fiber, heart-healthy fats, and essential vitamins, making it an optimal choice for a well-balanced diet."

The reason PB sometimes gets a bad reputation is because far too many brands pack in sugar — and then mixing that peanut butter with sugar-laden jelly doesn't help.

But these natural peanut butter and chocolate cups are different. They're low in carbs, vegan, and all natural. You'll need six ingredients:

All-natural peanut butter
Coconut oil
Maple syrup
Cocoa powder
Himalayan sea salt
Vanilla extract
Shutterstock
When you love pumpkin pie, but aren't in love with the sugar and calories found in pumpkin pie, look no further than this sweet alternative: a pumpkin pie pudding that includes protein-rich ingredients like tofu and almond butter.
"Soy-based foods are some of the best foods you can eat on the planet," Jaclyn London, MS, RD, CDN, Nutrition Director at the Good Housekeeping Institute told Good Housekeeping. "Soybeans provide a plant-based protein source; a slew of vitamins and minerals crucial for reducing risk of chronic disease; and fiber that helps you fill up and feel satisfied."
This recipe requires:
Organic firm tofu
Pumpkin puree
Unsweetened vanilla almond milk
Roasted almond butter
English toffee-flavored Stevia extract
Natural maple flavor
Ground cinnamon
Pumpkin pie spice
Salt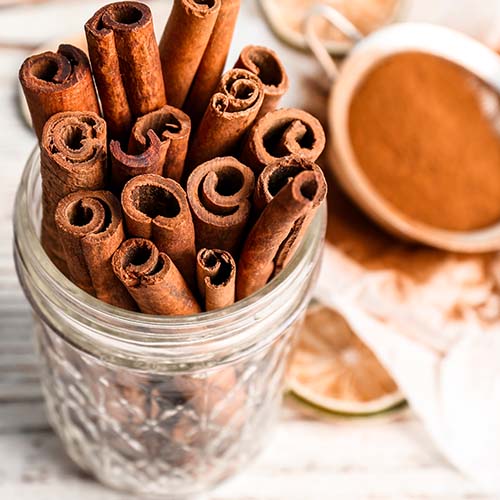 Shutterstock
Ginger-Cinnamon Dark Chocolate Balls
Registered dietitian Cynthia Sass told Health.com these are her go-to dessert treat.
"Ginger, cinnamon, and dark chocolate are all potent sources of antioxidants. Ginger and cinnamon are also immune supporters and anti-inflammatory metabolic boosters. Tahini—made from ground sesame seeds—provides copper, manganese, calcium, magnesium, iron, zinc, selenium, and thiamine. A two tablespoon portion also packs 5 grams of protein and 3 grams of fiber. So, in a nutshell I'm taking in some key nutrients while I satisfy my sweet tooth. They're also easy to make and don't require baking."
To make this recipe you'll need:
Tahini
Honey
Cocoa powder
Almond gflour
Grated ginger
Cinnamon
Chia seeds