Kate Hudson has always reigned supreme as one of Hollywood's most radiant free spirits. The actress has always followed her heart when it comes to both on-screen roles and real-life love interests, and we love her for it. She recently put the world into utter shock when she made her newest announcement on Instagram: Kate Hudson is pregnant with her third child— and it's a girl!
Kate Hudson Preganent with Boyfriend Danny Fujikawa
If your first reaction to the news was "Danny who?" you aren't alone. It's understandable that most of the attention and focus has been on Hudson. The famous actress has been starring in films since the 1990s, she has famous best friends like Gwyneth Paltrow and Liv Tyler, and has legendary parents like her mother Goldie Hawn and her step-dad Kurt Russell. And if that wasn't enough, she recently shaved off her trademark blonde curls for a role in the film Sisters, which was co-written and directed by singer-songwriter Sia.
Kate Hudson's Past Relationships
Hudson is also pretty well known for her former famous relationships. She married Chris Robinson, the lead singer of The Black Crowe's, on New Year's Eve in 2000. The two share a son named Ryder together, although they divorced six years later. After that, she became engaged to Muse frontman Matthew Bellamy in April 2011 and gave birth to their son Bingham that year. The couple split in 2014 just before getting married. And, in between, she had her share of relationships with celebs like Dax Shepard and baseball player Alex Rodriguez—and maybe, allegedly, possibly Nick Jonas, though the two never confirmed it.
So, back to Fujikawa. He's certainly no stranger to Kate—they've actually known each other for a decade. Since we're all curious (because how could you not be?) here are some other fun facts about Kate Hudson's new baby daddy.
Fun Facts About Kate Hudson's Boyfriend & Baby Daddy Danny Fujikawa
Danny Fujikawa--Musician And Businessman
This first fact should come as no surprise to anyone who has been following Hudson. The lady likes her musicians and her new boyfriend fits the bill. Fujikawa and his brother Michael founded an LA-based folk rock band called Chief, reports The Sun. Fujikawa was the lead singer and guitarist. Before breaking up, the band released three singles and a 2010 record album called Modern Rituals. Fujikawa is still friends with his band mates and has posted Instagram photos of the group and they continue to enjoy a modest following. Their music video for the song Night & Day has more than 256,000 views on YouTube.
Fujikawa's musical talent extends to the business side of matters, as well. He founded Lightwave Records in 2013 with Chris Acosta from The Delta Mirror. Their record company is based in Los Angeles.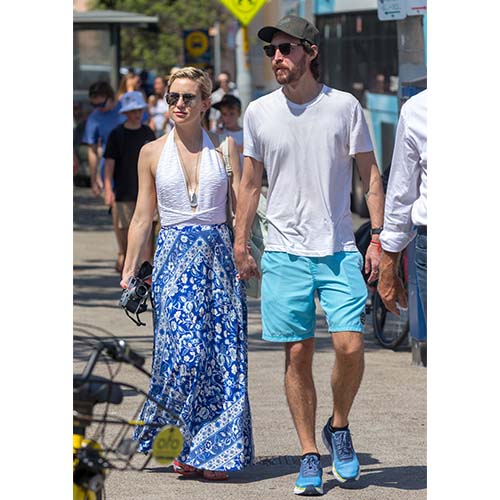 Fujikawa Attended School In New York City
Fujikawa may be a west coast native, but he attended New York University, which is where he met his Chief bandmates, reports InStyle. They returned to Los Angeles in 2009 and never looked back.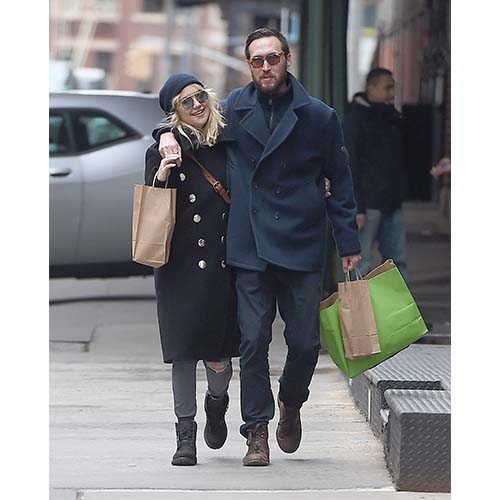 Hudson And Fujikawa Were Friends First
We may have only started seeing Hudson And Fujikawa together this past year, but the couple have been good friends for a whopping 15 years, reports Harper's Bazaar. Just friends (really).
Hudson revealed to The Talk that she met Fujikawa through her good friends Sara and Erin Foster.
"We've known each other for 15 years. He's my best friend's stepbrother," she said. "We kinda skipped through the part of knowing what the hiccups were. You kinda skip the part of going, 'Oh, you're like that? In terms of family, I've known his family forever. To have that connection is really powerful."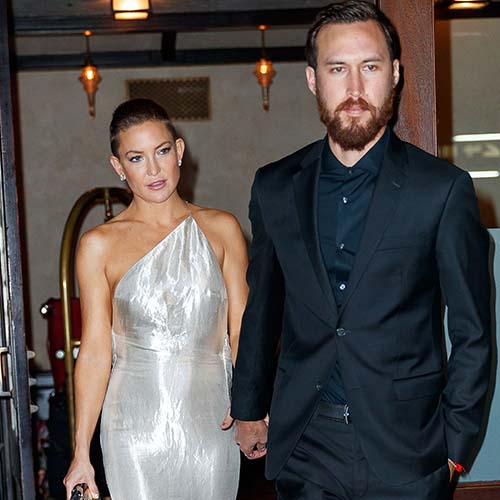 They Took Their Time Getting Together
When it came to sealing the deal in their relationship, the couple's story is equally sweet. It took Fujikawa a year to make a move, Hudson revealed on Instagram to commemorate the one year anniversary of their first date.
"A year ago today Danny took me on a hike and what I thought was just a hike with a family friend turned very quickly into an unexpected first date," Hudson captioned the post. "No moves were made on this first date. In fact, it took months for him to make the first move! And as a kiss on this bridge would have been nice, the kiss a year later was so much sweeter. So in our 15th year of knowing each other, we were able to open our hearts to each other to feel so much pure love and it's been truly incredible!"
How sweet?! Congrats to the happy couple!
For more Kate Hudson news, check out:
--Kate Hudson Reveals The First Thing She Eats Every Morning
--5 Amazing Things You Didn't Know About Kate Hudson's Fabletics
[Photos: Splash]