It's hard to believe Kylie Jenner is only 21 years old, but she had the massive party and glittery, outrageous jumpsuit to prove it happened.
The Keeping Up With the Kardashians star and business mogul celebrated her 21st spin around the globe in August with a huge, exclusive party set in two Los Angeles hot spots. She started the night wearing a hot pink Dundas dress for dinner at Craig's in West Hollywood before moving on to Delilah for more food, drinks, and dancing. And it was at this second spot, where she and family and friends parties until the wee hours of the morning, where Kylie kicked up her sartorial game a notch and provided inspiration for this DIY Kylie Jenner 21st birthday Halloween costume.
Such is the power of a really fancy, sparkly pink jumpsuit.
The jumpsuit worn by Kylie cost $8,000 and was custom made for her by designer LaBourjoisie. It was strapless, with bicycle short-inspired bottoms and Swarovski crystals sown throughout. And it was perfect for Kylie, who deviated from typical gowns to make us all consider just how appropriate a short jumpsuit can be for a major occasion — provided you also have the right accessories (hello, Barbie pink heels and circular bag) and hair (again, Barbie inspiration was felt everywhere).
Copying Kylie Jenner's Birthday Jumpsuit For A Halloween Costume
You don't need to throw down four figures to create this fun Kylie Jenner Halloween costume. Here are all of the (affordable) pieces you'll need — and you can snag them all from Amazon.
1. Pink Bike Shorts
KneeDarkYear Yoga Shorts ($13-15)
Since Kylie's outfit is custom-made, you shouldn't assume it will be easy to find a jumpsuit with the exact bike shorts/strapless top style or that it will be covered in Swarovski crystals. A bit of DIY magic is in order.
Start with these pink yoga shorts, which have an elastic waistband and a stretchy fit.
2. A Sparkly Pink Tube Top
Alivila Y. Sequins Tube Top ($13)
This sparkly pink tube top comes pre-dazzled, which gives you one less thing to worry about. Even if the pinks of your shorts and top differ slightly, the thing to remember when creating Halloween costumes that pay homage to a celeb look is that the goal is to provide an accurate representation of that style — not a perfect mirror image. The bike shorts are cut high enough on the waist that they should mimic Kylie's jumpsuit, even though you'll actually be wearing two separate pieces.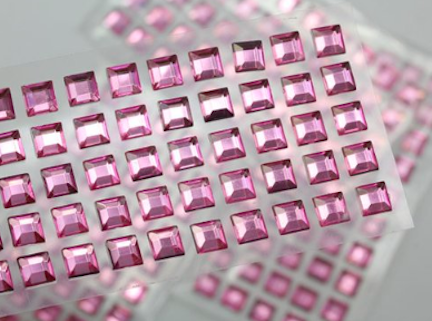 3. Stick-On Pink Sequins
KraftGenius Stick-On Gems ($3)
Time to make your bottoms as sparkly as your tube top. These stick-on pink sequins can be applied all over your bike shorts. If you have trouble keeping them on, try a little Gorilla glue, which provides stronger adhesive action.
4. A Round Pink Sequin Coin Purse
SandT Collection Sequin Coin Purse ($3)
We can only imagine how much money Kylie dropped on the circular pink sequin purse she carried around at her birthday extravaganza. This round coin purse with pink sparkles is a teeny fraction of the cost, but it drums home the idea nicely: Kylie loves sparkly pink things and she isn't afraid to show it.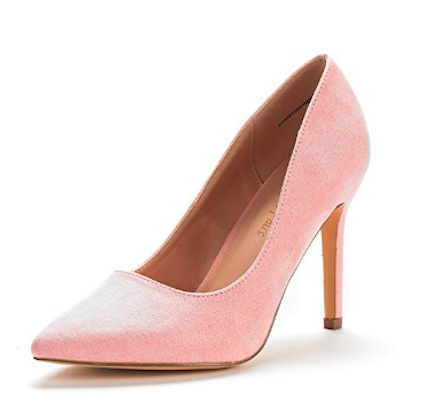 5. Pink High-Heeled Pumps
Dream Pairs Christian Heel Pump Shoes ($18-27)
These soft pink high-heeled pumps hit all the right notes. They boast four-inch heels for major height, are affordable, and provide Kylie's slight nod to '80s style. If you never plan on wearing them again, you can even grab a red marker and color the soles to make them look like Louboutins.
6. Platinum Blonde Wig
K'Ryssma Platinum Blonde Wig ($40)
The finishing touch to your Kylie Jenner 21st birthday Halloween costume is Kylie's crowning glory: her long, pin-straight platinum blonde hair. Kylie isn't afraid of rocking extensions or a wig, so grab this wig, made from synthetic hair, and make it your own. Pull the wig back into a low ponytail and leave it flowing over your back and shoulders.

Kylie went easy on accessories (smart choice since doing so lets her outfit speak for itself). A simple bracelet, one major bling ring, and pair of diamond (fake or real) earrings are all you need to ring in your Kylie 21st birthday in true Jenner/Kardashian style.
SheFinds receives commissions for purchases made through the links in this post.