These bombshell celebrities flaunted their cleavage in these plunging, low-cut dresses on Instagram, showing off to their millions of followers.
In one of her more covered up photos, Demi Rose Mawby still flaunts her famous curves.
The Instagram model shared these sultry snaps to her 10 million followers, and garnered more than 300 thousand likes.
The 24-year-old not only wore a plunging and sleeveless white dress, but it also had holes cut out at every inch. So, plenty of skin was on display, here.
This random New York City shot comes just before she shared a slew of sexy photos from the desert festival, Burning Man, a favorite among Instagram-famous celebrities.
READ MORE: Demi Rose Is Getting So Many Likes For Wearing This High-Slit Dress On Instagram—She's Basically Naked!
Chrissy Teigen almost busted out of this incredibly low-cut jumpsuit, but saved the day with a swift catch.
The famous mom-of-two always keeps it real, and shares the most hilarious, witty social media posts to her 25.7 million Instagram followers. She captioned this clumsy video, "whoopsie daisy," in which she tumbles down a slide clearly meant for her 3-year-old Luna.
Model Tess Holiday commented, "I think it gets funnier the more you watch it." Fellow famous mom Kate Hudson wrote, "This is amazing."
This wasn't the first time Teigen almost lost her top, she wore a bikini that was so racy she nearly spilled out of it. 
Camila Cabello and Shawn Mendes were the cutest could-be couple at the MTV Video Music Awards this year.
Cabello was gracious to her 39.4 million followers for voting for her win with Mendes, she captioned this post "thank u guys so much for tonight! we love you guys soooooo much."
The "Señorita" singers both wore stylish red carpet attire, but Cabello was absolutely ravishing in her romantic white Balmain dress. In a Vogue video following the singer getting ready for the awards show, she revealed the inspiration for her red carpet look came from the dress she wore in the music video.
The 22-year-old also rocked the VMA stage with a sultry performance of her song with Mendes, and the two almost shared an onstage kiss. But, keeping it coy, they pulled away at the very last second.
Even though the two have been spotted kissing, holding hands, and acting like a couple they won't confirm the validity of their relationship. But, it's pretty safe to say things are heating up between the duo.
READ MORE: This High-Cut Bathing Suit Has The Be The Sexiest Thing Camila Cabello Has Ever Worn—It's SO Revealing!
Olivia Culpo's 4.3 million followers were given quite the cleavage show in this sultry summer shot.
The model isn't shy about showing off her incredible curves, and all summer long has been posting hot bikini snaps. The 27-year-old writes that she's not ready to give up the season, yet. "Can it be summer forever??" her caption reads.
The brand ambassador for APM Monaco showed off the delicate jewels from the European jeweler. Culpo has been rocking the colorful crystals this summer as the face of its campaign. Her nude, cleavage-baring ribbed dress let the jewelry stand out.
Shop for your own low-cut dresses before the summer is over with these similar styles below.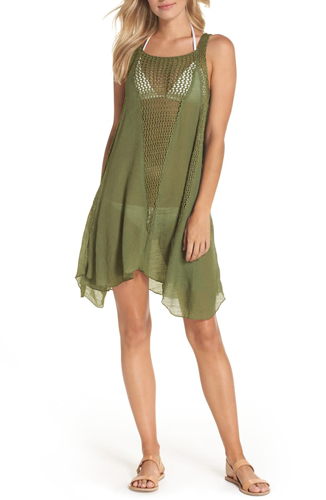 ELAN Crochet Inset Cover-Up Dress ($54)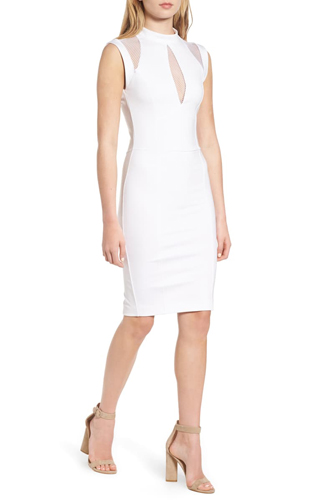 SENTIMENTAL NY Galactica Body-Con Dress ($72)
Shein Halter Neck Sleeveless Bandage Bodycon Dress ($26)
Shein Glamaker Paperbag Waist Belted Wide Leg Cami Jumpsuit ($20)
SheFinds receives commissions for purchases made through the links in this post.