Unless you've been living under a rock, you know that Megan Thee Stallion has taken the hip hop world by storm. Thanks to her mega hit "Hot Girl Summer," we were inspired to create a  Nicki Minaj DIY costume based on the duo's style in their music video collab for the single. We are more than ready to start what we like to call: Hot Girl Halloween. That's right, move over Hot Girl Summer– it's Hot Girl Fall now.
What Is Hot Girl Fall?
There's only one way to celebrate Hot Girl Fall and that's with an amazing DIY look come Oct. 31. Hot Girl Halloween is coming at full force and we're ready to dominate with some seriously fierce DIY costumes. Now, let's switch focus from Nicki to Hot Girl Meg herself. While the chart-topping queen has given us feel good songs, it's her iconic styles we have our attention on and are dying to recreate.
Megan Thee Stallion's Fashion
Some of Hot Girl Meg's best looks from this past year are not only from her music videos, but also from her style at public appearances.  Our personal favorite fashion moments include her style in none other than the "Hot Girl Summer" music video alongside Nicki Minaj herself, as well as her flawless style at the 2019 New York Fashion Week. It comes as no surprise that she seriously slays her entire look from her flawless makeup straight down to some killer shoes.
How To DIY Megan Thee Stallion's Best Looks
Let's face it, Megan Thee Stallion is always living her best life, and we're sure she'd want you to do the same this Halloween. Everyone deserves to live their best Hot Girl Fall– especially come Halloween night. We've come up with the most iconic Megan Thee Stallion inspired costumes for you to try out. It's time to dive into how to DIY a Megan Thee Stallion Halloween costume this fall: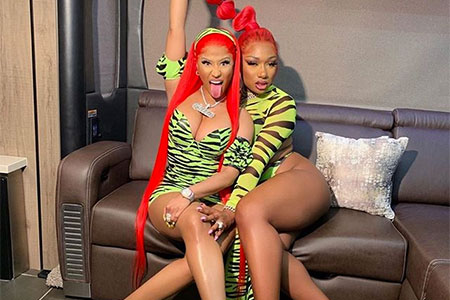 Instagram.com/theestallion
Megan Thee Stallion "Hot Girl Summer" Music Video Costume
Obviously we need to start with Megan Thee Stallion's style in her "Hot Girl Summer" music video. After all, that's the song that pushed the artist to major fame. This look is definitely the boldest of the DIY bunch so stay tuned if you want a Meg costume that's a little more subtle.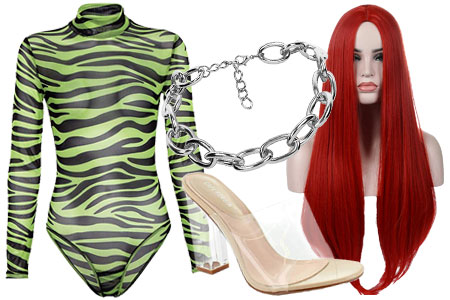 How To DIY It
Let's dive right into it. The fashion in the "Hot Girl Summer" is probably just what you expected-- fiery and fierce. This DIY costume will definitely have everyone's heads turning for all the right reasons. Pick up this BunnyHouse Women's Zebra Print One Piece Long Sleeve Bodysuits Stretchy Turtleneck Basic Bodycon Jumpsuits Leotard ($7.89) is the perfect dupe for Hot Girl Meg's bodysuit. Combine it with Cape Robbin Shoes Fusion Translucent Block High-Heel Mule Open Toe Sandal ($22.99-44.90), Kalyss Red Women's Wig Long Straight Centre Parting No Lace Front Synthetic Cosplay Costume Full Hair Wig for Women ($18.99), and YRY Women Chunky Necklace Chain Stainless Steel Silver Choker Necklace ($10.66) to complete your costume.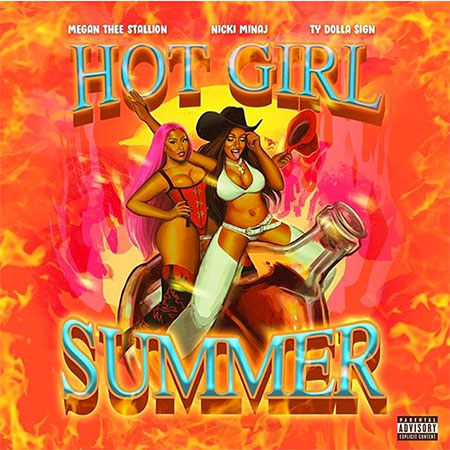 Instagram.com/theestallion
Hot Girl Summer Meme Halloween Costume
Hot Girl Summer started trending on social media even before Megan Thee Stallion released her single. We can thank Twitter user Sweetliketeaaa for getting the trend started back in May--months before the song was released. In our eyes, this was the moment Hot Girl Summer was truly birthed. Thanks to that, we came up with the perfect Hot Girl Summer meme costume.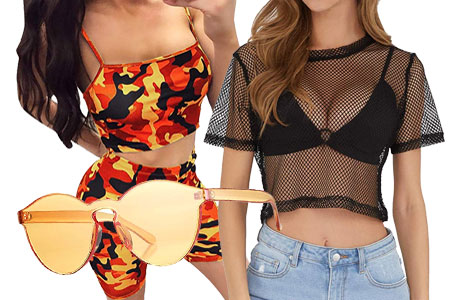 How To DIY It
Head over to Amazon to select just a few affordable items for this stylish look. We recommend ECHOINE Women's Casual Camo High Waisted Skinny Long Pants Jogger Pants with Belt ($19.99), CLOZOZ Women's Short Sleeves Fishnet T-Shirt Mesh Shirt Crop Top ($9.98), and Pro Acme One Piece Design Rimless Sunglasses Ultra-Bold Colorful Mono Block ($9.99) to create your Hot Girl Summer meme Halloween costume for under $50.00.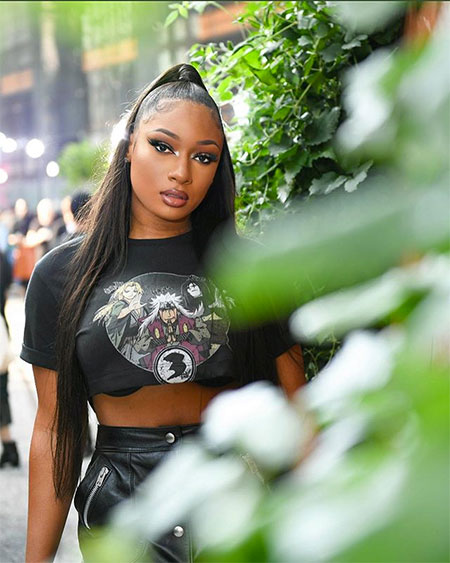 Instagram.com/theestallion
Megan Thee Stallion New York Fashion Week Costume
Hot Girl Summer may not be your thing, and if that's the case, have no fear. Megan Thee Stallion has plenty of iconic looks to recreate for Halloween this year. One of our favorite styles was the outfit she recently wore to the Coach spring 2020 show at the 2019 New York Fashion Week. This particular look would be perfect for a last-minute DIY costume.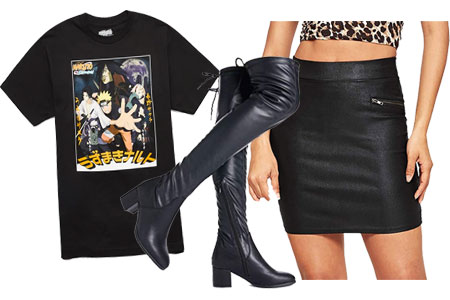 How To DIY It
Honestly, how cute is this look?! These pieces can easily stay in your closet long after Halloween is over. Here's what you'll need to DIY a Megan Thee Stalion New York Fashion Week Costume come Halloween night: this PacSun Naruto T-Shirt ($25.00), these DREAM PAIRS Women's Over The Knee Thigh High Low Block Heel Boots ($31.99-45.99), and this WDIRARA Women's Elegant High Waist Self Adjustable Belted PU Short Skirt ($14.99-17.99).

SheFinds receives commissions for purchases made through the links in this post.