Got a new phone for Christmas? Don't treat it like a yellow starburst, it's a pink starburst. Treat it right.
To keep your brand-new device in tip-top shape, you need to follow what experts say are the best practices for keeping it last longer. These charging and usage mistakes can mean the difference between a happy phone that cooperates with you for years, and one that craps out prematurely. You pick.
Charging It Overnight
"Most people put their newly bought Android on charge and go to bed. But what we do not realize is that it is one of the most common mistakes that we do and end up hurting our smart-phone's lifespan," Somdip Dey, Embedded AI scientist at the University of Essex, UK and researcher of Machine Learning on mobile platforms at Samsung R&D Institute UK warns.

Why is it so bad? You're tricking your phone's built-in smart sensors. "Most Android phones have smart software sensors that are capable of detecting when the phone is fully charged," he explains. "But what happens is that at the same time our phone is constantly running long-running processes in the background that continue to drain the charge, then the smart-sensors, which should have stopped the phone from charging after being fully charged, start to behave anomalously because it does not know when to stop the phone from charging."
Over-Charging It
"Research has shown that continuous charging of phone battery could actually contribute to 25% degradation of the charging capacity over 2 years than compared to traditional charging, where we only charge until the charge cycle is achieved and then use it until it drains completely," Somdip explains.

"You don't need to teach your device how much capacity the battery has by going from full to zero charge, or from zero to full charge," Angelo agrees.
Overheating
"Avoid situations where your device can overheat," Angelo warns. "Your battery will drain much faster when it's hot, even if you're not using it. This kind of drain can damage your battery. (Your device warms up when it's plugged in, so don't keep it charging more than needed.)" Yikes!
"The overall lifespan of the phone is reduced by 2 times on an average if there is an increase of overall operating temperature of the device by 10 to 15 degree centigrades for a long period due to degradation in the chemical and physical properties of the device," Somdip agrees.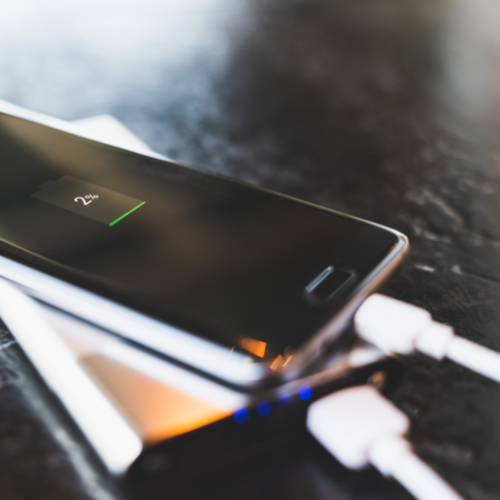 Unsafe Power Adapters
"Use the power adapter that came with your device," android developer Angelo Frisina of Sunlight Media tells us. "Other power adapters can charge slowly, not at all, or damage your device or battery." Yikes!
Full Storage
"The one mistake people are making that's killing their Android lifespan is running the phone with the storage nearly full,"Brandon Ackroyd, founder of Tiger Mobiles tells us. "All modern smartphones use SSD's (solid state drives) that slow down as you put more data on them. Your phone will become sluggish when it's almost full - causing apps to open slowly, processes to hang and just generally make using the phone a bit of a chore." Oh no!
Can anything be done? "While it's not possible to upgrade the internal storage of your device unless you have a MicroSD slot, there are good options to move or save large files directly from your Android to another device. Of course you can always resort to deleting data and apps that you have accumulated over time that's no longer of use. Android Cache files can consume quite a bit of storage space if they go unchecked, so clearing cache files can free up disk space too. Settings > Storage > Apps and clear specific caches forBe aware of how many photos and videos you're shooting, since they eat up space quickly. If you have too many, offload them to cloud storage to free up space. Or just be a bit more ruthless on the the photos you really need to keep."