Cool girl Margot Robbie got married in a cool girl way by keeping her wedding to Tom Ackerley one big secret. Little details are known about the ceremony and all we have is this captionless Instagram photo from the actress. That is, until now.
The couple walked hand-in-hand through LAX, which means Robbie's gorgeous pear-shaped engagement ring made its public debut. The pavé diamonds are so eye-catching, you almost can't see the very thin wedding band underneath!
What do you think of Margot Robbie's sparkler? Let us know!
[Photo: Splash News]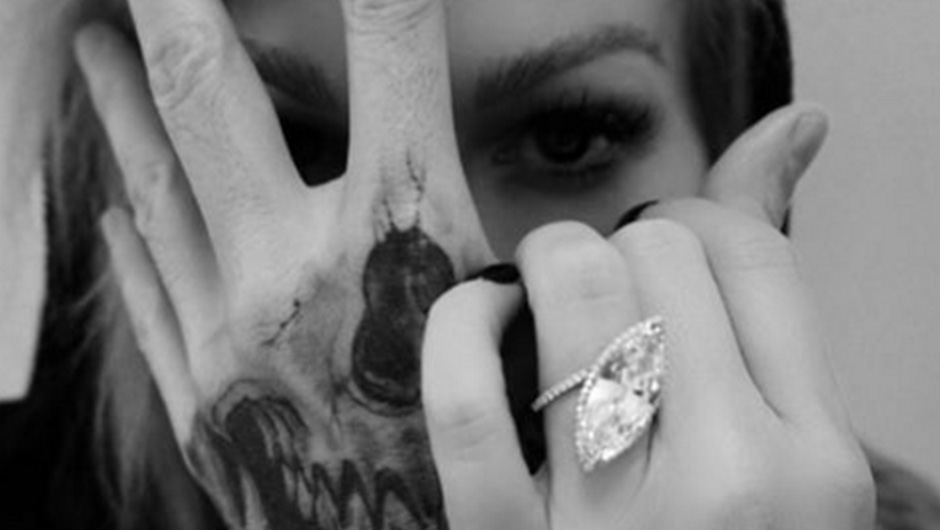 I had to pick my jaw up off the floor when I saw Joyce Bonelli's engagement ring.
The Kardashians' longtime makeup artist just got engaged to Ben Taverniti and she got some serious bling. The ginormous marquise diamond sparkler was designed by none other than Lorraine Schwartz, who also did Kim Kardashian's engagement ring. Congrats to the happy couple! And can we just say, damn, Joyce, ya did GOOD.
[Photo: Instagram]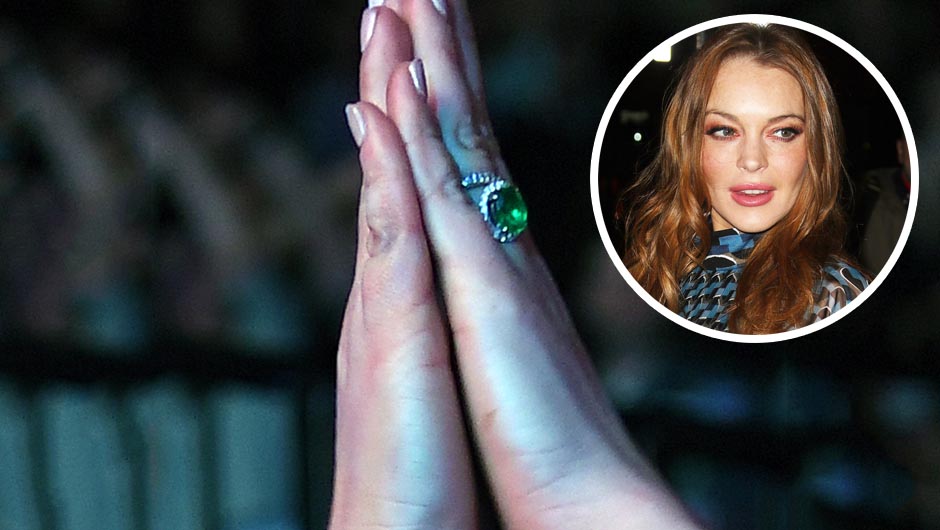 Lindsay Lohan was spotted with massive bling on her ring finger just hours after it was reported that she's engaged to Egor Tarabasov. She showed off her huge emerald ring at the Duran Duran concert in NYC last night, which she attended with her entire fam (yes, Michael and Dina were BOTH there) and her fiance. Seems like an engagement celebration to us!
[Photos: Splash News]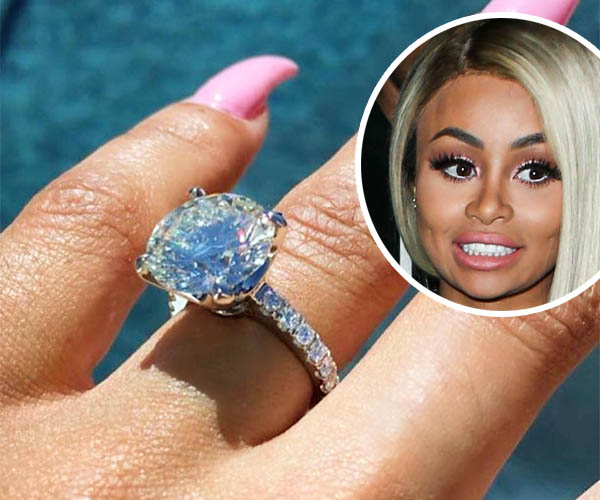 Blac Chyna posted a close-up to Instagram of her massive engagement ring from Rob Kardashian! Rob went to his childhood friend Ben Baller to get the 7-carat stunner. In a seperate Insta post, Blac captioned another shot of her bling, "I'm so blessed and honored to have good man in my life, I love you @robkardashian ! #7carats #VVS @benballer." How sweet!.
[Photo: Instagram]
Although Rosie Huntington-Whiteley and Jason Statham's engagement isn't new news, we cannot get over how gorgeous her ring is. The early 20th-century *flawless* diamond is from Neil Lane's archival collection. "Jason was truly excited when he found the right ring for Rosie and he was so delightful to work with," Lane told People of the (hot) couple. "You can see the joy and happiness when they're together." Aw, so cute!
[Photo: Splash News]
We couldn't be happier for Ciara and Russell Wilson! The couple announced their engagement with a sweet video on Instagram, which included a close-up of Ciara's huge ring. That diamond is SO clear!! Well done, Russell.
[Photos: Splash News, Instagram]
Mariah Carey's engagement ring from her new fiance, James Packer, is one for the books. Designed by Carey's close friend, Wilfredo Rosado, the (massive) ring weighs in at 35 carats! For the record, Carey's ring is just about the same size as Kim Kardashian and Beyoncé's engagement rings combined. "This was the most challenging piece of jewelry I've ever designed," Rosado told Vogue. "I wanted to create the most gorgeous ring for my dear friend, but I also wanted to create the most stunning ring for one of the most iconic divas of our generation." Well, it certainly is stunning.
[Photo: Splash News]
A few days after announcing her engagement, Jodie Sweetin showed off her beautiful engagement ring on Instagram. "So... Looks like the cats outta the bag! Haha! I'm so happy and he did a GREAT job with the ring! Good taste @justinhodak_ I love you!!" she captioned the picture. So pretty!
[Photo: Instagram]
Emmy Rossum finally showed off her gorgeous engagement ring while on her way to the Critics' Choice Awards last night. Rossum got engaged to Sam Esmail, Mr. Robot creator and head writer, in August. "On our way to cheer on @whoismrrobot at #criticschoiceawards with little robot cufflinks!" she captioned the picture.
[Photo: Instagram]
Eva Longoria is on a whirlwind press tour promoting her new NBC series, Telenovela. What we should call it, however, is an engagement ring tour. Eva's been showing off her stunning ruby-and-diamond rock from her TV exec boyfriend, Jose Antonio.
[Photos: Splash News]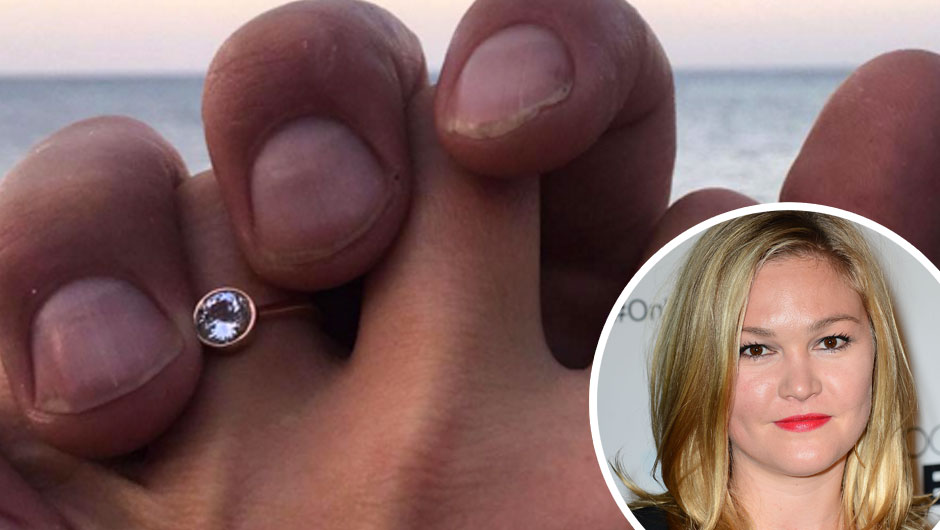 Actress Julia Stiles showed off her minimalistic and beautiful engagement ring via Instagram. She captioned the picture "Best Christmas Ever!" Stiles got engaged to her camera-assistant boyfriend, Preston J. Cook, at a private residence in Isla Grande, Colombia.
[Photo: Instagram]
Nicki Minaj
Nicki Minaj showed off a HUGE diamond ring in recent Instagram posts. We can only assume this is an engagement ring from her boyfriend Meek Mill. Minaj captioned this picture "This stone is flawless. (My voice) lol" and it certainly looks flawless. Dang, girl.
[Photo: Instagram]
Lady Gaga
Gaga showed off her unique heart-shaped diamond engagement ring right after Taylor Kinney proposed to her on Valentine's Day!
[Photo: Instagram]
Kim Kardashian
Would we expect anything less than over-the-top from Kim Kardashian and Kanye West?! Kimmy's ring was designed by Kanye himself, along with Lorraine Swartz, and is said to be a perfect 15-karat diamond.
[Photo: Instagram]