Kim Kardashian hasn't been on social media since her scary gunpoint robbery in October 2016. However, the reality star made an appearance on her makeup artist's Instagram, and she made a surprising choice to go makeup-free! See the photo--->
Kardashian visited longtime friend and makeup artist Joyce Bonelli in the hospital after she welcomed twin boys and it looks like she didn't bother to put on any makeup for the occasion. I mean hey, neither would we! But this does seem out of character for Kim "contour" Kardashian.
"The Boys 'First Kiss' From Auntie KiKi," Bonelli captioned the sweet photo. It's good to see that Kim's out and about again!
[Photo: Instagram]
I would trade my left arm to look like Adriana Lima. She's one of the most gorgeous human beings on planet Earth, even when she's not wearing makeup! Oh, you need proof? Click to see her fresh-faced--->
[Photo: Splash News]
The Victoria's Secret Angel posted this makeup-free selfie two days ago, and, like I said, she still looks flawless! It's actually refreshing to see any model without makeup, then we know they are just like us (kind of).
[Photo: Instagram]
It's very rare we see Gigi Hadid without makeup. Considering she's a big time model and all, Gi is always done up for a photo shoot or runway show.
We went digging through her Instagram for any makeup-free photos and surprise, we found one! Of course, Gigi still looks stunning, but can you even recognize her in this pic--->
[Photo: Splash News]
Here she is makeup-free and all! We love Gigi with a fresh, bare face. She posted this photo to Instagram when she reached 19 million followers earlier this year, and we gotta give her props for choosing to show off her natural beauty for the occasion!
[Photo: Instagram]
Mila Kunis is one of the chillest stars in Hollywood. She proved that fact even further by posing without makeup on the August 2016 cover of Glamour. As if we didn't think she was already flawless, both inside and out, check out her gorgeous bare-faced look--->
[Photo: Xavier Collin/Image Press/Splash]
I mean, how flawless is that face?! Mila told the mag, "I don't wear makeup. I don't wash my hair every day. It's not something that I associate with myself." She continued, "I commend women who wake up 30, 40 minutes early to put on eyeliner. I think it's ­beautiful. I'm just not that person. So to go to a shoot and have my makeup artist put on face cream and send me off to do a photo, I was like, 'Well, this makes life easy.' And you're still protected. Nobody's there to make you look bad."
Unsurprsingly, she's also not a fan of Photoshop. "here was a company that I did a photo shoot for once that manipulated the photo so much, I was like, 'That's not even me,'" she said. "Like, what's the point? You wanted my name, and then you wanted the version of me that I'm not. I absolutely hate it."
OK, our girl crush just grew, like, 100000000 times more.
[Photo: Steven Pan/Glamour]
Kylie Jenner has been scaling back on her makeup lately. The Lip Kit queen, well, ditched her Lip Kit and other products for a makeup-free selfie. She actually looks like a regular 18-year-old girl with a fresh face! Click to see--->
[Photo: Splash News]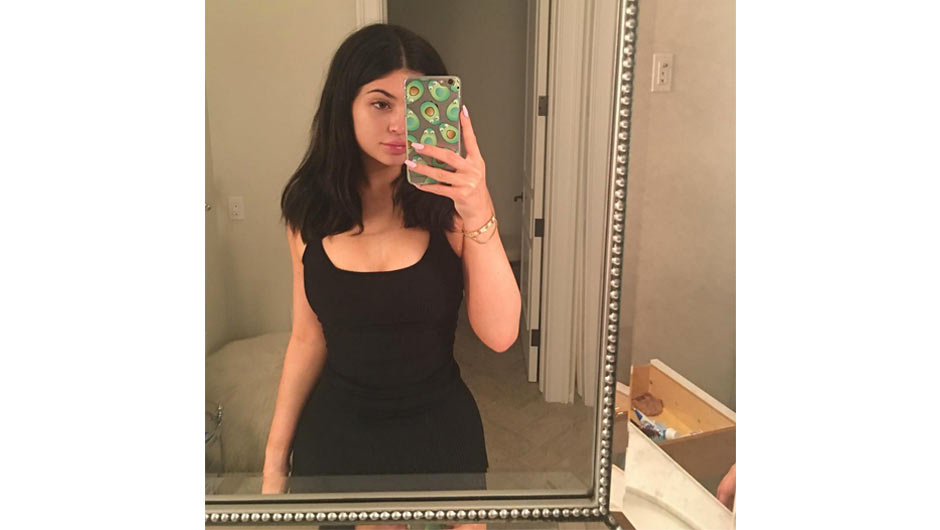 She captioned the mirror pic, "Hello." Nice to see your face, Kylie! With just a touch of something on her lips (Vaseline, perhaps?) and her natural dark hair tucked behind her ears, we're loving this au naturale look on her. What do you think?
[Photo: Instagram]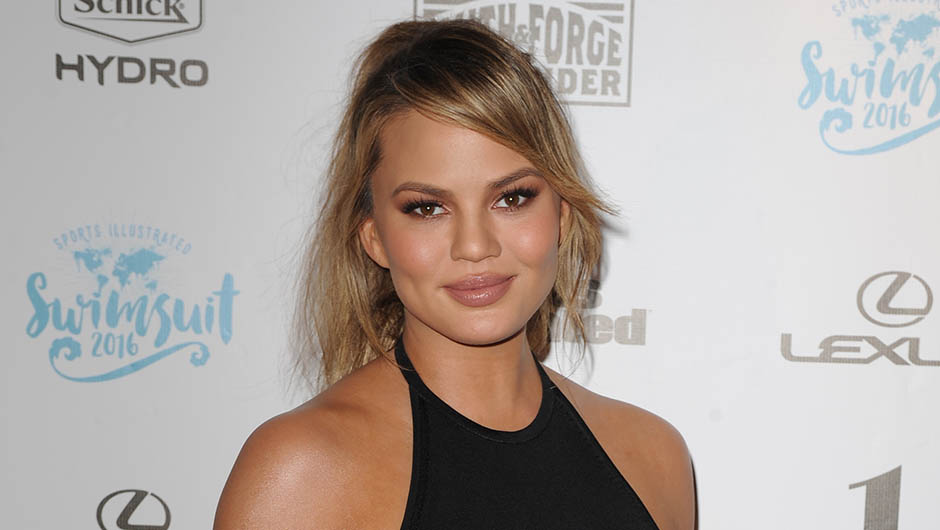 Chrissy Teigen is pretty busy these days, you know, being a mom to the cutest baby in the world! She posted a makeup-free selfie to Snapchat with the caption "Goodbye pregnancy glow. Hi itchy red spots." Yep, that's motherhood for ya! Click to see her snap--->
[Photo: Splash News]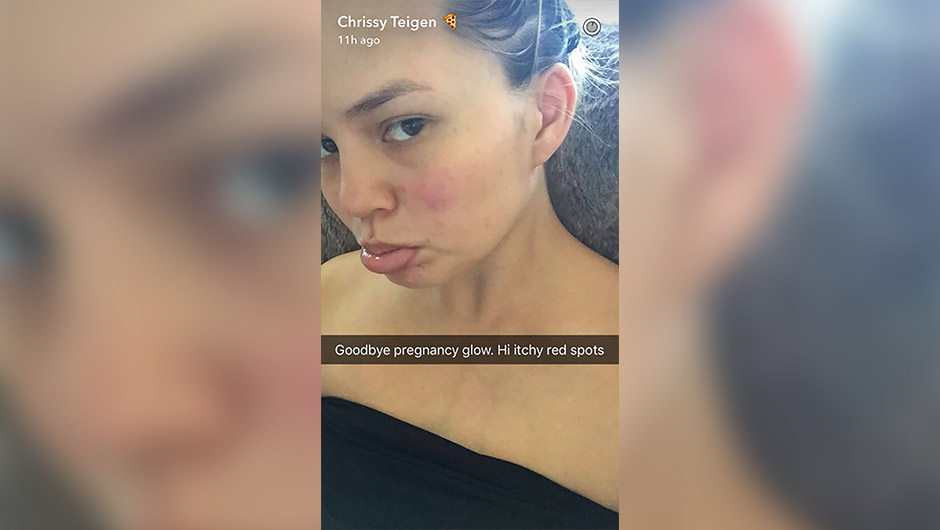 So even with her red spots and no makeup, Chrissy still manages to look gorgeous! Welcome to the life of motherhood, girl! It looks great on you.
[Photo: Chrissy Teigen Snapchat]
Whenever I think of the quintessential pretty all-American girl, I think of
Allison Williams. And just when I thought the GIRLS star couldn't look any better, she posts a makeup-free selfie that's actually flawless...
[Photo: Splash News]
"28! Love you all so much. Thank you for all the birthday wishes. A no-filter no-FaceTune no-plastic surgeried kiss from me to you," she captioned the Instagram post. 28 looks good on you, AW!
[Photo: Instagram]
We're used to seeing Kelly Osbourne on the red carpet with tons of makeup. However, the TV personality just posted a selfie to Instagram from #MakeupFreeMonday and we almost didn't recognize her!
[Photo: Splash News]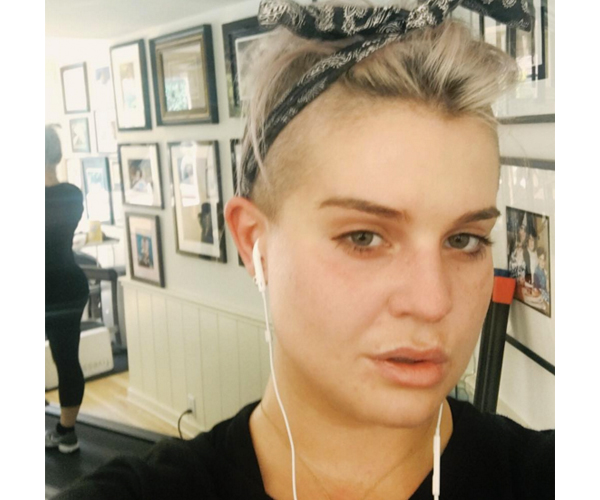 We love the natural look, Kelly! She captioned this pic, "#MakeUpFreeMonday at the gym! Come on all you confident ladies join In & let me see your beautiful faces!!!!"
[Photo: Instagram]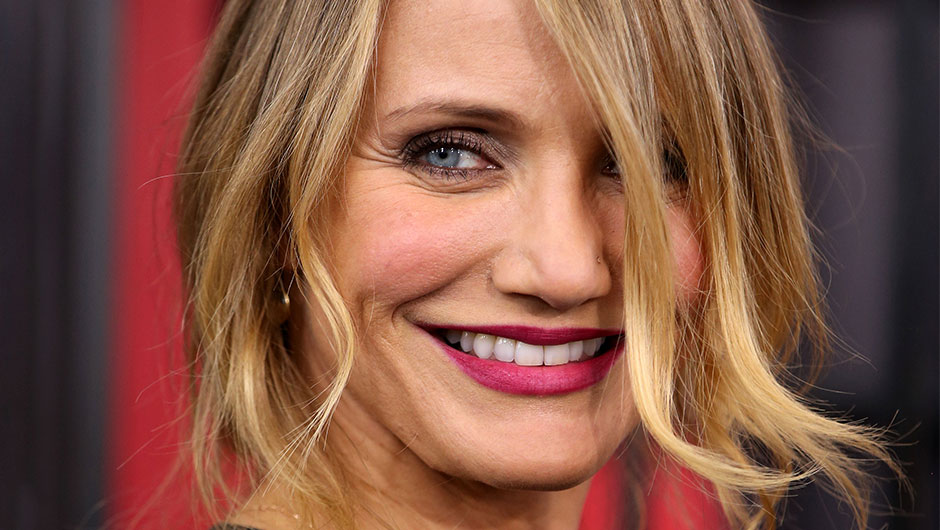 We all know Cameron Diaz is one of the most beautiful women in Hollywood. In honor of her new book, The Longevity Book, she posted a (completely) barefaced picture to Instagram...
[Photo: Splash News]
Cameron posted this no-makeup snap to Instagram with an inspiring message. "I'm so excited to continue the conversation because learning that you can age well, will actually help you age better," she captioned the picture. "If you understand how your body works then you can take action to help keep it in the best possible condition so it can carry you through a long and beautiful life. | Read my full post at www.OurBodyBook.com @thebodybook #linkinprofile #longevitybook #knowledgeispower #everyoneages"
She looks stunning!
[Photo: Instagram]
We're used to seeing Giuliana Rancic wearing a TON of makeup. She usually has a great smokey eye going on and lots of bronzer. However, Rancic just posted a makeup-free selfie on Insta and I almost didn't recognize her!
[Photo: Splash News]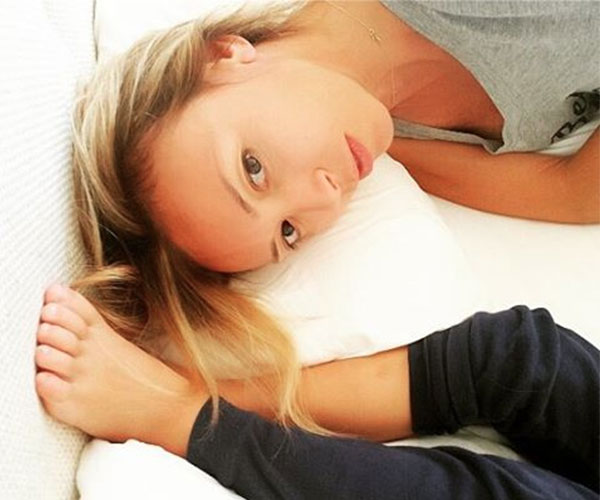 Doesn't she look so different without makeup?! We absolutely love this natural look on her. She captioned the pic, "I woke up like this. #feetinmyface #cutestfeetever #bubblytoes #bestalarmclock." Must be the feet of her adorable son Duke!
[Photo: Instagram]
J.Lo is a flawless human being whether she wears makeup or not. We're used to seeing the star all made up for performances and award shows, but just like any other person, J.Lo does not wear makeup 24/7--we have proof!
[Photo: Splash News]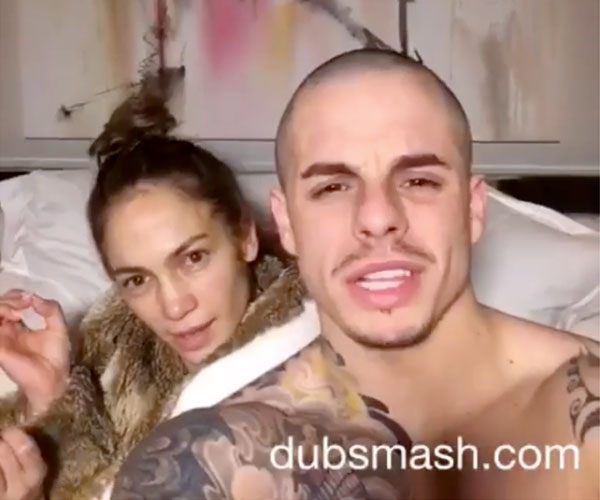 J.Lo and her on-again boyfriend Casper Smart posted the Dubsmash to end all Dubsmashes. The couple recreated the #whitegirlanthem and it's OP. But can we just say, J.Lo literally looks unbelievable here and she's wearing NO MAKEUP. Yeah, girl!
[Photo: Instagram]
Dita Von Teese is the definition of a pinup girl. She looks like she came right out of an old-fashioned movie. On that note, it's extremely rare to see Dita without any makeup on, especially her trademark red lips. However, take a look at this...
[Photo: Splash News]
I literally went through every one of Dita's Instagram pictures and this was the only photo of her without makeup. It was taken when she was only 16! I wish she would take more fresh-faced photographs because she's so beautiful, but she looks great with or without makeup.
[Photo: Instagram]
We all know Jenna Dewan-Tatum is absolutely stunning. She often posts pictures of herself not wearing any makeup to her Instagram page, which I totally love. This is what she looks like sans makeup...
[Photo: Splash News]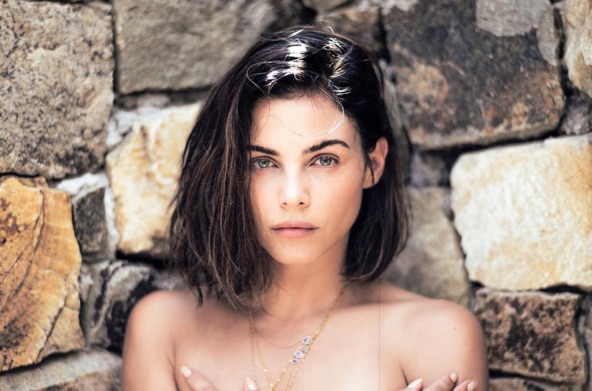 Is this picture not stunning?! Taken by her hubby, Channing Tatum, while on vacation. "#tbt to chans insistence on a makeup free shoot in Cabo...too bad he's not good at anything," she captioned the picture. I mean, she looks unreal.
[Photo: Instagram]
Sofia Vergara
Colombian actress Sofia Vergara basically has it all. She's gorgeous, she's rich, she's talented, she's married to Joe Manganiello... What more could a girl want? NOTHING. We want her life. Oh, and I guess it shouldn't come as a surprise that she looks amazing without makeup too...
[Photo: Splash News]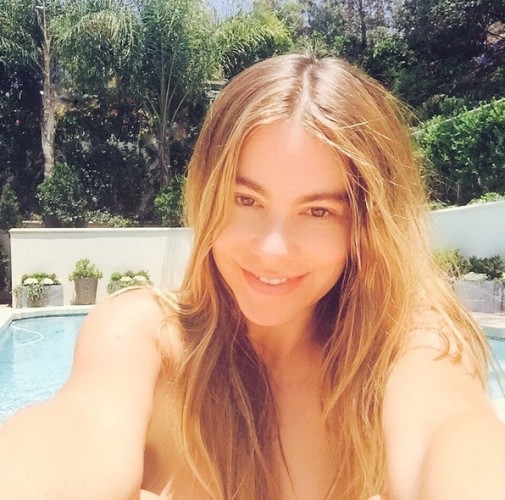 Sofia Vergara
Sun-kissed and au naturale, Sofia Vergara's confidence (and happiness!) is contagious!
[Photo: Instagram]
British beauty Ria Ora is usually photographed with a face full of makeup, whether it be a bold red lip or sultry smokey eyes. However, she looks totally different sans makeup...
[Photo: Splash News]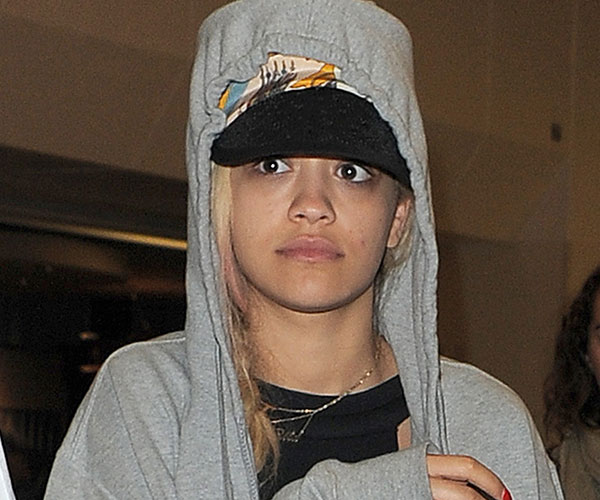 At first glance, it was hard to believe this is Rita. I mean, she's still gorgeous (obviously) but she definitely looks a bit different. There's no doubt she can pull off a fresh, no makeup look. I love how big her eyes look even without all the eye makeup!
[Photo: Splash News]
We all know supermodel Tyra Banks is straight-up gorgeous, but she usually wears a lot of makeup. Fortunately, Banks posted this no-makeup selfie to Instagram proving she's just as gorgeous without makeup...
[Photo: Splash News]
She posted this photo a little while back but it's important to remember the message she's sending. "You know how people say #nofilter but you know there's a freakin' filter on their pic? Or maybe there's a smidge of retouching going on but they're lying and saying it's all raw & real? Well, this morn, I decided to give you a taste of the really real me. I wanted to smooth out my dark circles so badly!!! But I was like, "Naw, Ty. Show 'em the REAL you." So...here I am. Raw. And there YOU are...looking at me, studying this picture. Maybe you're thinking, "Whoa, she looks ROUGH." And if you are, great! You deserve to see the REAL me. The REALLY real me. #RawAndReal" Banks captioned the selfie. We love the real you!!
[Photo: Instagram]
Beyoncé's makeup artists do not have a heavy hand when it comes to creating her look. She usually opts for a more natural look as opposed to something bold. A recent picture of Queen Bey without makeup just hit the Internet...
[Photo: Splash News]
Garage magazine just released their latest cover and it features a bare-faced Beyoncé! Ok, she serously looks flawless. Not an ounce of foundation, mascara or blush and Beyoncé still looks beautiful.
[Photo: Instagram]
If Hilary Duff is walking a red carpet, she's usually wearing a smokey eye and glossy lips. However, if you follow her on Instagram then you know she posts a ton of makeup-free selfies...
[Photo: Splash News]
Work it, girl! Hilary's skin is basically flawless. Am I right?! She is so naturally beautiful and can definitely pull off wearing no makeup.
[Photo: Instagram]
We're used to seeing Carrie Underwood with a super intense smokey eye, big hair and flawless skin. However, the country star posted a rare selfie with no makeup--she's almost unrecognizable...
[Photo: Splash News]
Here she is wearing zero makeup after a workout. Carrie calls herself a "sweaty mess" in the caption--we think you're gorg, girl! Now how can I look like this "sweaty mess" after spin class...
[Photo: Instagram]
Selena Gomez is a huge fan of makeup, whether she's wearing a smokey eye, winged eyeliner or a bold lip. She looks gorgeous no matter what type of makeup she's wearing and she looks even better without any...
[Photo: Splash News]
Selena posted this makeup-free beach selfie to Instagram and she honestly looks stunning. I mean, she's basically glowing. This girl proves she doesn't need any makeup to feel beautiful!
[Photo: Instagram]
Cindy Crawford had a major birthday on February 20th--the supermodel turned 50 years old! To celebrate the milestone birthday, Crawford posted a makeup-free selfie to Instagram that proves she is truly an ageless beauty...
[Photo: Splash News]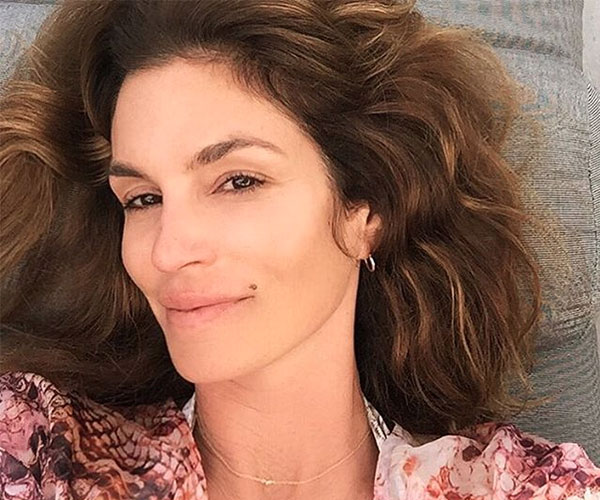 Crawford captioned the photo, "First day at 50. Thank you for all of the birthday wishes yesterday! ?•" She's flawless!
[Photo: Instagram]
Blake Lively is perfect. So perfect, in fact, that it's difficult to believe that her look is largely natural! Okay, that's not the nose she was born with, but aside from that, Miss Lively is glam to the core. In case you're looking for proof, here's what Blake looks like makeup-free... [Photo: Splash News]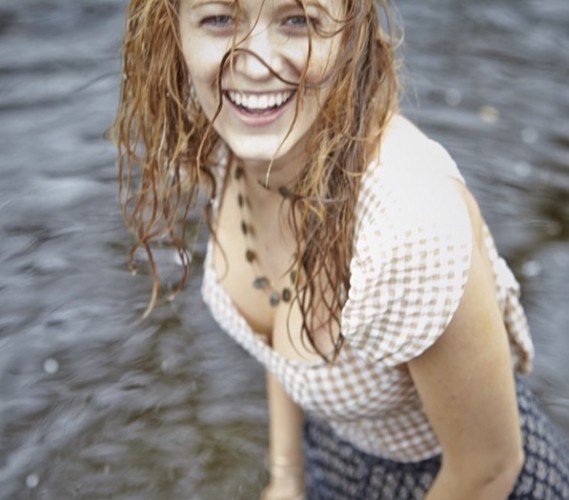 Told ya! Lively is bare-faced and beautiful! [Photo: Instagram]
In case you haven't noticed, Britney Spears has been extremely put together these days. She even was spotted in a white sundress and cork sole wedges on a casual Starbucks run! Things have definitely changed since 2007... However, just like you and me, Brit Brit does go without makeup from time to time. Here's a recent photo of a makeup free Ms. Britney Jean Spears.
[Photo: Splash News]
Sure, she might have on some eyeliner here but this is pretty much a no-makeup Britney Spears, and she looks great! Plus, how cute is her high ponytail?!
[Photo: Splash News]
This Barbados-born beauty knows a thing or two about the power of pizazz. RiRi is often lauded for taking daring fashion and beauty risks — who here remembers the 2015 Met Gala? *FLAWLESS*. As the master of double-take style, it's rare to see Queen Ri step away from her bag of tricks and go au naturel, which is why we were so surprised when we saw this...
[Photo: Splash News]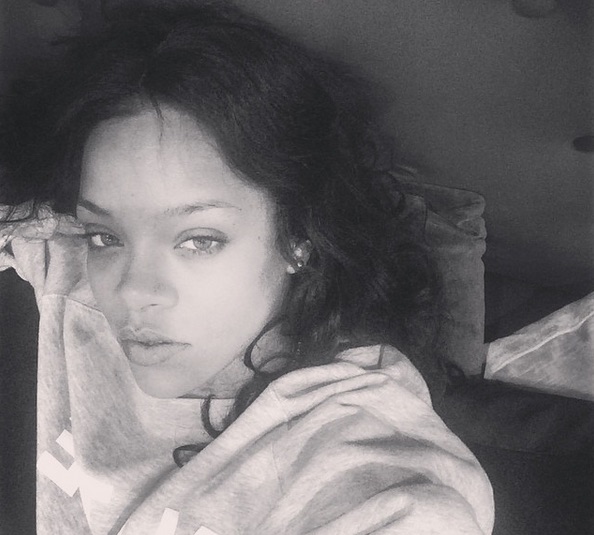 Slay, girl! Rihanna posted this artsy makeup-free selfie to Instagram, proving once and for all that she's just as fabulous off-duty.
[Photo:Instagram]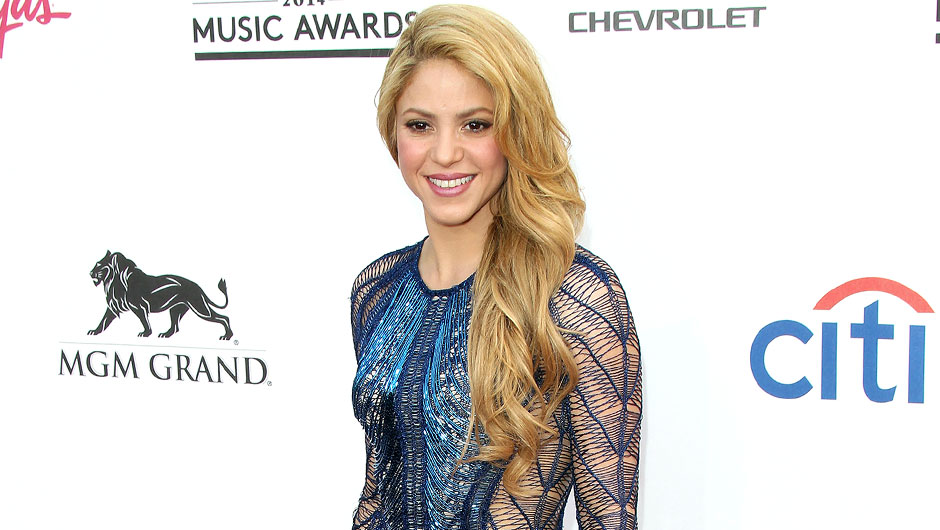 Shakira is so beautiful naturally, so she really doesn't even need makeup. Of course, makeup only enhances her beauty even more. In honor of her 39th birthday, Shakira posted this picture to Instagram...
[Photo: Splash News]
A no makeup birthday selfie! Well, we now know that Shakira has flawless skin even without makeup. It's also worth noting she absolutely kills the half bun hairstyle. "Birthday bun / Una ducha y a celebrar mi cumple! Shak," she captioned the gorgeous selfie.
[Photo: Instagram]
Lady Gaga is rarely pictured in public or on red carpets without having a full face of perfect makeup. She's defined her look through the years and has been experimenting with a toned down, classic beauty look. This is what Gaga looks like without any makeup on...
[Photo: Splash News]
Gaga looks fresh faced and clean in this picture she posted to Instagram. Whether she's on the red carpet or in her own home, Gaga looks beautiful and fierce!
[Photo: Instagram]
Adriana Lima is hands-down one of the most beautiful women in the world. Between her striking blue eyes, dark hair and killer body, Adriana has no problem grabbing anyone's attention. Of course, she looks gorgeous when she's all made up but Adriana often posts pictures like this to Instagram, which reminds us how real she is...
[Photo: Splash News]
This Victoria's Secret Angel is not afraid to sweat...and document it. Adriana's Instagram is full of post-gym selfies showing off her sweaty, no makeup look. Let's be honest, sweat and all, she still kills it.
[Photo: Instagram]
Kourtney Kardashian is usually seen with a full face of makeup. We all know our Kardashian girls love their contouring! However, sometimes we get a glimpse of Kourt sans makeup, either on KUWTK or her Instagram account...
[Photo: Splash News]
After all, she is a mother of three so it's only appropriate to have some down time. In Kourtney's case, this usually means taking #NoMakeup selfies! Underneath all that makeup is pure beauty. Mama's still got it!
[Photo: Instagram]
Demi Lovato is no stranger to bold looks, especially when it comes to makeup. She usually rocks a smokey eye and red lips when performing onstage. However, when Demi isn't performing, she goes for a way less dramatic look.
[Photo: Splash News]
To promote self-confidence, Demi started No Makeup Monday (#NMM) on Instagram. Every Monday, she posts a picture of herself completely makeup free. She is so naturally beautiful and it's nice to see a celebrity voluntarily share photos of themselves not all dolled up. Keep doing your thing, girl!
[Photo: Instagram]
Katy Perry is known for her daring hair, makeup, and fashion choices (Remember when she dressed up as a cheeto? LOL). False eyelashes, blue wigs, Candy Land inspired attire… We never know what to expect from Katy Kat. But seeing her bare-faced is hands-down the biggest shock of all… [Photo: Splash News]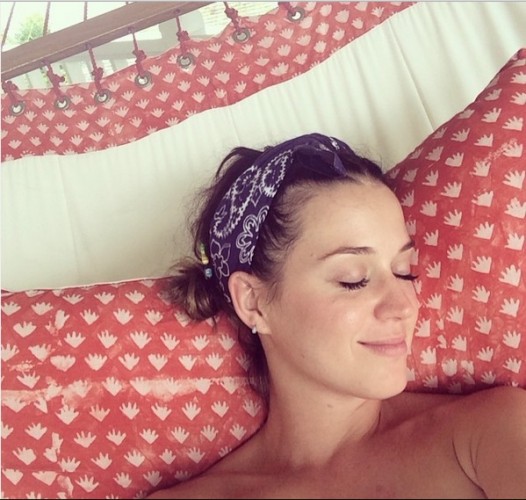 Katy, gurl, we think you're pretty without any makeup on ;) [Photo: Instagram]
Kim K. is never fully dressed without a face-full of designer makeup. Whether pregnant, sick, or just popping out to run errands, her majesty always looks paparazzi-perfect. So, naturally, our single glimpse at makeup-free Kim was actually makeup-related, and posted by her go-to makeup artist... [Photo: Splash News]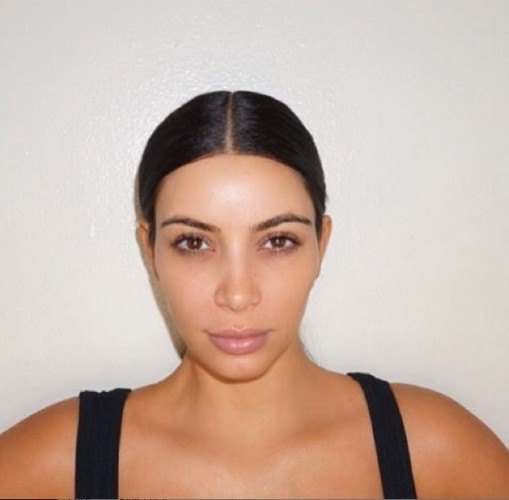 Behold! A "before" photo from celebrity makeup artist Mario Dedivanovic. We'd love to see Kim rock this au natural look more often! [Photo: Instagram]
Gwen Stefani is not one to leave the house in sweatpants and yesterday's eyeliner. Girl rocks her trademark red-lip 24/7, and rarely looks less than $100 million (her net worth, LOL). So we were shocked when Gwen posted this stripped down selfie...
[Photo: Splash News]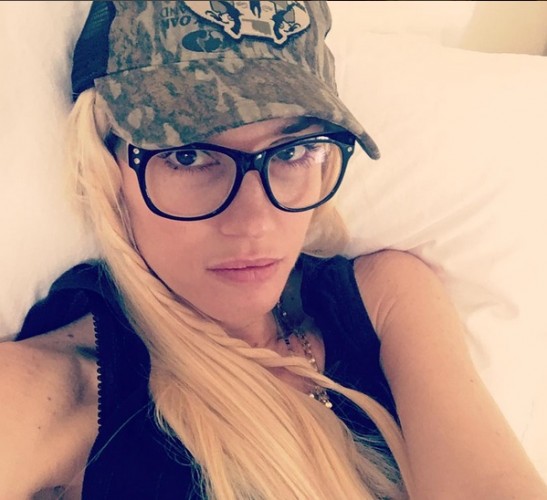 Ciao, red-lip! This is a pretty bare look for Miss Stefani, but there's no denying that she still looks GORGEOUS. #TheRealThing
[Photo: Instagram]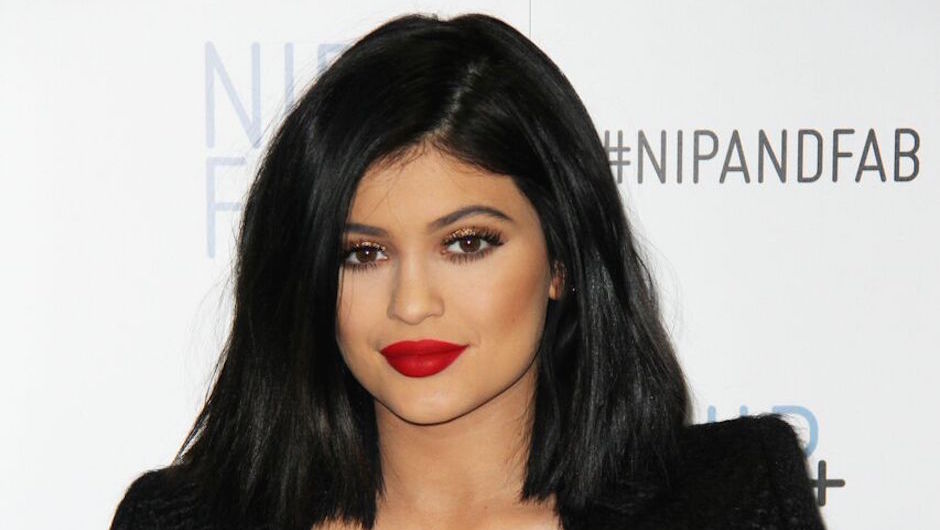 Kylie Jenner is always pictured wearing tons of makeup. She usually keeps her signature pout the center of attention, but she also wears fake lashes, contours her face and rocks bold brows. However, Kylie sometimes posts pictures of herself without makeup... [Photo: Splash News]
Kylie looks stunning without makeup. Even though is always seen in public wearing tons and tons of makeup, she actually prefers to go without makeup. She should definitely rock this beauty look more often!
[Photo: Instagram]