By now, you've probably seen the booty shots and nearly-naked selfies Kourtney Kardashian posted on her girls birthday trip to Mexico.
While many of her Instagram followers praised the hot shots (I mean, girlfriend looks GOOD), some questioned whether or not they were photoshopped, especially after photos from the same vacay of Kim Kardashian's cellulite were leaked.
Well, according to celebrity photographer and Photoshop expert Alan Barry, the answer is yes.
"Her upper left back has been edited in to a perfectly straight line," Barry explained to Radar Online. "Both of her butt cheeks have been heavily edited. And badly at that." Barry thinks the reality star edited her photos "to remove all evidence of any kind of cellulite or marks."
Kardashian looks great with or without photoshop, plain and simple. And if she chose to do a little retouching on her photos, so what? Who doesn't do that these days? Her caption isn't "all natural" or something to make us think there's no editing involved. So let's just let her live.
[Photo: Instagram]
Celebrity makeup artist Hung Vanngo posted this selfie of Selena Gomez while working on a secret project with the pop star. However, instead of wondering what the two were up to, fans started to speculate about the Photoshop in this pic.

If you look just behind Gomez's left shoulder, you will see that the wall is warped, indicating that there was some Photoshopping done to this image. Could it be to smooth out her shoulder? Or hair?

According to Seventeen designer and Photoshop expert Dana Tepper, the editing was likely done to give Gomez's hair some more volume.

While there's no editing of her waist or other body parts in this image, any Photoshopping is problematic, really. To quote SelGo herself, we want to see what's "in here" on Instagram, without any edits!

[Photo: Instagram]
Tyga posted this photo of Kylie Jenner on Instagram yesterday, and everyone's freaking out about it for two reasons.
First, her right leg looks much smaller than her left one. "tf is wrong with her leg LMFAOOOOO," one user wrote. "Photo shop much," someone else commented. While it looks like there was some editing at first glance, if you take a closer look, you will see that most of Kylie's right leg is just hidden behind Tyga's, so no Photoshop there.
But that's not the strangest part of this photo. If you look closely on Kylie's right leg, you will see there is some sort of growth on her knee. Is it a wart? Some people think it's a nipple...
"wtf that nipple on your knees," one person commented. Another wrote, "What is protruding from her knee that looks like a nipple."
Honestly, we have no explanation for what that is besides Photoshop gone wrong.
[Photo: Instagram]
Mariah Carey posted this photo to Instagram on Thanksgiving and she's getting slammed for it. People are calling her our for photoshopping after her followers noticed the distorted mirror behind her shoulder and the curved cabinet by her knee.
"That's got to be some of the worst photoshopping I've seen!" one commenter wrote. "Should the cabinet door and mirror bend like that?" another commented.
Others came to her defense. "Who cares if it's photoshop," one follower wrote. "Who doesn't fix there pics know a days... so let it go and move on or don't follow her simple as that??"
Mariah has yet to comment on the accusations, but she looks pretty happy with her pie and whipped cream in this pic, so we doubt she cares what us plebs think.
[Photo: Instagram]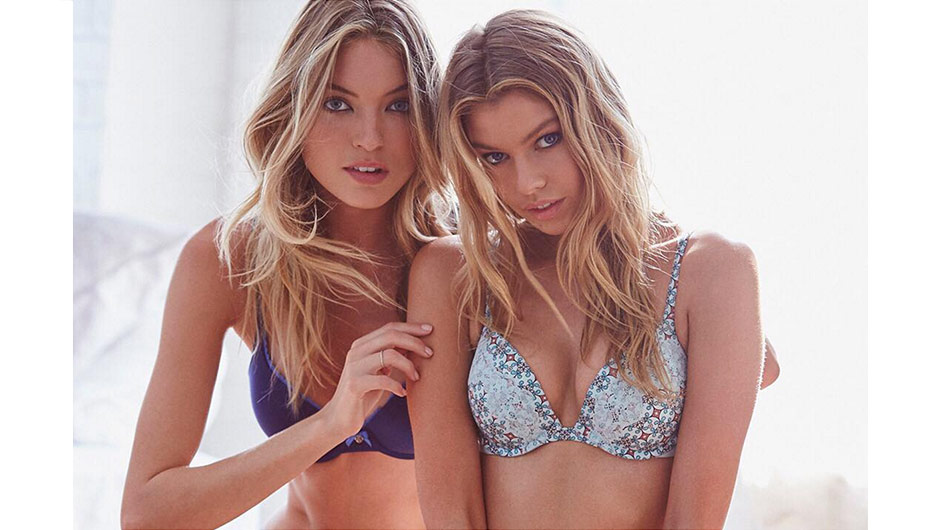 Victoria's Secret is no stranger to Photoshop allegations. Most recently, this photo posted to the brands' Facebook and Instagram accounts is being called into question.
Take a look at Martha Hunt's arm (she's on the left). Fans are commenting that her right arm looks edited to be thinned out and her left elbow is sticking out way too far behind Stella Maxwell (on the right) to be realistic. While the arm debacle might be due to lighting, it still looks like there's been retouching with the extra white space around Martha's arm. So far, there's been no comment from the Angels or VS.
[Photo: Instagram]
Meghan Trainor, who is "all about that bass," removed her latest music video for her single "Me Too" when it was released on Monday. She took to Instagram and Snapchat to explain that the video editors "photoshopped the crap out of me."
She posted this side-by-side comparison on the 'gram with her edited body on the left and her real "bass" on the right. She also posted a story to Snapchat saying, ""I'm so sick of it, and I'm over it, so I took it down until they fix it." She continued, "My waist is not that teeny, I had a bomb waist that night. I don't know why they didn't like my waist, but I didn't approve that video, and it went out for the world, so I'm embarrassed. I told them to fix it ASAP Rocky because I will be going to Times Square to play it for my fans so I hope they fix it for me. I'm sorry."
During an appearance on Bravo's Watch What Happens Live Monday night, Trainor told host Andy Cohen, "I was so upset because I thought the fans were doing it online when they were screenshotting it, I was like, what's going on? Then I saw my video, I was like, oh my god. It's my own video. And I called the gods of Vevo and I said, 'Take that down now.'"
When the Grammy winner for Best New Artist calls upon the Vevo gods, they listen. The unedited video is now up for all to see. Watch it here.
[Photo: Instagram]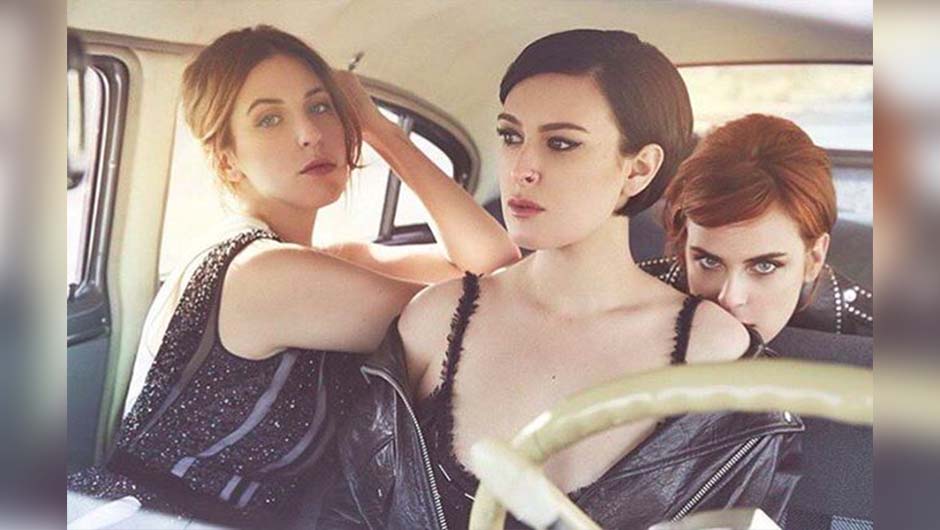 Rumer Willis called out Vanity Fair for photoshopping her jawline, calling it "a form of bullying." She wrote on Instagram, "Any friends of fans of mine who posted this I would appreciate if you took it down. The photographer Photoshopped my face to make my jaw smaller and I find it really offensive for anyone to try and change the way you look so drastically. I love the way I look and I won't support anyone who would feel a need to change the way I look to make me beautiful. Whether or not they realize it, it is a form of bullying, which I won't stand for."
The photograph is from the May issue for a spread about famous sisters shot by Mark Williams and Sara Hirakawa. The photographers responded to Rumer's comments to The Cut, saying, "The retouching that was done to the photograph was only done to resolve some distortion with using a wide angle lens for a group shot, and not to alter or modify anyone's face. We used a wide angle lens, and it might've made Rumer's chin look smaller from the higher angle that we shot the image. We did correct for the optics of the lens slightly as people's heads get distorted through the wide angle lens. We certainly did not intend to change the way she naturally looks. Our intention was to capture the special bond between Rumer and her sisters. It saddens us that Rumer feels the way she does about the image and hope she understands that there was never any intention with it to alter her appearance. We should make clear that this image was an outtake and was not published in Vanity Fair or vf.com nor did they ever see it."
[Photo: Instagram]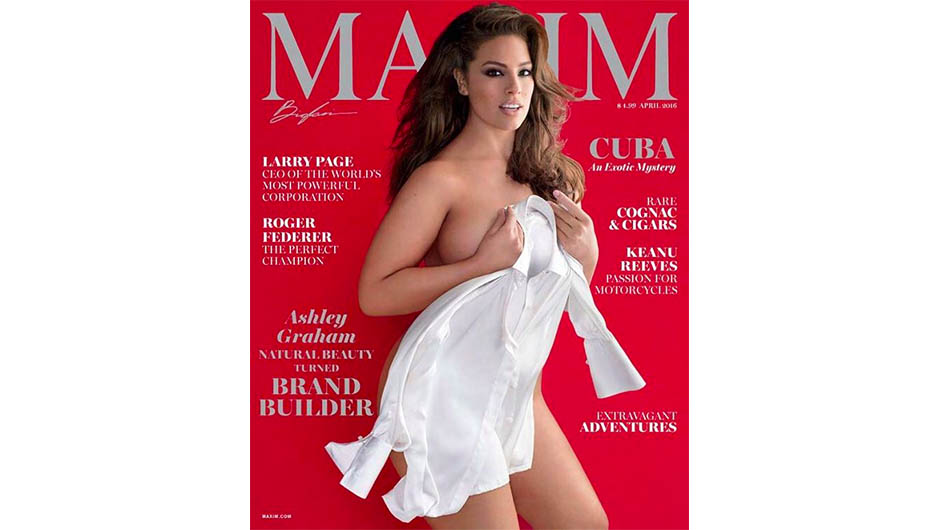 Ashley Graham fans were not happy when her Maxim cover was released. One fan wrote, "That is unfortunate after everything you stand for Ashley.. your curves are gorgeous and Maxim should not have minimize who you are...shame on them!"
Graham has since released a statement about her "controversial" cover. "I'm beyond proud to be the first curvy woman on the cover of Maxim," she said. "I was not slimmed down on the cover, and [photographer] Gilles Bensimon did an amazing job capturing my true figure in all of the photos."
"This is another major advancement for curvy women, especially those who work in the fashion industry who are working hard to get the recognition they deserve," she continued. "I now encourage more publications and designers to put more diversity on their covers and runways. Let's continue to show that beautiful bodies come in different sizes and they should all be celebrated."
Here's a picture of Graham looking a bit more like her usual self...
[Photo: Instagram]
In this picture, she looks much curvier than her Maxim cover. Whether the mag cover was photoshopped or not, she looks great either way. Graham is definitely proud of her curves and her fans appreciate that!
[Photo: Instagram]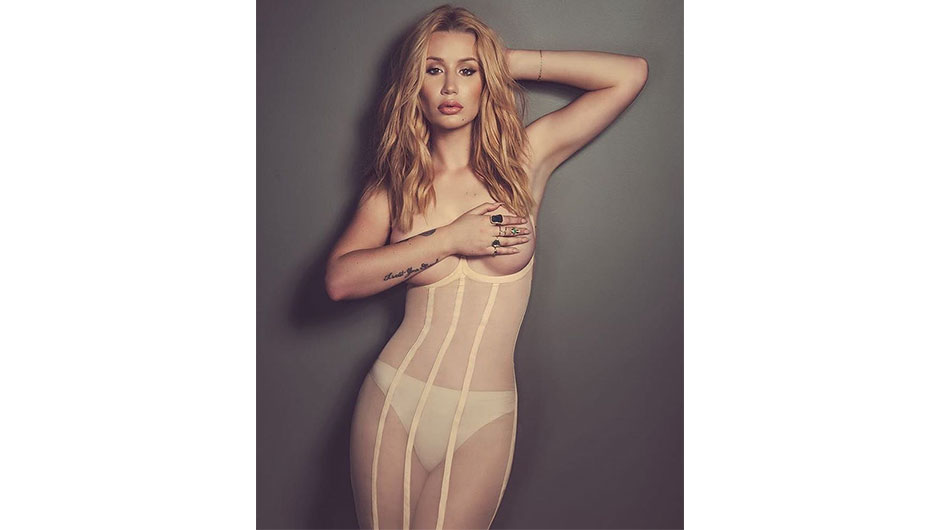 Iggy Azalea graced the cover of Schon Magazine to promote her new album called Digital Distortion. She looks great on the cover, in a pair of nude underwear and sheer corset-like overlay. A fan commented on the picture and Iggy admits she loves it except for the fact it was photoshopped. "@IggySlaysUrFave love it, but i much prefer the picture before they photoshopped my thighs and hips to seem skinnier," she responded to the fan. The magazine clearly smoothed out her hips and thighs to make her waist look smaller. Here's the unretouched photo...
[Photo: Instagram]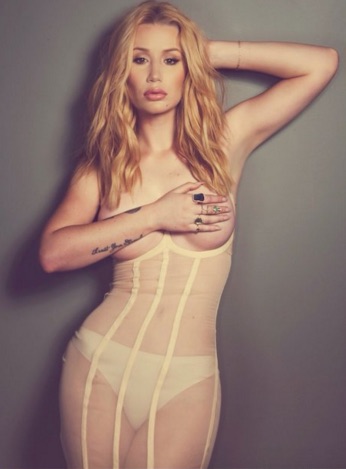 It's very noticeable that this picture isn't as smoothed out as the retouched one. Iggy's waist, especially her hips and thighs, have been slimmed down. Her figure looks almost Barbie-like in the photoshopped version.
[Photo: Twitter]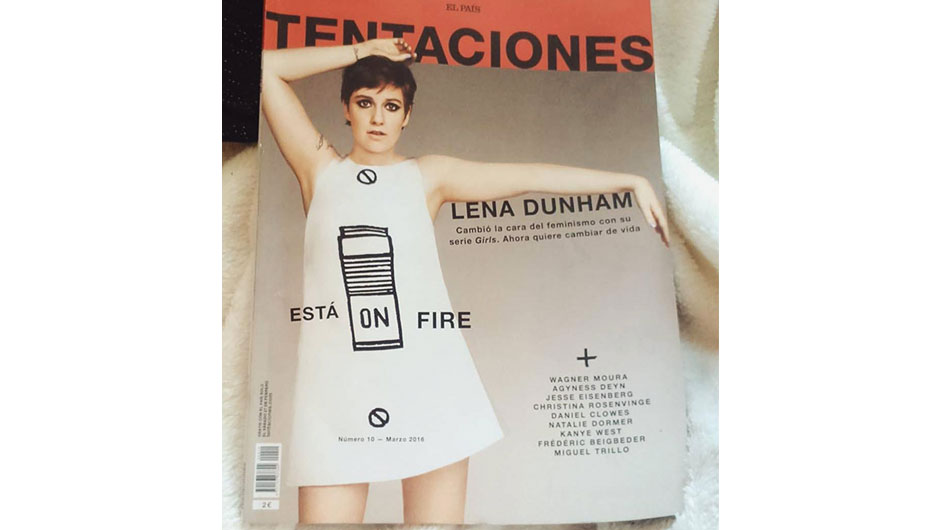 Lena Dunham is not happy with the Spanish magazine Tentaciones for retouching her body on the cover of their magazine. Dunham took to Instagram with a message to the mag, saying, "Oh hello El Pais! I am genuinely honored to be on your cover and so happy you licensed a pic by @ruvenafanador, who always makes me feel gorgeous. BUT this is NOT what my body has ever looked like or will ever look like- the magazine has done more than the average photoshop. So if you're into what I do, why not be honest with your readers? Much love, Lena."
For the record, this is what Dunham's body looks like without photoshop...
[Photo: Instagram]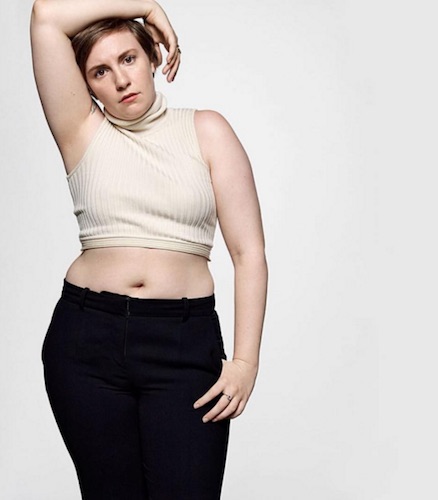 You can clearly see the Spanish magazine slimmed down almost her entire body. Kudos to Dunham for standing up for herself! Her natural body is beautiful.
[Photo: Instagram]
Vogue China retouched their cover photo of Gigi Hadid and her fans are anything but happy. Noticeably missing from the stomach region are her moles. Fans were quick to notice and comment on the photo, saying, "This is so airbrushed that her moles aren't even showing," and, "WHERE ARE YOUR CUTE LIL FRECKLES...WHY WOULD YOU PHOTOSHOP THAT." Hadid has yet to comment on the retouching. In the meantime, here's a picture of what she really looks like...
[Photo: Instagram]
In this picture Hadid posted to Instagram, you can clearly see her torso is scattered with moles. With or without moles, she is gorgeous but it would be nice to maintain her actual look.
[Photo: Instagram]