When you're pregnant, there are days when you don't even want to wear pants, never mind a full-blown maternity Halloween costume, topped off with accessories. But with these super fun Halloween costumes for pregnant women, you might not mind getting a little dressed up.
But if you are lucky enough to be pregnant on Halloween, you can also take full advantage of this fact and use it as an opportunity and the perfect excuse to dress up your bump and have a little fun during pregnancy. You can be as creative or as simple as you want–sometimes less is more when it comes to Halloween costumes.
If you're strapped for ideas and are tired of seeing the same old pumpkin bump costume over and over again, we rounded up 10 pregnant Halloween costumes that are comfortable, fun, and super cute.
Super Cute & Easy Pregnant Halloween Costume Ideas
1. A Bun In The Oven
Rasta Imposta Bun In The Oven ($40)
This costume literally brings to life the idea that you have a bun in the oven. This one-size-fits-all costume is a poly foam pullover that you can pair with leggings, a long-sleeve shirt, and sneakers. Easy breezy. It will get you giggles, but you won't have to sacrifice comfort for creativity.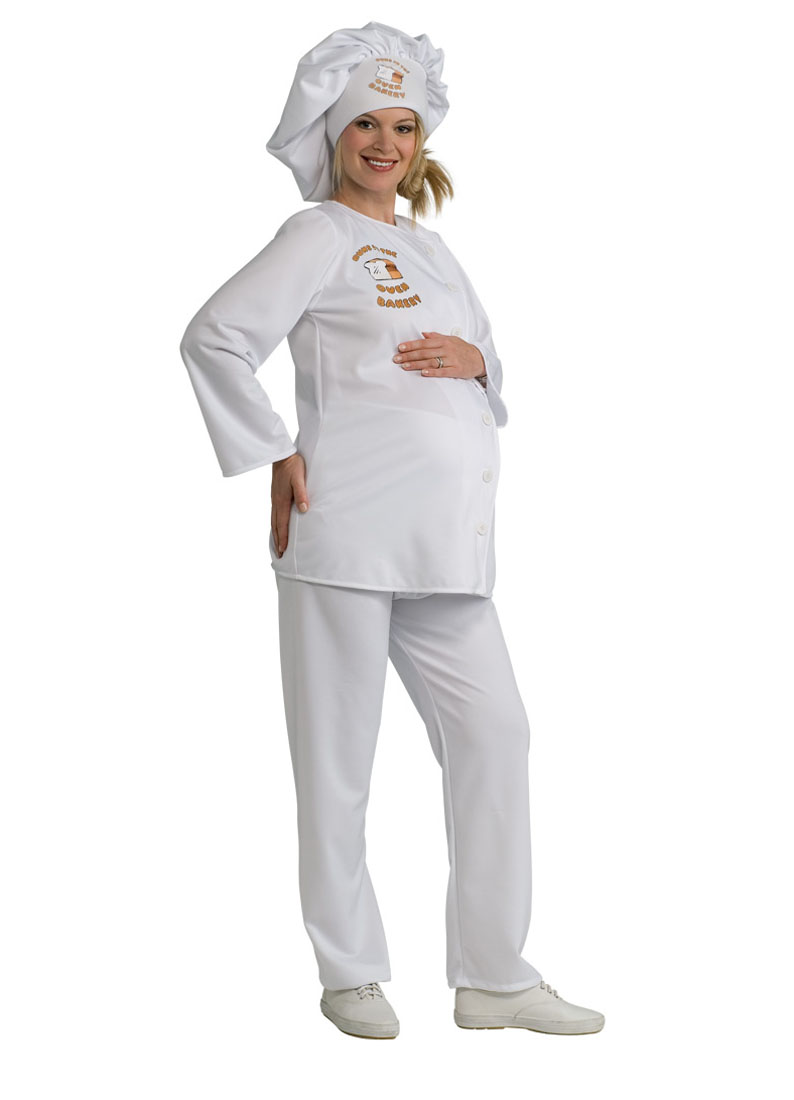 2. A Baker
Rubie's Baker Costume ($27)
Here's another play on the "bun in the oven" idea — with a full-fledged baker costume and hat. Feel free to carry around a toy loaf of bread wrapped in a baby blanket if you need a prop.
3. A Pirate
Rubie's Costume Pirate ($39)
There's no reason why you can't be pregnant and be a swashbuckling pirate at the same time. This maternity pirate costume comes with everything you need: a shirt, vest, pants, boot tops, and hat. The only accessory you need to buy is (of course) a sword. Ahoy, matey!
4. A Skeleton X-Ray Shirt
Tstars Pregnant X-Ray Shirt ($23-25)
Searching for the simplest maternity Halloween costume you can find (because you're just not that into dressing up this year)? It doesn't get easier than this X-ray shirt that "reveals" your little one's adorable body in your belly and your big heart, representing all the love you're feeling. Complete your costume by simply pulling on a pair of comfortable black leggings and black boots. If you're feeling truly inspired you can create a skeleton face on yours using face makeup — but being pregnant is also a good excuse for not going all out, so feel free to show up to a party in your favorite red lipstick instead.
5. A Baseball
Tstars Baseball Maternity Tank ($22-24)
Here's another super easy maternity Halloween costume idea, and a cute one if you're a baseball fan who can't wait for the season to start again. You can wear this baseball shirt with anything, really, though it would look particularly adorable over leggings with a side stripe that are reminiscent of baseball pants. Wear a mitt or carry around a bat and your costume is complete.
6. Sexy Vampire
Saslax Maternity Lace See-Through Maxi Dress ($16-60)
There's no rule that says you can't dress sexy if you are pregnant on Halloween. Instead of investing money in a conventional vampire costume (complete with a cape and dramatic high collar) that you'll wear once and never again, this pretty maternity lace see-through maxi dress in black performs double duty by transforming you into an elegant vampire and then serving as a sweet dress you can wear again. Pair it with a floor-length black slip (which you can buy on the cheap) and don't forget fangs and red lipstick.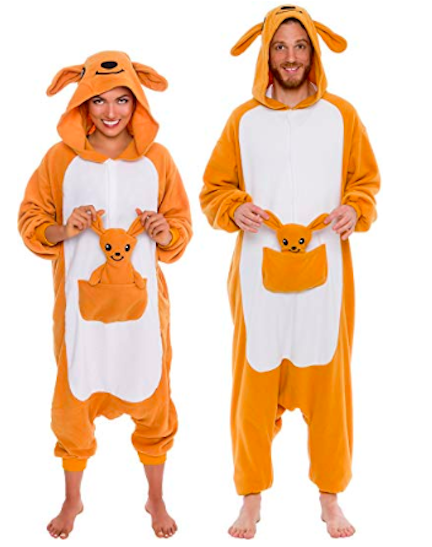 7. Kangaroo Family
Silver Lilly Adult Pajamas ($27-30)
There's never been a better excuse to dress up for Halloween in a costume that feels like a pajama onesie — and is an actual pajama. In any ordinary year, this kangaroo costume would be cute. But wearing it with a pregnant belly just hammers home the cuteness factor by about a million.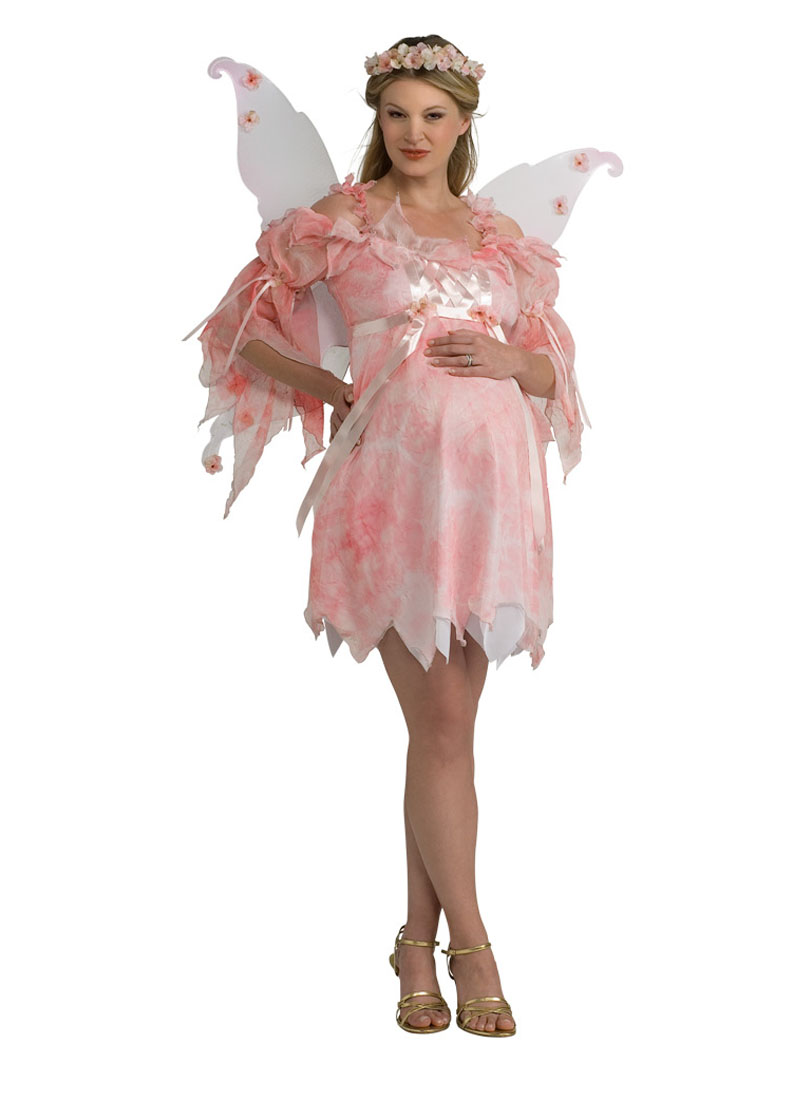 8. A Fairy
Rubie's Costumes Maternity Fairy ($20)
A world of magical creatures like fairies isn't closed off to you just because you're pregnant on Halloween. If you love nothing more than a pair of wings and a wand, this maternity fairy costume is the perfect choice.
9. A Mummy
Motherhood Maternity Mummy Costume ($40)
And the winner for the cutest costume that plays on words is …. the Mummy! Luckily, this costume looks like it consists of tape, but it's actually a really comfortable two-piece lounge outfit you won't want to take off.
10. A Superhero Costume
Motherhood Maternity Super Pregnant Halloween Costume ($40)
And lastly, no maternity Halloween costume would be complete without a superhero — because you are one before and during pregnancy and will be even more invincible after your baby is born.
SheFinds receives commissions for purchases made through the links in this post.