Finding a new face serum can be overwhelming at first, especially if you're shopping at a place like Sephora where the shelves are fully-stocked with the industry's best skincare products. Thankfully, there's a new anti-aging vitamin c serum available that will make the decision-making process a little easier–it's the Violet-C Brightening Serum 20% Vitamin C + 10% AHA from Tatcha! Keep scrolling to learn more about this best-selling Sephora vitamin C serum and discover how to use vitamin C serum to achieve glowing, wrinkle-free skin.
Shop The Best Sephora Vitamin C Serum: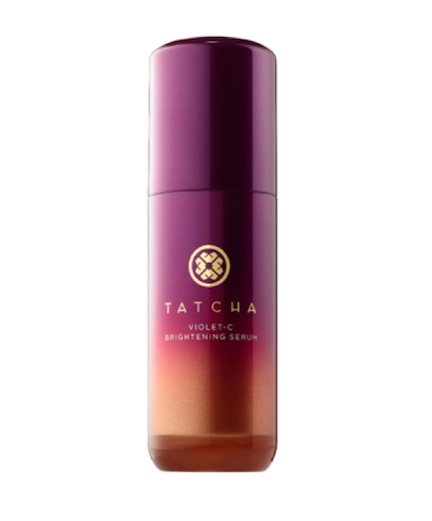 TRY IT: Tatcha Violet-C Brightening Serum 20% Vitamin C + 10% AHA ($88)
Shutterstock
Key Anti-Aging Vitamin C Serum Benefits
Violet-C Brightening Serum Highlights:
-Fortified with moisturizing vitamin C derivatives that absorb into the skin.
-Offers antioxidant protection to counteract the damage caused by free radicals and environmental damage while protecting the skin.
-Resurfaces dull, uneven skin to reveal a glowing, youthful-looking complexion.
-Works as a solution for dullness and uneven texture, fine lines and wrinkles, and dark spots.
Ingredient Breakdown:
Unique 20% Vitamin C Blend: Helps support surface cell turnover for firmer looking skin while also improving moisture levels and UV damage for brighter skin over time.
Mild Fruit AHAs 10%: Gentle yet effective acids remove debris and the buildup of dead skin cells for smooth, radiant skin; derived from seven fruits (apple, grapefruit, orange, lemon, lime, hawthorn, and jujube).
Japanese Angelica Root Extract: Helps reduce the appearance of dark spots, discoloration and post-acne scarring from the source to create a visibly more even skin tone.
Shutterstock
Clinical Results:
Based on an expert grade study of 20 women:
- In 1 week, see smoother, more radiant skin.
- In 4 weeks, see a visible improvement in overall skin tone.
- In 8 weeks, see an improvement in skin texture and the appearance of fine lines.
Promising Reviews from Sephora Shoppers:
"AMAZING!!!!! I wake up with soft baby skin and it also noticeably brightens my face !!!!!!!! Don't forget to wear sunscreen with it in the morning!!!! WILL REPURCHASE!!!....it also didn't break me out & i have acne prone skin." - loraiinex3
"From the moment I unboxed this product I was excited. The packaging is stunning, but what is inside is even better. This has improved the texture of my skin so much in just two weeks. The first week I noticed how much softer and clearer my skin was and then after that it looked brighter and more supple. I highly recommend this to anyone who has dry skin but also acne prone. It isn't too abrasive or drying but gets the job done. Totally worth the money!" - MagsRobs
"OH MY GOD!!! This stuff is amazing! Even after just a few days my skin is so soft, and smooth. It's not sticky and doesn't irritate my sensitive skin. Plus the packaging is just beautiful. I secretly wanted to not like it because of the price tag but I can't help it. I actually really do like it!!" - Pandapaws2885
Shutterstock
How To Use Vitamin C Serum
Like all serums, an anti-aging vitamin C serum is easy to incorporate into an existing skincare routine. Here are some dermatologist-recommended tips to ensure that you're getting the most of your new Sephora vitamin C serum:
1. Apply After Cleansing
Your serum should always be applied onto freshly cleaned skin but before your major skincare steps like eye cream, moisturizer, and sunscreen.
Pro Tip: Leave your skin slightly damp to improve the absorption of your vitamin C serum.
2. Gently Pat The Formula Into Your Skin
Skincare experts say patting your serum into your skin is the best way to ensure maximum absorption. Plus, it prevents harsh rubbing and pulling, which can cause wrinkles to form later on. "I find that it minimizes redness immediately after application on my sensitive skin and speeds up the absorption time. But most of all, it's really relaxing," a Tokyo-based Japanese beauty expert says.
Pro Tip: Let the serum dry before continuing your skincare routine. This way you know that the serum has fully absorbed into the skin.
3. Follow With Your Moisturizer and Sunscreen
Experts stress that you won't see the brightening effects of an anti-aging vitamin C serum if you are not diligent about your sunscreen. In fact, a study by the North Carolina Biotechnology Center found that antioxidant serums applied prior to sunscreen can improve the effectiveness of sunscreen against skin damage.
4. Use Twice Daily For The Best Results
Pro Tip: Those with sensitive skin are suggested to only use vitamin C serum once per day in case it is potentially irritating to the skin. Try once a day and see how your skin reacts before applying it twice a day.
SheFinds receives commissions for purchases made through the links in this post.