If you're experiencing thinning hair and stressing about it, remember: you aren't alone. Women and men both experience hair shedding and the reasons for this sudden change can range from hormonal imbalances and genetics to stress to nutrient deficiencies to certain medications that can cause reactions like hair loss.
Topical treatments may not solve the root of your hair shedding issue, but they can help. If you're struggling to find a cleansing product that works for you, try this one shampoo dermatologists swear by to promote new hair growth.
Shutterstock
When your hair is shedding, shower time can be a bit of a nightmare. It seems like the very act of shampooing your hair causes more hair to shed (try not to worry, though, cleansing follicles can also prevent hair shedding). Having the right shampoo in your corner can help.

When dermatologists were asked to list their preferred shampoos that combat shedding, a few came out on top — including one extremely popular option.

"An ideal shampoo for thinning hair needs to not only improve the volume of your strands but also encourage growth and circulation of hair follicles," New York City dermatologist Neil Sadick told Insider.com.
Nioxin Cleanser Shampoo

One shampoo you'll hear about often for thinning hair is Nioxin. More like a hair growth system, rather than simply a shampoo, Nioxin products contain ingredients like antioxidants, amino acids, and peppermint oil. You can purchase shampoos separately and choose among those that are ideal for extremely thinning hair or color-treated hair, or you can invest in their kits. There are six Nioxin hair kits: natural hair with light thinning, natural hair with progressed thinning, colored hair with light thinning, colored hair with progressed thinning, chemically-treated hair with light thinning, and chemically-treated hair with progressed thinning.

Nioxin Cleanser Shampoo, $42, Amazon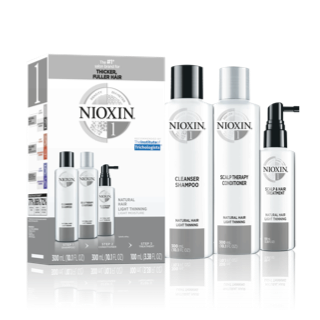 Shutterstock
Most Nioxin products — from shampoos to scalp serums — enjoy positive reviews and good ratings. As for its shampoo, more than 630 reviewers gave its System 1 shampoo for natural fine hair with thinning a 4.4 out of 5 star rating.

According to one reviewer: "This shampoo has been a true game changer for me. I have always had fine hair but I am now 47 years old and my hair has been falling out. I think this is due to my hormones being severally out of balance & from stress. This shampoo has definitely helped my hair to grow. My hairdresser has been able to see the change as well. It has totally changed the texture of my hair."

Another reviewer writes: "I am a long time user of Nioxin and have been well satisfied over the years. My hair was beginning to appear thin and my stylist used this product to wash my hair and suggested that I continue. I did and over time, the thinning stopped and I continue to have the fullness that I once had."
Shutterstock
It's important to keep in mind that a shampoo can only do so much. To truly address the personal reason why you're experiencing hair shedding, talk to your dermatologist. A medical expert should be able to get the ball rolling in figuring out if you are deficient in certain nutrients, or have a genetic condition that can be treated, or are experiencing hormonal changes that are contributing to hair loss.