Taylor Swift showed off her enviable long legs at this year's Teen Choice Awards, and was not-so secretly really hungover.
The 29-year-old stunned on the red carpet in a rainbow Versace set with revealing shorts that showed off her long legs. The singer/song-writer was nominated for seven awards and won the biggest prize of the night, the Icon Award. So, she celebrated accordingly.
In a series of Instagram videos, Swift and the LGBTQ-cast, including Laverne Cox, of "You Need To Calm Down" and "Me" took shots of tequila and danced to the recently released songs.
The videos ended up spurring a viral twitter trend "Drunk Taylor," which the star hilariously called out. "Threw a party to celebrate with the people who made the ME! & YNTCD videos with me- and we had so much fun that 'Drunk Taylor' is trending on Twitter. CHEERS," she wrote in a caption.
READ MORE: Taylor Swift Is Busting Out Of This Silky Lingerie Outfit–It's Definitely Too Sexy For Instagram!
The celebrity still managed to look flawless on the red carpet in her stunning blazer, and short-shorts combo despite the wild night before.
Posing with another popular icon Alex Morgan, team captain of the US Women's Soccer team, the two looked gorgeous. Swift captioned the sweet photo, "The thirteens really jumped out." The soccer star presented the music icon with her big award win of the night, and the singer gave her a shoutout in her speech.
"Whoa, but first I want to talk about Alex Morgan. The fact that she's here presenting this to me is such an honor. Not only winning the World Cup with her amazing teammates, right? But while they were winning the World Cup, they were also taking a historic stand in terms of gender equality, gender pay gap," she said on the Teen Choice Awards' stage.
Original Swifties will totally get the nod to the number 13 in Swift's Instagram caption. The soccer player's jersey number is the singer's favorite number and good luck charm. Plus it's a frequent "Easter egg" in her music videos.
READ MORE: This May Be The Shortest Dress Taylor Swift Has EVER Worn–Her Legs Look Amazing!
Of course, the artist thanked her fans for supporting her over the years and talked about forgiving herself for making mistakes.
"I think sometimes you think if you try hard enough to make every decision perfectly, you think you can possibly ace life and never make any mistakes but it's normal to make mistakes. I just want you to know if you're out there and you're being really hard on yourself right now for something that's happened or for messing up or feeling embarrassed, it's normal."
The singer's latest namesake song off of her upcoming album Lover recently released, and is totally about her boyfriend Joe Alwyn. The rest of the album will drop on August 23.
If you want to try and recreate the looks from the singer's iconic music video, here's a how-to guide for the perfect "You Need To Calm Down" Halloween costume.
In the meantime show off your own stems in outfits that look just like the star's Versace set.
Forever21 Abstract Print Mini Skirt ($12.99)
Forever21 Abstract Print Crop Top ($12.99)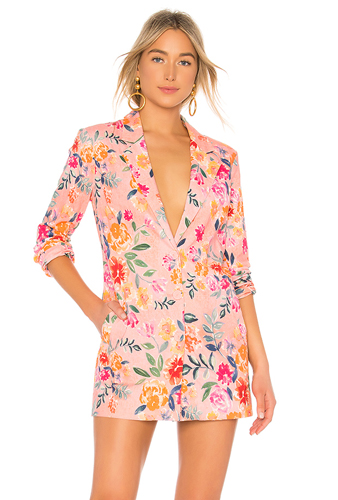 Lovers + Friends Miller Blazer Mini ($208)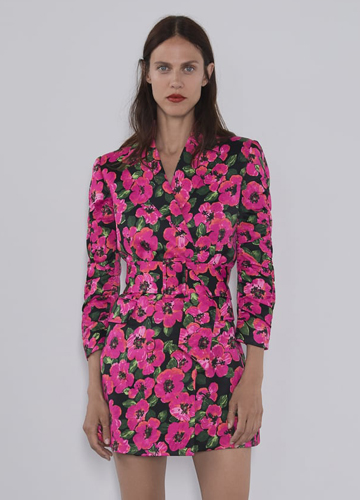 Zara Floral Print Blazer Dress ($169)
Glamorous Blazer Dress In Floral ($64)
SheFinds receives commissions for purchases made through the links in this post.