We're in the middle of that super magical time of year where we are living in dresses, skirts, and shorts. Which is why it's oh so important to prep our skin for the summer months. The weather is warm, the sun is shining bright, and the days are getting longer. After a super frigid winter that felt like it would never end, that can only mean one thing–vacation season is here! About time, right?
With warm weather comes vacation season, and with vacation season, comes swimsuit season. It's also the time of year when we repeatedly ask ourselves, "Have I always been this pale?"
Easy-To-Use Natural-Looking Self Tanners
We already know sitting in the sun without protection or visiting a tanning booth is not an option (no one wants skin cancer here, thank you). So, what's a girl to do when she wants to get a natural-looking tan fast? Before you book one of those super costly spray tanning services, wait! There are so many great drugstore self-tanners on the market, that there's no reason to spend a fortune to get a nice glow.
These 7 drugstore self-tanners get rave customer reviews for their ability to give you an amazing sun-kissed look, at a fraction of the cost. Effective and affordable–what more can you ask for?
The Best Drugstore Self-Tanners
Jergens Natural Glow Wet Skin Moisturizer ($8.49)
What could be easier than self-tanning while you're still in the shower? This Wet Skin Moisturizer by Jergens is so quick and easy to use, you don't even have to wait for your skin to dry before applying. Just rub the hydrating moisturizer onto your skin after you turn off the water, and watch the gradual tan build. It's a huge time-saver!
Banana Boat Sunless Summer Color Self Tanning Lotion ($20, for a pack of 3)
This oil-free formula contains aloe vera and vitamin E to hydrate your skin perfectly. The lotion features a self-adjusting color formula that ensures you achieve the most natural-looking tan, which is just what you want! Customers say it's easy to apply, doesn't have an odor, and is sweat and waterproof. The only downside: if you're looking for a super deep, dark tan, this lotion may not cut it for you.
L'Oreal Sublime Self-Tanning Towelettes ($7.09)
Tired of staining your hands with bronze tanning lotion? Looking to self-tan on the go to ensure you don't lose your glow mid-vacation? These towelettes from L'Oreal are individually wrapped for travel, won't streak or clog pores, and provide a sunless tan that begins to develop in about an hour. Use them at night (but make sure you completely dry before climbing into bed) and you'll wake up with a noticeable glow.
Jergens Natural Glow Instant Sun Mousse ($10.34)
Say goodbye to orange skin with this airy mousse. The formula dries in 60 seconds and delivers a "beautiful, believable tan," according to one reviewer. Many recommend applying this with a mitt and say the formula can be a little sticky, so you'll want to pay close attention to detail. Make sure to work the mousse into your skin in circular motions, being sure to really buff the product out. If you want a long-lasting bronze hue, this product really takes the cake and is worth the extra caution.
Bain de Soleil Mega Tan Sunscreen With Self Tanner ($18.99, for a 2 pack)
One crucial fact to remember when using self-tanner: most do not contain sunscreen. Bain de Soleil with SPF 4 is an exception (though you'll need to apply a higher SPF during the day if you're going to be in the sun). Reviewers describe it as lightweight and capable of giving you an "incredible tan". The "strong" smell turned some off shoppers, but most were willing to deal with it because the moisturizing formula is that amazing.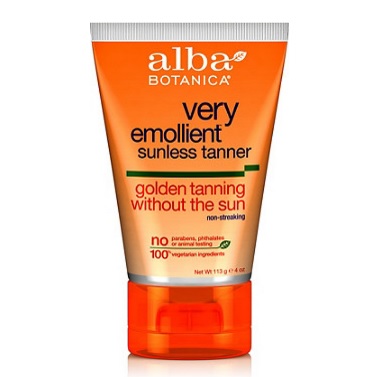 Alba Botanica Sunless Tanning Lotion ($8.42)
This 100% vegetarian formula is a favorite among users who love its mix of shea butter, almond oil, chamomile, and other natural ingredients. The formula keeps skin hydrated and smooth throughout the day--just what you want in the summer. The light golden color it delivers is described as subtle but noticeable, and it blends in easily without feeling greasy. You'll naturally look like you spent a couple of days in the sunshine.
Fake Bake Original Lotion ($15.58)
If you're looking to start slowly and build your color in a way that looks totally natural, Fake Bake is perfect for you. Customers say this self tanner works on all skin tones and creates a light bronze wash after the first use that gradually gets deeper with each application. Plus, the formula doesn't streak. It isn't clear on whether it should be used on your face or not so be cautious if you choose to do so. For the best results, most recommend using it at night after exfoliating your skin.
Australian Gold Gradual Build Sunless ($23.90)
A few minutes after you apply this lotion, you'll see a slight glow almost instantly! But, that's just the tip of the iceberg! DHA and DermaDark bronzers allow for a delayed tanning experience that mimics one you'd get on a tropical vacation. How cool? Use it every other day and you'll be able to maintain a light golden tan all summer long. Goals.
Now that your swimsuit ready, check out the new Triangl velvet bikini that everyone will be wearing this summer, or shop the new Lilly Pulitzer swim collection on SHEfinds!
SheFinds receives commissions for purchases made through the links in this post.