There are a lot of ingredients out there that possess excellent anti-aging benefits, but none work as well or as hard as retinol. This powerful vitamin A derivative can stimulate collagen and even prevent breakouts. "Retinoids cause skin cells to turn over at a faster rate, decrease oil production, and help skin exfoliate," says dermatologist Rita Linkner, M.D., who explained that those using a retinol-based product could also see dark spots, pimples, and wrinkles diminish over time. If you're stuck on where to find the best retinol cream for wrinkles, Dr. Dennis Gross Skincare has got you covered. The brand recently launched its new Ferulic + Retinol Anti-Aging Moisturizer, which acts as a powerful solution for fine lines and wrinkles, dryness, and dullness and uneven texture.
Everything You Need To Know About The Best Retinol Cream For Wrinkles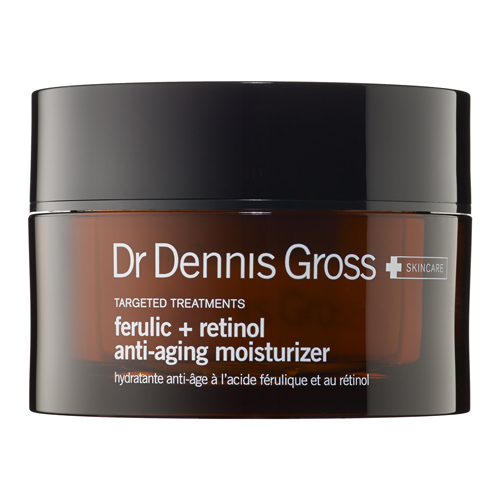 Dr. Dennis Gross Skincare Ferulic + Retinol Anti-Aging Moisturizer ($75)
This corrective anti-aging moisturizer harnesses the power of retinol and ferulic acid to improve the overall quality and appearance of your skin. This incredible fusion increases the skin's moisture barrier, improves any visible signs of aging, and softens the look of fine lines and wrinkles, which then results in softer and smoother skin and a renewed complexion. Its formula also features the brand's ECG Complex, which helps with photoaging, reduces the appearance of dark spots, and acts as a potent antioxidant.
Best Retinol Cream Tips
Before you go out and buy this new retinol cream, it's important that you understand the basics to ensure that you're using it properly and in a way that's healthy for your skin. To start, it's important to note that you won't see results overnight. Board-certified dermatologist Adam Friedman says that it's normal to start seeing visible improvements in your skin within 4-5 weeks. He also said that it's common to experience a little dryness and irritation at first, too! "If you don't get a little bit of dryness from a retinoid, there's something wrong with the retinoid," he tells SELF.
But, it's important that you don't over do it and damage your skin. "The biggest mistake people make is being too aggressive with using the retinol, whether it's using too high of a concentration, using it too often, or using too much," RealSelf dermatologist Sejal Shah, M.D., explains. "Start with a lower concentration every other night and increase slowly."
When's the best time to apply a retinol cream? Friedman recommends incorporating it into your nighttime skincare routine to ensure that it's not being broken down or depleted in the sun. "Most forms of retinoid are photolabile, meaning they break down with sun exposure," he says.
Find Affordable Alternatives To The Best Retinol Cream For Wrinkles
If Dr. Dennis Gross Skincare's newest moisturizer is too expensive for your current skincare budget, here are some affordable retinol-based moisturizers, serums, and treatments that will help get the same job done without totally breaking the bank:
SKIN LAUNDRY Wrinkle Release Repair Treatment with Retinol ($40)
Baebody Retinol Moisturizer Cream for Face and Eye Area ($18.95)
SheFinds receives commissions for purchases made through the links in this post.