Although hair loss can be caused by a variety of reasons, it may have to do with your diet–specifically if you are missing essential nutrients. With that in mind, if you are struggling with hair loss and do not know why, taking a closer look at what you eat could be a good way to start seeing improvement.
With that in mind, adding a vitamin to your regular routine could be an important step in the right direction if you struggle with hair loss. Specifically, choosing a B-complex vitamin with vitamin C could lead to a real change in your hair health and strength.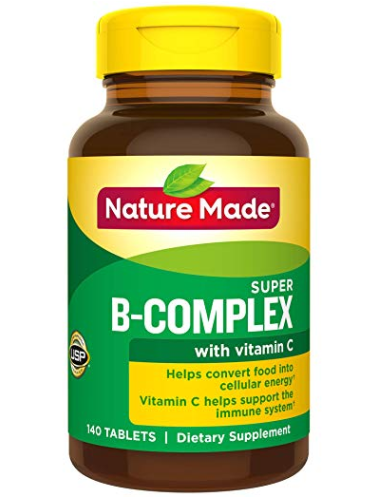 Shutterstock
According to Healthline, "B-vitamins help create red blood cells, which carry oxygen and nutrients to the scalp and hair follicles. These processes are important for hair growth."
Additionally, biotin is a B-vitamin linked to hair health. "Studies link biotin deficiency with hair loss in humans," Healthline explains.
Shutterstock
With that in mind, by taking a B-complex vitamin regularly, you could save your hair from unnecessary damage and prevent future hair loss.
Shutterstock
Picking out a B-complex vitamin with vitamin C can further help your hair because of vitamin C's antioxidant properties. Vitamin C not only protects hair from free radicals, but it can also help maintain your hair in other key ways.
Healthline continues, "Your body needs vitamin C to create a protein known as collagen—an important part of hair structure. Vitamin C also helps your body absorb iron, a mineral necessary for hair growth."
SheFinds receives commissions for purchases made through the links in this post.