If you haven't seen the TV series The Purge, which premiered in September 2018, stop everything you're doing and binge-watch the horror show ASAP — we promise you won't be disappointed. And it will inspire you to forget about any previous Halloween costume plans you had in mind and create these simple, horrifying DIY Purge Halloween costumes.
The show's premise is simple and chilling: the United States is under the control of a Totalitarian party. All law enforcement has been halted for 12 hours and anything goes during this time — including all manners of crimes, from arson and vandalism to murder. It's survival of the fitness and people who would normally never hurt a fly are forced to reckon with the reality of their situation and must do everything possible just to survive.
Coping The Character's Looks From The Purge For Halloween This Year
The idea alone is terrifying. Add in a bunch of wild costumes and masks and the show is even more of a nightmare — in the best possible way — and these wardrobe elements certainly make for one of the most fun DIY Halloween costumes you'll ever whip up. And the best part is: all of these pieces are affordable. You can even get away with wearing little more than a jogging suit and a mask (splash a little red paint blood on your clothes, just for the sake of creativity).
Shopping List For A DIY Purge Halloween Costume
1. A Simple, Oversized White T-Shirt
Zan.Style T-Shirt ($14-16)
The first costume inspired by The Purge couldn't be more simple. Nab this oversized white T-shirt (make sure you order it in a size that is large enough to resemble a short dress). Now grab a scissor and make a few holes and slashes in it. You want it to look as if you've been running through the town, getting caught on chainlink fences, and having the wildest night of your life. Because of all of the holes and punctures you'll put in this shirt, you might feel more comfortable pairing it with a sports bra or tank top. And it's entirely up to you whether you want to wear this shirt as a dress or layer it over leggings.
2. Fake Blood
Maven "I Can't Believe It's Not Blood" Fake Blood ($16)
It's gross but totally necessary. Your Purge costume needs this bottle of fake blood, which is far more realistic looking than red body paint (trust its many happy reviewers). Haphazardly drizzle some blood all over your torn and tattered white T-shirt – and preferably do this in the tub so that your home doesn't look like a crime scene. Then be sure to add a bit of blood to your mask to look even more horrifying.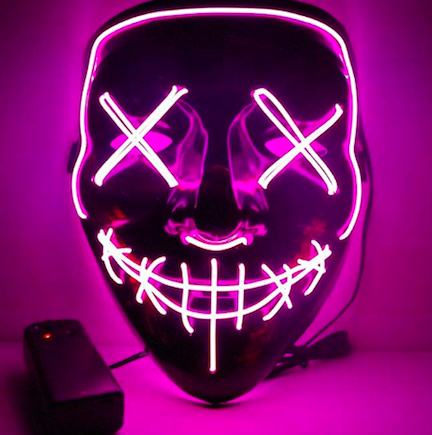 3. A Scary, Light-Up LED Mask
Anroll LED Light-Up Purge Mask ($17)
The wildly creative masks you'll see on The Purge truly make the show stand out in your mind as utterly terrifying. This LED light-up mask, which comes in six colors and contains no harmful UV lights or heat, somehow manages to look even more sinister when paired with nothing but a simple white T-shirt or a T-shirt and leggings. And don't worry about this mask not holding its own: it has a 10,000-hour lifespan.
4. Lady Liberty's Dress
Forum Patriotic Miss Liberty Costume ($21)
Lady Liberty appeared as a Purger in The Purge: Election Year and most of us couldn't get her nightmarish image out of our minds. You're going to need to borrow the green dress from this Statue of Liberty costume, as well as the headpiece. Unfortunately, there's little chance you'll be able to repurpose either piece for a future party because creating this costume involves splashing fake blood all over it and over your arms and neck. Give the dress a few good rips and tears so that it doesn't look too perfect and precious.
5. A Nightmarish Lady Liberty Mask
Toys and Masks Purge Statue of Liberty Mask ($30)
Here it is: the scariest replica of the scariest Statue of Liberty mask from The Purge you'll ever wear or see.
6. A Weapon (A Fake One, Obviously)
Seasons Realistic Aged Machete ($11)
When you're defending yourself in a society where anything goes, you need a weapon. A fake one, but a big, intimidating one — like this ragged plastic machete.
SheFinds receives commissions for purchases made through the links in this post.