Our skin is constantly changing. As we age, we start to lose collagen and elastin, both of which keep skin firm and help it retain its laxity (in other words, when you pinch your skin, it springs right back to its original state). Some of these changes are simply a part of life, but that doesn't mean you can't keep your skin healthy and radiant at any age.
No matter how old you are, there are steps you can take now to reduce the amount of crepe skin you see creeping up on areas of your body like your neck, décolletage, arms, and even our legs. And if that term — crepe skin — is new to you, read on to learn what it is, what causes crepe skin, and how you can prevent and treat it.
What Is Crepe Skin?
First, the basics. Crepe skin–also known as elephant skin–is loose skin that resembles crepe paper and that can appear anywhere on the body, usually as we age. Your average wrinkle or fine line on your face or around your eyes is the result of repeatedly using muscles in those areas. After years of squinting, furrowing your brow, or simply smiling, it makes sense that lines would form in those overworked spots. That's also the reason why Botox, which temporarily paralyzes the muscles that cause wrinkles, is such an effective treatment.
But unlike wrinkles that can be treated with in-office procedures, crepe skin is most often caused by three factors.
[Photo: Shutterstock]
The Leading Causes To Crepe Skin
1. Too much UV exposure: Spending too much time in the sun prematurely breaks down elastin and results in loose skin that won't bounce back to its original, firm state.
2. Dehydration: When the skin loses its moisture and is dehydrated, it also loses its plumpness and elasticity.
3. Pollution: Environmental stressors can prematurely age your skin. Pollution clogs your pores and causes wrinkles.
4. Extreme weight gain and weight loss: When you gain and lose a lot of weight over a short period of time, you stretch out your skin's elasticity. Do this enough and your skin won't bounce back as quickly as it once did.
Shutterstock
Other Causes Of Crepe Skin
In addition to the four main causes of crepe skin, there are a few more reasons you may be noticing crepe skin around your chest or neck. Along with all of the other health reasons you should quit smoking, puffing on cigarettes deprives your skin of oxygen and can prematurely thin your skin, which can bring on crepe skin.
A diet that is high in processed, sugary foods also breaks down collagen and elastin, as does the process of aging, with years of gravity pulling at your skin.
Even your sleep position can contribute to crepe skin.
Melissa Piliang, M.D., a dermatologist at the Cleveland Clinic, told Huffington Post: "When you sleep on your side or stomach, your face is smushed down against the pillow, pushing the skin into creases." She added: "If you lay like that for 6 to 8 hours, the wrinkles become etched into your face."
And the same holds true for other areas of your body, like your neck and décolletage, two common places where you'll first notice crepe skin.
Shutterstock
Lifestyle Changes You Can Make To Prevent Crepe Skin
Some things, like birthdays and growing older, are not in our control and it's best to embrace and make peace with them. But Dr. Andrew Ordon, California board-certified plastic surgeon, shared some lifestyle fixes that can help you prevent and treat crepe skin.
For starters: a faux tan is your best friend. Limiting your UV exposure is the best way to prevent crepe skin. Wear sunscreen, hats, protective clothing, and stay out of the sun as much as possible. And keep far away from tanning beds.
Excercising more and keeping your body hydrated will also affect the way your skin looks and help lower your chances of getting crepe skin. This keeps your skin tight and toned, no matter what age you are.
Eating a healthy diet with plenty of whole foods is important, as is getting enough sleep, and quitting smoking, if you do so.
Certain laser treatments can help keep your skin firm and build collagen and it's a good idea to consult with a dermatologist if you want to go this route. If not, here are some products that can help when it comes to treating and preventing crepe skin.
YourFacePillow ($65)
Prevention: A Pillow That Keeps You Propped Up On Your Back All Night Long
It can be difficult to get used to sleeping on your back but this pillow can help. It comes in standard and large sizes and features high lofts on either side to keep you from turning over on your stomach or side.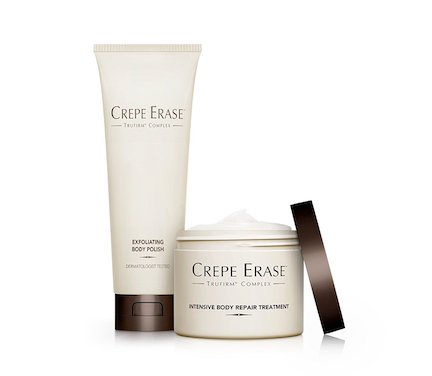 Crepe Erase Full Size Body Duo ($130)
Treatment: An Exfoliating And Moisturizing Duo
This two-part treatment is designed specifically for crepe skin. Step one involves exfoliating dead skin cells away with a lactic acid exfoliating body polish. This prepares your skin for step two: an intensive body repair treatment moisturizing cream made with shea butter, omega-6, omega-9, and vitamin E.
SheFinds receives commissions for purchases made through the links in this post.