Use your breakfast time wisely — especially if you're trying to lose weight or maintain your weight.
As we age, our metabolisms slow down and it becomes increasingly difficult to keep weight off and burn fat. Avoiding carbs that spike blood sugar levels and offer very little back in terms of nutritional content can help.
This is the worst carb to eat in the morning over 50, according to a nutritionist.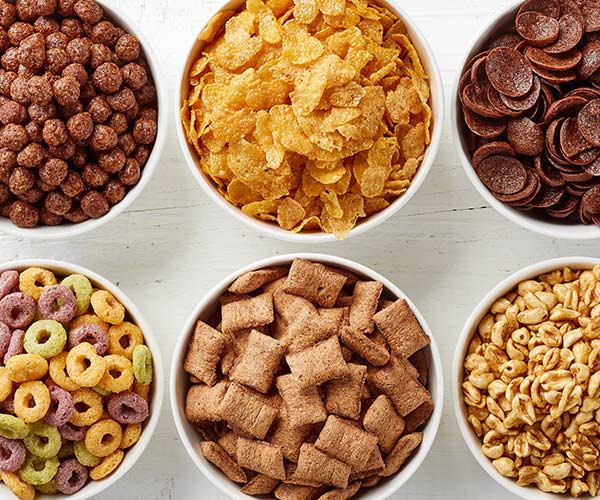 Shutterstock
Sugary Cereals

Cereal is an easy breakfast option and one that can be healthy — but one that isn't always healthy.

"Breakfast happens to be the easiest time to get in heart-healthy fiber from whole grain cereal and oats which can help lower blood pressure and cholesterol," Lisa Moskovitz, owner of Your New York Dietitians, told Inc.

Unfortunately, so many breakfast cereal options lack fiber and are high in sugar.
Shutterstock
Some cereals contain as much as 10 grams or more of sugar, putting them on par with dessert foods like cookies.
When these cereals are processed, a number of nutrients are often stripped from them, leaving you with a food that spikes your blood sugar levels and sends you crashing and looking for snacks hours later.
Shutterstock
Moskowitz doesn't suggest ditching cereal altogether, since this is obviously one of the easiest meals to make on busy mornings. Instead she tells Inc: "Always look for at least 5 grams of fiber when choosing breakfast cereals."

Additionally, opt for low-fat or dairy-free milks like almond milk so you don't add unnecessary saturated fat to your breakfast. "No one over the age of 2 should be drinking higher fat cow's milk," she said.
Shutterstock
A good rule of thumb when making breakfast is to be sure to include plenty of fruits, veggies, protein and fiber, which fills you up and provides long-term energy, and healthy fats from natural sources like nuts.

Eating a small portion of cereal or oatmeal, along with an egg and fresh fruit is one way to get your fill of all of these important nutrients while boosting your metabolism.