The other night at Cynthia Rowley for Roxy's launch party, Cynthia Rowley (below left), who's been surfing for ten years, told us "I wanted to make something girls would be proud to wear on the beach–not something that was simply refashioned from menswear, but actually made just for women's bodies." Well, she's certainly succeeded.
.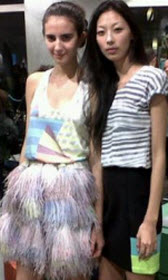 While Roxy is synonymous with the beach, Cynthia Rowley means girly-girl. Together, the Cynthia Rowley for Roxy collection is cool, colorful and functional. From board shorts to a pastel wet suit to neoprene skirts and dresses (!) , this is one collection I'm indulging in before it's sold out:
This Kaleidoscope tank ($58) is the one Cynthia herself is wearing above; the retro Knoll boardshorts ($68) are waterproof, too.
This pastel wetsuit ($225) is the hit of the collection, and Bond swimsuit ($135) are seriously girly, with fitted stitching that will make you stand out.
For a different kind of swimsuit, try this tanlines monokini ($115) or neo-prene bikini ($135).
Carve dress ($160) and Choka skirt ($125) look like something we'd wear to a beach party. Made of neoprene, you can also wear them in the water–a cool summer bonus.
Get ready for your vacation with our guide to cheap swimwear and monokinis. If you want to hide a little paunch, Spanx swimwear is to the rescue. See our best find of the day posts for more ideas.