If you're an avid Snapchat user, you're probably no stranger to the beloved dancing hot dog filter that the social media platform blessed us with in July. And, if you've yet to test out this happy cartoon food, then you're doing Snapchat all wrong. From busting a move at the beach to making an appearance in The Shining, this little guy can tag along with you anywhere. His signature arms-bouncing-back-and-forth dance move and his skillful one-handed upside down spin make him the life of the party. There's now a version of the filter where you can put your face on the hot dog's dancing body with an upbeat jam playing in the background (you definitely want to try this one out if you need a good laugh). One man apparently even got this filter tattooed on his arm (too far?). While that's slightly extreme, you can still show your hot dog snapchat filter fandom in Halloween costume form with this easy and super cheap DIY Halloween costume. Under one condition—you're expected to break it down just like the digital version would at every Halloween party.
For this outfit, you obviously need an adult hot dog costume. This might seem like a one and done piece of clothing, but you never know when you might need to dress like a hot dog in the future (National Hot Dog day?). Target's version looks the most life-like, mustard and all, but you can find cheaper wiener costumes at Jet.com and Amazon. You can also buy one for your significant other and kids to coordinate a hot dog Snapchat filter family takeover. There's even a hot dog costume for your dog if you're really feeling crazy.
Target Adult Hot Dog Costume ($40)
For underneath the weenie ensemble, wear brown sweats and a brown long sleeve top to mimic the arms and legs of our Snapchat hot dog friend. You can also buy two pairs of long brown socks to wear over your legs and arms. The hot dog costume might get toasty, so it's probably in your best interest to keep your layers pretty light underneath. Keep in mind that bathroom breaks will also require a lot more work in this get-up.
Pro Feet Acrylic Multi-Sport Cushioned Tube Socks ($2.69)
It wouldn't be a Snapchat hot dog costume without green headphones. This accessory definitely makes your costume more distinguishable and sets you apart from just any old hot dog—you're THE Snapchat hot dog! We're not exactly sure why the cartoon wears green headphones in the first place, but just go with it. You can get this completely identical pair on sale at Groupon (down from $49.95). They're pretty cool looking, too, so they can replace your current bland headphones. Snapchat hot dog is one stylish techie.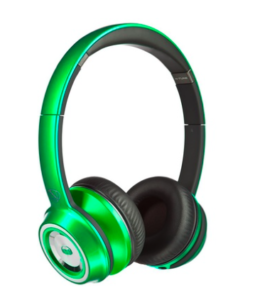 Monster NTUNE On-Ear Headphones ($19.99)
Finally, to look and act the part, perfect your breakdancing and hand swaying. Once you've mastered these, you can officially crown yourself as an authentic Snapchat hot dog.
For more 2017 Halloween costume inspo, check out a DIY fidget spinner costume, a DIY Wonder Woman costume, and a DIY Eleven from Stranger Things costume.