Pop singer Selena Gomez and rapper The Weeknd have quickly morphed into everyone's #RelationshipGoals this year. Rumors of the duo's romance first spread back in January, but it was their red carpet debut at the Met Gala in May that had us all buzzing. Selena rocked a Coach embellished gown with a gold choker and bright, rosy eye makeup, while The Weeknd looked dapper as ever in a tuxedo. The lovey-dovey and extremely photogenic couple shared a sweet kiss during the event and everyone lost it. Since then, the singing pair has had even more "aww" worthy moments, like The Weeknd flying from Paris to LA for Selena's 25 birthday. You can't get much cuter than that, and I think it's safe to say that Selena loves her beau like a love song, baby. If you want to recreate this adorable power couple's look for Halloween this year, grab your best friend or significant other and check out everything you need to DIY their Met Gala outfits.
Ladies first, so we'll cover Selena. Obviously, it's not easy or feasible to get your hands on the "Bad Liar" singer's stunning Coach slip dress. Instead, get the most bang for your buck with this super cute dupe from Revolve. It mimics her real red carpet dress perfectly, with the high slit, low neckline and floral details. And, it's currently on sale—score! You can add this to your dress collection for next summer once your Selena days are over.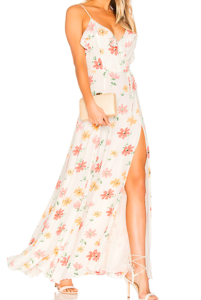 Privacy Please Karen Dress ($120)
As for accessories, Selena kept her Met Gala look fairly simple with a thick gold choker. We found a similar piece of jewelry from Express.
Express Flat Metal Link Choker ($13.74)
She took her makeup to the next level with a bold pink eye to complement her feminine dress. Grab any eyeshadow palette with a lot of rosy hues to pull off her look. Don't be afraid to slather such a bright color all over your lids—it's Halloween, after all. Selena also did her short hair up real, real nice with a sleek middle-part style. Just run a straightener through your locks and you're set.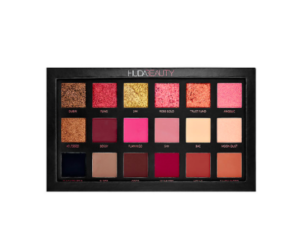 Huda Beauty Eyeshadow Palette—Rose Gold Edition ($65)
Whether your male counterpart or BFF is joining you down the proverbial red carpet, anyone can easily pull off The Weeknd. Good news—you don't have to go full-on tuxedo mode to imitate his Met Gala style. That's what tacky tuxedo t-shirts are for! Pair this top with with black pants and any black shoes you already own.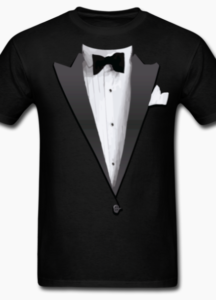 Tuxedo Jacket Costume T-Shirt ($20.74)
To truly capture The Weeknd's allure, accessorize your face with a similar looking fake beard (even though you probably can't feel your when you're with Selena—but you love it). You're officially a Starboy, and ready to hit the red carpet with Selener on your arm.
Blue Beard Fake Facial Hair ($17)
For more 2017 DIY Halloween costume inspiration, check out a Kate Middleton costume, a Moana costume, a unicorn-themed costume, a Gigi and Bella Hadid costume and a Princess Leia costume.
[Photo: Splash]