Name a more powerful (and good looking) dynamic sister duo than Gigi and Bella Hadid, we dare you. From landing spreads in almost every major mag to stealing the show at New York Fashion Week, these genetically-blessed siblings have accomplished a lot more than their average 20 and 22-year-old counterparts. If you're not a celebrity junkie and you've somehow managed to avoid encountering any news on the Hadids, A.K.A. the new Kardashian family, here's a quick recap. One of their first claims to fame was appearing on The Real Housewives of Beverly Hills with their mom, Yolanda. Now, they're huge names in the fashion industry and have landed themselves the notorious title of "it-girls." Woah. They've also made their marks on the celebrity dating scene—Bella used to date rapper The Weeknd, and Gigi is currently dating former One Direction singer Zayn Malik. These gals pretty much have it all, which makes them the perfect alter egos for Halloween. We rounded up all the DIY essentials to channel your inner style queen and grab a friend for Bella and Gigi Hadid Halloween costumes.
First, decide which sister you want to dress as. Their mom describes Gigi as the blonde girl next door, and Bella as an edgy brunette. Choose wisely.
For either of their costumes, it wouldn't be complete without a little Tommy Hilfiger action. Gigi actually has her own Tommy line, and is set to design another two collections in the future, so you obviously need to show that you're a true Tommy Girl in your Halloween outfit. Naturally, in true Hadid sister style, your Tommy Hilfiger top of choice should be of some sort of cropped variation. Not all of us can boast having chiseled cores like Bella and Gigi, so if you feel uncomfortable wearing a midriff-baring top, no worries. Pair it with super high waisted jeans or just tuck a regular length Tommy tee into your pants.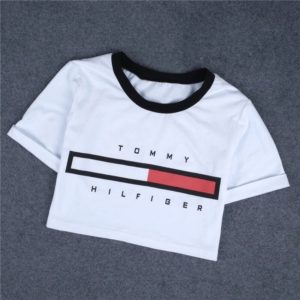 Tommy Hilfiger Crop Top ($25)
Here's an excuse to buy new jeans! The Hadid sisters are active wearers of ripped, high-waisted boyfriend style denim. Even though the modeling mavens have legs for days and the rest of us mere mortals have average-length stems, high waisted jeans give you the illusion of taller legs. Bella wears all-black more often, so look for darker jeans if she's your costume inspiration.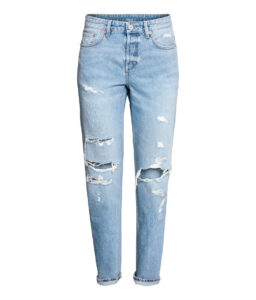 Boyfriend Low Ripped Jeans ($39.99)
What better way to show off your newly discovered longer legs than with sleek black booties? When they're not on the runway, both Bella and Gigi top off their street style looks with some elevated leather kicks.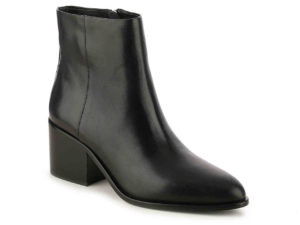 Opening Ceremony Livv Leather Bootie ($99.99)
Even indoors in late October, you still need a pair of sunnies to block out the paparazzi, duh. The Hadid sisters frequently sport round shades, because they're super in right now, so this cheap pair can do the trick.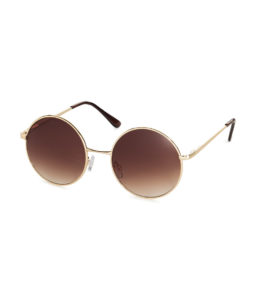 H&M Round Sunglasses ($9.99)
Since both Bella and Hadid are photo-taking extraordinares (as referenced by their combined 49+ million combined Instagram followers), use a selfie case as a prop for the finishing touch on your DIY costume. You can look and act the part with the Allure x Case-Mate light up selfie case to snap pictures in style.
For more DIY 2017 Halloween costumes, check out a Wonder Woman costume, an Eleven from Stranger Things costume, and a Belle from Beauty and the Beast costume.
[Photo: Splash]