Ever since she began dating Prince Henry of Wales, better known as Prince Harry, Meghan Markle has become one of our favorite celebrities. We also know Meghan Markle as an actress and for her many roles in Hollywood including Hallmark Channel films, Horrible Bosses, and the popular TV series Suits. Whether you know her as an actress or as Prince Harry's wife-to-be, one thing for certain is that the 36-year-old has amazing sense of style that's very modern-chic! From her chic trench coats, to her lax casual looks, we can imagine that Markle has expensive taste — just look at the $75,000 Ralph Russo dress she wore in her official engagement photos! If you want to dress like Meghan Markle but don't want to break the bank, here are a few pieces that closely resemble her style!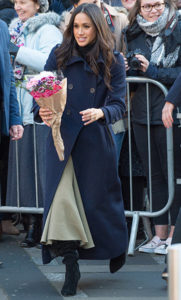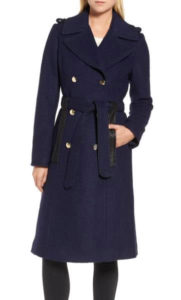 GUESS Boiled Wool Trench Coat ($179.90, originally $270.00)
In her first appearance with Harry following their engagement, Meghan wore a navy blue ankle-length coat. "The cashmere blend wool coat with leather detailing from Canadian brand Mackage retails for $790, though it appears to be sold out online as of publication time," TODAY reports. That's a pretty steep price for a winter coat. Opt for this wool, Guess trench coat that looks just like the Mackage. It's on sale!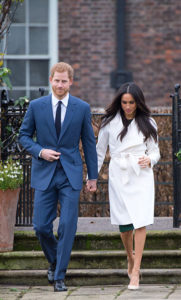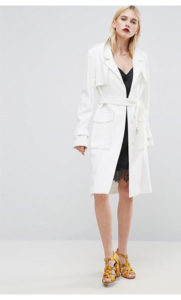 ASOS Trench in Structured Crepe ($29.50, originally $119.00)
On the day of the actual engagement announcement, Markle was photographed with her hubby-to-be at Kensington Palace wearing a super chic white trench coat. According to Harper's BAZAAR, "Royal fans went into a tizzy over her stunning winter-white coat from her one of her go-to labels, Canadian brand LINE." Meghan's beautiful white coat retails for $627; but this ASOS trench coat look-alike is on sale for only $29.50. Talk about a steal!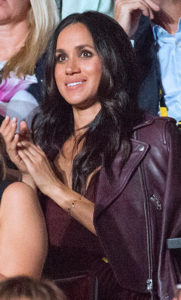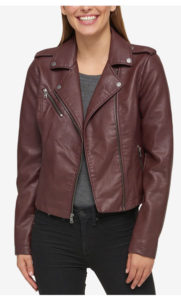 One of Markle's very first appearances with beau Prince Harry was at the Invictus Games opening ceremony in Toronto back in September. At the event, Markle wore a "machine-washable 'Beaune' midi dress from Wilfred at Aritzia, which costs $185," Hello! reports. "Meghan styled the feminine dress with a coordinating leather motorcycle jacket from her go-to coat label Mackage." It's not Mackage, but this Macy's look-alike moto jacket is on sale for $107.99 and it looks just as good!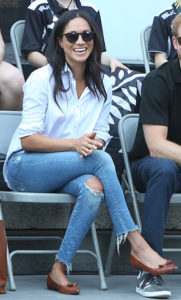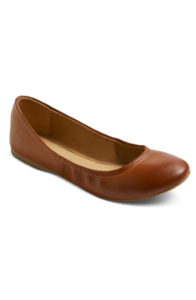 Mossimo Supply Co. Ona Wide Width Ballet Flats ($16.99)
Paparazzi also caught Meghan Markle wearing a pair of practical, ballet flats at the Invictus Games. According to PopSugar, the dainty bow flats [are] by Sarah Flint. A pair of Sarah Flint ballet flats can set you back over a hundred bucks, but this look-alike pair from Target are just $16.99! They also come in 3 other colors if you are not feeling the cognac brown.
Whether is be a look-alike Mackage coat or a pair of  knockoff Sarah Line shoes, finding pieces that resemble Meghan Markle's style can be quite simple!
Wondering what type of dress and which designer Meghan Markle will wear at her wedding? Find out what the fashionable, actress-turned-royal princess will wear on her May 19, 2018 scheduled wedding date at SheFinds.com!
[Photos: Splash]