Get Beyonce's Exact Metallic Gold Nails From Her New 'Drunk In Love' Music Video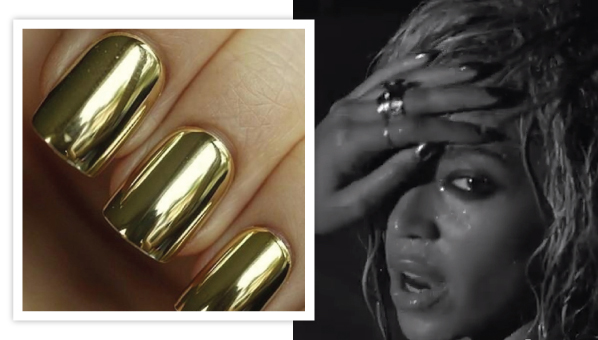 It seems to be an ongoing trend for Beyonce to wear standout nail art in her new music videos. A few weeks ago she released new music video "Blow" and was wearing Ciate's glow-in-the-dark Corrupted Neon Manicure on her nails, which came as a shock considering that everyone was saying that nail art was dying. While that might have been the case, Queen B doesn't seem to care one bit. She just debuted her sexy "Drunk in Love" video sporting metallic gold nails. And for those of you that want to copy her exact look, you're in luck. Her chrome nails, appropriately named 'Gold Lightning,' are actually from Minx.They're heat-activated nail coatings and offered  in-salon only, so they'll stay shiny and perfect for a while. It's safe to say that if Beyonce is wearing them that they're going to be a big trend. Check out Minx's site here to find the closest salon in your area.
Don't forget to check out NARS' 'Final Cut' collection, Gwen Stefani's OPI collection and new beauty launches to try in 2014.