Have you ever taken off a pair of shoes after wearing them for the entire day, only to realize they stained your feet? I hate this for three reasons: 1. it looks like my feet contracted some sort of disease/I went on a nature walk barefoot, 2. it's usually hard to get off and 3. my feet are ugly to begin with so I don't need to add this dilemma.
Instead of scrubbing your feet with soap in the shower, try one of these two methods below. From personal experience, I can say they do indeed work.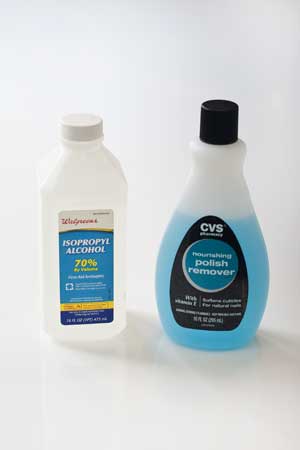 Rubbing alcohol and nail polish remover should definitely do the trick. Simply wet a paper towel or cotton ball in either rubbing alcohol or nail polish remover and gently rub on the part of your foot that is dyed. It should come right off! If you find the dye has really stained your foot, try using a scrubbing brush to lift the stain.
That's it!
Do you know of any ways to remove shoe dye from your feet?
Don't miss Taylor Swift and Calvin Harris' first Instagram post together and how to remove static cling from clothing!