If you're like me, chances are you've been patting yourself on the back for being smart and extending your facial moisturizer application to your neck. After all, your neck needs love too right?
Imagine my surprise, however, when I learned that I was doing it all wrong. Turns out, moisturizers for your face aren't always so effective when used on your neck. Ask Cathy Kangas, founder of PRAI Beauty the leader in cruelty-free targeted skincare that supports animal causes, and she'll tell you your neck needs extra TLC. Here's the scoop straight from Cathy herself:
SheFinds: What is the biggest mistake women make when caring for the skin on their neck?

Cathy Kangas: The biggest mistake that women make when caring for the skin on their neck is ignoring this area completely. The neck area is one that receives far less attention than it should from most women. Your neck ages twenty times faster than your face and is the biggest giveaway adding years to your perceived age. We like to say, "faces lie, necks tell the truth." Even in your 30's, you should be using a targeted neck crème.
SF: What are some common misperceptions about neck skin?

CK: Most women think the neck skin is the same as the skin on their face and they extend their face cream or moisturizer to this delicate area. The skin on your neck is most like the skin around the eyes making it more vulnerable to fine lines, wrinkles and sun damage when compared the rest of the skin on the face. The skin on the neck is much thinner and contains fewer oil glands than the face making it much more susceptible to aging.
Most women also don't realize that the neck area is from your chin all the way down to your cleavage, so it includes your neck, chest and bust. We like to say from the bra line to the jawline as we recommend you use gentle, upward strokes when applying any neck creme starting from the cleavage and working your way up to the chin.
SF: What are some common activities or habits that can contribute to premature aging of neck skin?

CK: Premature aging of the neck skin is on the rise especially in younger women primarily due to tech neck. We now all spend endless hours looking down on our phones and computers which causes lines and wrinkles on the skin of our necks.
SF: What should women look for in a product that treats neck skin?

CK: Look for neck products that contain active ingredients targeting the specific ailments affecting the thin and sensitive skin on our neck and décolletage like fine lines and wrinkles, sun damage, crepiness, double chins and droopy jowls.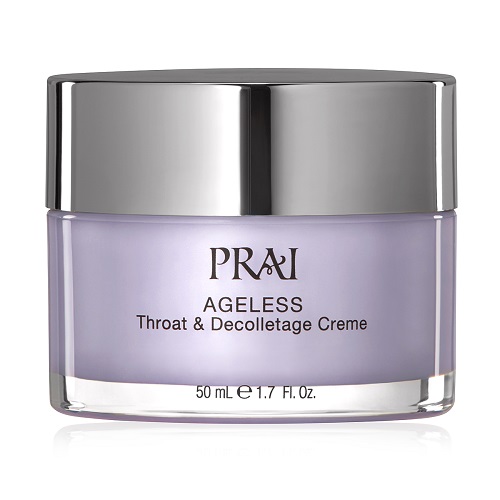 SF: What makes Prai's Ageless Throat & Decolletage Creme so popular?

CK: Our blockbuster Ageless Throat & Decolletage Creme is now the bestselling neck cream globally on home shopping TV, with one sold every 60 seconds. A weightless cream developed specifically for the thin skin on the neck and décolletage, it helps to promote skin firmness and resiliency with active ingredients that instantly absorb into the skin. Packed with an array of anti-aging and radiance-boosting ingredients such as shea butter, hyaluronic acid, squalene and glycerin to plump the skin and improve elasticity, PRAI extract to impart smoothness, and mulberry, saxifrage and grape seed extracts to diminish discoloration, this creme is both luxurious and light in texture so it won't leave any residue. Our proprietary ingredient, Sepilift DPHP is clinically proven to deliver visible results in just 7 days keeping skin supple while visibly reducing and correcting signs of aging.
SF: What's the one thing every woman should be doing to care for her neck skin?

CK: The one thing every woman should be doing to care for her neck skin is remembering to add a product specially formulated for the neck into her skin care regimen twice a day, morning and night.