Why do A-listers like the Kardashians and Mariah Carey like to make us feel bad about ourselves by flaunting their ridiculous and over-sized closets on reality tv shows and in spreads in InStyle? Every time a diva like Kim Kardashian shows off her 600+ pairs of shoes or collection of custom designer bags, I die a little bit inside–don't you?
This weekend, I'm scheduled to do some major spring cleaning in my tiny New York City apartment, which includes giving my closet a much-needed makeover. If spring cleaning is like plastic surgery, and you don't have the budget for a face-lift, how about a little drug-store brand eye cream or some needle-free filler?
You can have a gorgeous, clean, well-organized closet whether you're living on a Real Housewives of Beverley Hills budget or not. When doing a little spring cleaning this season, just follow these steps to give your closet a much-needed makeover.
1. Get Matching Hangers
Neatfreak Felt Clothes Hangers ($29.99 for 50)
Uniformity in hangers is key. Try to find not only the same type of hanger, but the same color as well. In the great words of Joan Crawford, "No wire hangers EVER!" Professional closet organizers prefer wood or felt hangers because they get the job done well and look the best. These felt hangs by Neatfreak are slender and prevent wrinkles. However, matching plastic hangers will work just as well.
2. Dust, Re-Fold, & Line Your Shelves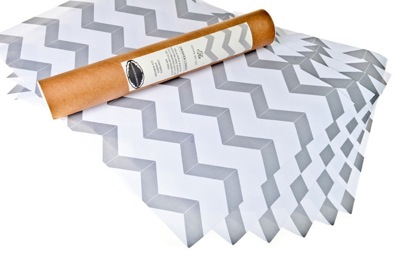 Hammocks & High Tea Chevron Drawer Liners ($25)
It may sound like a lot of work, but at least once a year you should remove everything from your closet, organize it, and put it back in. The best place to start is to remove all items from shelves, drawers, hangers and shoe racks. Dust, vacuum, and wipe down all services before you put clothes and accessories back in. Items like these drawer liners are just as pretty as they are practical. You can also use things like mothballs, boot shapers, and cloth storage bins to keep clothes fresh and clean.
When you return clothes to the shelves, re-fold t-shirts and all other non-hanging items, and sort them in a way that is logical for you. you can do this by season, occasion, or color.
3. Sort Clothing By Type, Then Color
Closetware Clear Suit Bag ($9.99)
Sorting your closet by clothing type will just make your whole life easier. Having all of your cardigans in one place, dresses in another, and so on, makes getting dressed in the morning much more efficient. Sorting by color is purely aesthetic; how much better do things look in order of dark to light? Start in the middle of the closet and hang all items facing inward so the items on the right side of your closet should all face left, and vice versa. Remove clothing from bulky and unsightly dry cleaning bags. It is acceptable to use garment bags for items that need extra protection, like ball gowns and cocktail dresses, since you don't wear them on a regular basis.
4. Sort Shoes By Season, Then Heel Height
Black Boot Shapers (Set of 2) ($9.99) 
After you've removed your shoes and dusted your shoe rack, you're ready to put shoes back in. Shoes are best displayed out of the box, with one shoe facing forward and the other facing back. For keeping your shoes looking brand new, boot shapers are your new best friend. They allow you to store boots in the most space-effective way and will help your shoes look infinitely better than flaccid boots flopped over one another.
5. Don't Hang Everything
Real Simple® Fabric Drawer ($9.99)
You don't need to hang (most) t-shirts, tank tops, gym clothes, lingerie, underwear, hoodies and accessories (like scarves). Fold t-shirts neatly and stack them above your hanging items. Ditto for gym clothes like yoga pants and leisure items like sweatpants and hoodies. If it doesn't wrinkle, it doesn't need a hanger. Tank tops, underwear, socks, and lingerie should go in drawers. If you don't have a proper bureau, grab some small, portable storage bins. They're a great option for small apartments.
6. Give All Of Your Accessories A Home
West Emory Jewelry Stacking Tray in White (Set of 3)
To really take your closet organization up a notch, give your miscellaneous accessories, like your sunglasses, hats, and jewelry a home as well. Putting them away in designated containers or bins, like these stackable trays, helps you find them easier when you want to wear them next and protects them. If your sunglasses are just tossed in a drawer, they're more likely to get damaged and scratched–the same goes for your jewelry.
Now, you still may not have a closet that would make a celebrity like Kim K jealous, but you're on your way there! For more spring cleaning and organization tips, check out 10 spring cleaning hacks you probably didn't think of on SHEfinds.
SheFinds receives commissions for purchases made through the links in this post.