As we told you last week – the key to dressing for a sporting event, whether its Wimbledon finals or a T-ball game, is nailing that comfortable, laid-back chicness. Clearly, Khloe Kardashian didn't get the memo because she wore this over-the-top outfit to her hubby's NBA finals game last week. From the sparkly stilettos, to the sheer panel leggings (what?) Khloe looks like she's front row at fashion week, not at a Lakers game. Big difference.
What she did wrong:
Gold, sparkly high heels fit for Dorothy in the Wizard of Oz should be saved for Vegas, not courtside at a casual game.
We're all about black leggings, but the sheer, hoisery patches looks like Khloe's wearing a cast–not trying to make a statement.
What she should have done:
Khloe should have gone for a relaxed fit tee like this cool Roxy Camping Top ($39.50). You won't fret if an over-zealous fan spills beer on it; plus it's cute enough to wear out to the bar to celebrate the team's win.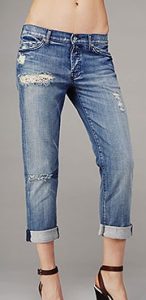 Rather than being over-exposed in translucent leggings, Khloe should have gone with rolled up, stretchy jeans like these Rickie with Peek-A-Boo Crystal Lining in Vintage Shoe Pine ($139, down from $225).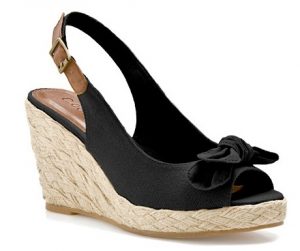 Wedges are much more realistic – and comfy – than stilettos in this case; Khloe should have gone with these girly Coconuts Howell Wedge Sandal ($44.95). They are easier to jump for a fly ball in.
Don't get on the worst dressed list-see more of our red carpet re-do posts, then see all of this week's style news, and the best online sample sales from around the web. Get a new pair of white jeans, skinny jeans, or Oprah's favorite, CJ by Cookie Johnson jeans, this summer.