If there is any celeb we enjoy style stalking, Kourtney Kardashian has to be at the top of the list. The expectant mother knows how to look incredibly stylish and comfortable, with or without the baby bump. Which is why she can't stop wearing her favorite brand, Rails. In case you needed a refresher, this is the fifth time–count 'em, five!–we've spotted Kourt wearing a Rails shirt. This was the first, this was the second, this was the third and here was the fourth.
Most recently Kourtney paired the Rails Kendra Tencel Button Down ($128) with a skintight grey dress (did we mention it how short it was?). Get a clue ladies–Rails shirts are divine. If you don't own one, snag this one below. And if you already do, you need a green one (duh).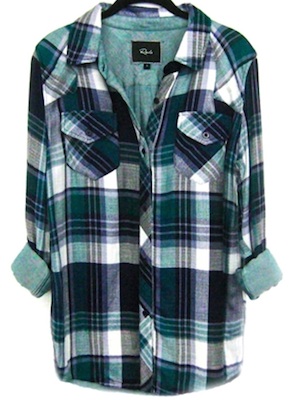 Rails Kendra Tencel Button Down ($128)
Looking for more great A-lister style? Check out Kim Kardashian's coat, Gwen Stefani's black and white jeans and Jaime King's chunky sweater.
[Photo: Splash News]