Textured polish innovator Ciate just announced the launch of a new glow-in-the-dark caviar kit for summer—the Ciate Corrupted Neon Manicure (and if this is their idea of corrupted, consider us depraved). They've already successfully conquered caviar nails, velvet nails, and even chalkboard nails, and now they've set out to make the once-banned neon nail polish even more kick ass than it already is.
There is little info out about the line right now, except these awesome photos of the polish in natural light and what appears to be black light:
Ciate's Corrupted Neon Manicure in natural light. Looks like normal polish, right?
According to this site, the polish glows under black light. How it works: apply a base coat, followed by 2 coats of the Corrupted Neon, then top it off with the Neon Caviar Pearls. Seal them in place with a top coat and you're good to glow.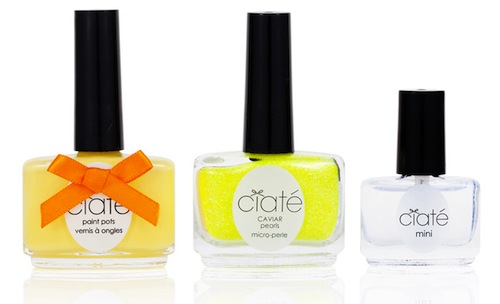 We'll be sure to update you as soon as we confirm a launch date and all that jazz . Until then, you'll have to settle for glow-in-the-dark lipstick.
For more awesome nail news, check out YSL's tie dye nail polish, the OPI's San Franciso Collection and Deborah Lippman's Mermaid Polish now.