Call it the Meghan Markle effect! Just days after the news of her engagement to Prince Harry broke (and her white wool coat went viral), the future princess is causing another fashion frenzy.
Meghan made her first official visit in Nottingham, England today to raise awareness for World's AIDS Day, and of course what she would wear for the event was on everyone's radar. The world was watching as the American beauty completed the first of many royal duties with Harry by her side. So–what was her outfit of choice?
The former actress did not disappoint, opting for a stunning double-breasted navy coat from Canadian brand Mackage (she sure does love herself some Canadian fashion!). Here's news of the appearing from the Kensington Palace Twitter:
Prince Harry and Ms. Meghan Markle arrive in Nottingham for their first official visit together since announcing their engagement. pic.twitter.com/iXXrJEumxk

— Kensington Palace (@KensingtonRoyal) December 1, 2017
She looked totally polished and put-together in the pricey Mackage 'Elodie' Navy Wool Coat ($790). It isn't the first time she's worn it (she's getting her money's worth!). Like Kate Middleton, Meghan believes in re-wearing items (especially outerwear and shoes!) and has previously been spotted in this coat at the airport in Toronto.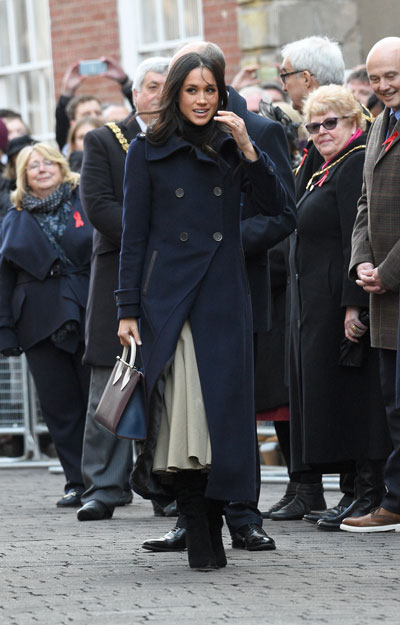 The coat has a pronounced collar, is a maxi length (almost full length–it falls right above the ankles), and is made of cashmere wool blend. The silhouette is semi-fitted, which shows off Meghan's enviable shape. It's double breasted, with shoulder epaulettes and buttoned cuffs. What a gorgeous, elegant coat befit a princess!
The jacket opened a bit to reveal a mid-length A-line khaki skirt and black boots. Inside the HIV/AIDS event, Meghan took off her jacket to reveal the modest ensemble underneath. Very tasteful!
Here's a close-up of Meghan's stunning navy, military-inspired outerwear: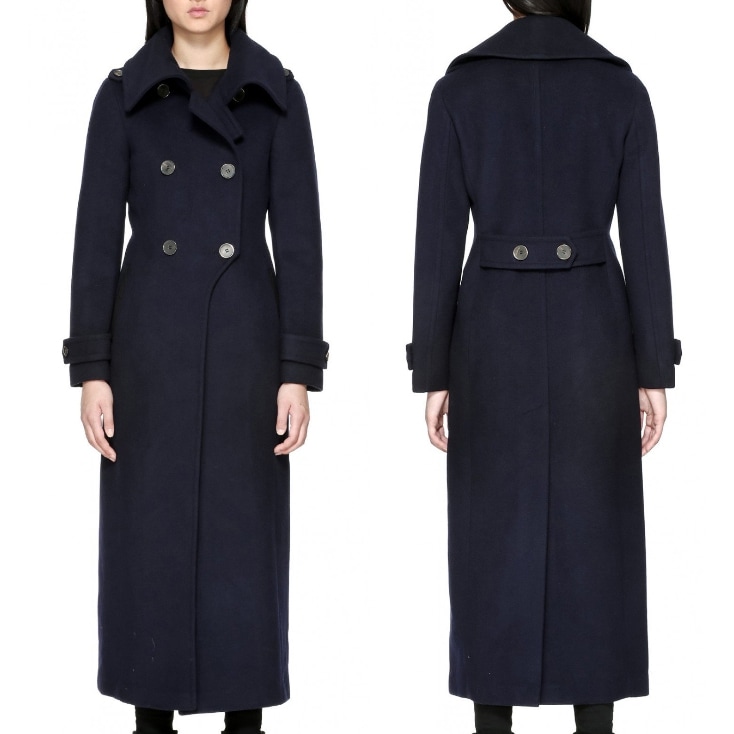 Sadly, her *exact* coat has sold out and is no longer available from the brand. Too bad! The website simply reads, "This item is currently not available." No word yet from a rep for Mackage whether they will re-stock this popular item!
Since everyone and their mother wants to get Meghan's look today, this look-alike coat from British brand Topshop is "trending" according to the Topshop website (!):
The Topshop website has identified this double-breasted navy "Slouch" coat that looks exactly like the one Meghan Markle wore this morning in Nottingham as a "Trending Product."
Wow! Not only is Meghan's exact Mackage coat sold out, but cheaper look alikes are going fast, too!
This Topshop Double Breasted Slouch Coat ($140) is not as tailored as the Mackage version, and is missing some key details like the arm cuffs and epaulettes, but it will accomplish the overall look for any Meghan Markle-wannabe. We think it's a great substitution. But hurry–if you want one you should act fast! They're sure to sell out immediately.
BONUS: this is the exact bag she wore to the event. Unsurprisingly, her bag is also out of stock. A rep from the brand told us that the bag "sold out very quickly," but fear not– it will be re-stocked shortly.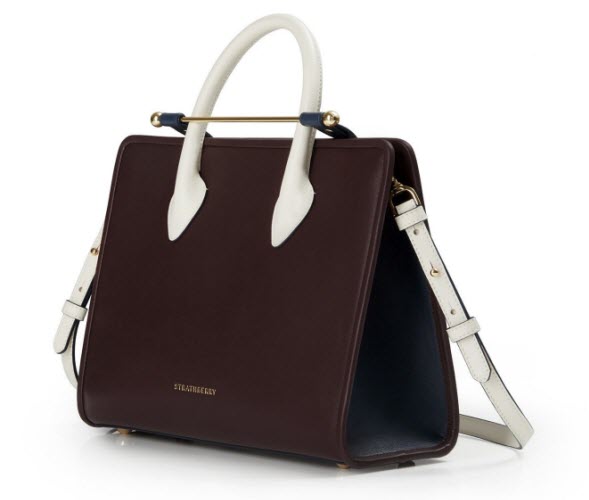 Coming back soon: Meghan Markle's sold out The Strathberry Midi Tote ($675). Simply sign up to receive an email update when the bag is back in stock!