Nudes are a big trend this season, so it wasn't surprising that uber-stylish Michelle Obama wore a flesh tone dress to a State dinner last November. But the recent controversy–6 months after she wore the Naeem Khan dress–is a bit unexpected.
According to the Telegraph, Khan described the dress as a 'sterling-silver sequin, abstract floral, nude strapless gown,' to the Associated Press, and because her skin color didn't match the "flesh" tone  dress, an offended newspaper editor responded, and the AP changed "flesh" to "champagne." I have brown skin and I usually associate nude colors with beige and blush tones as well, but just so everyone will simmer down, here are five neutral dresses that will match a variety of skin tones.
For an evening option, this mocha colored Nicole Miller Charmeuse Dress ($217.50, down from $290) will work. We love the pleating details and a-line shape.
This Donna Ricco Cutout Back Taffeta Sheath Dress ($138) looks very conservative in the front, but the cut-out detail on the back of the dress is a nice surprise.
This chocolate brown DIANE von FURSTENBERG "Kimoni" Silken Seersucker Wrap Minidress ($325) has seersucker-texture silken fabric that makes the dress light and gives it some interesting texture.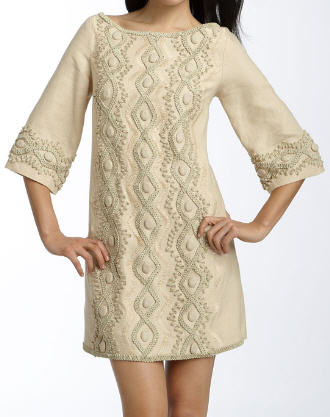 We love the embroidered beading details on this ECI Beaded & Embroidered Linen Shift Dress ($148) that you can wear to work or on the weekends.

This Save this Dress for a Rainy Day ($49.99) is inspired by a trench coat and is ideal for warm summer showers when a trench is too heavy.
See how to wear nudes and still look slim, and the new My Skins bras, and then check out our guides to the best summer dresses, the best cocktail dresses, and the best black dresses.