If you're like a lot of people, you're spending the holiday season enjoying the finer things in life: three or four holiday parties, delicious cookies, elaborate meals, and maybe a few too many glasses of spiked egg nog and champagne. All of that partying can eventually make you feel run down and like you're running on empty at times. And January is the month when (sadly) those chickens love to come home to roost.
And that's exactly why many choose a Dryuary January — one full month out of the year where they make the choice to chuck all alcohol to the curb. The decision to drink more plain OJ and fewer mimosas at brunch isn't always an easy one, but followers of the movement say it recharges their batteries, gives their skin the detox it deserves, and helps their bodies better adjust to the cold months ahead.
Does that mean you have to reject invitations to parties with friends and nights out with coworkers? No way — call up the gang and plan to whip up these delicious mocktail recipes for anyone who has sworn off alcohol. We promise: these drinks will ensure no one misses a single drop of vodka or gin.
Virgin Mojito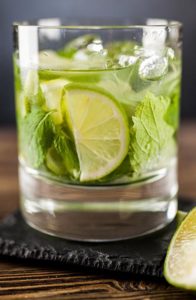 Looking for a refreshing mocktail that will remind you of days on the beach? Try this virgin mojito.
Ingredients

Fresh mint leaves (10-11)

1 lime

1.5 cup 7-Up

1 cup crushed ice
Directions

Put all of the ingredients except for ice in a glass and muddle them. Pour in the ice and mix well. Garnish with mint leaves and a slice of lime.
Non-Alcoholic Cosmopolitan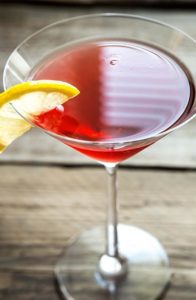 Ingredients

2 Parts cranberry juice

1/2 part lime juice

1/2 part orange juice

1/2 part simple syrup

2 dashes of orange bitters

1 twist of orange
Directions

Create a delish virgin cosmopolitan by first filling a shaker with ice cubes. Add all of the ingredients and shake and strain into a martini glass. Make it pretty by garnishing with an orange twist.
Virgin Watermelon Cape Codders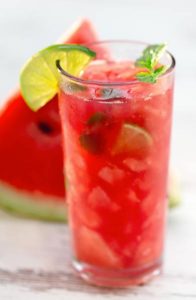 Ingredients

1 cup cubed watermelon

2 cups cranberry juice

1/4 cup grenadine

1/4 cup lemon juice
Directions

Another sweet mocktail reminiscent of days spent by the shore, this Virgin Watermelon Cape Codder couldn't be more simple to make. Puree the cubed watermelon in a blender along with cranberry juice, grenadine, and lemon juice. Strain the beverage and pour 3/4 of it into a glass filled with ice. Top it off with seltzer and garnish with lemon or lime.
Lemon Lavender Mocktail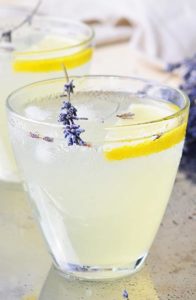 Ingredients

1/4 cup lemon juice

1.5 tbsp lavender simple syrup

1/4 tsp grenadine

3 dashes bitters
Directions

Embrace the soothing taste and scent of lavender in this citrusy Lemon Lavender Mocktail. Add all of the ingredients to a shaker with ice and shake until very cold. Strain 3/4 of the beverage into a glass and add club soda. Garnish with fresh lavender sprigs and lemon slices.
Shirley Temple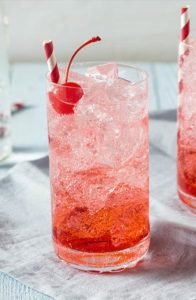 Ingredients

1 bottle lemon-lime soda

1 jar maraschino cherries with juice and cherries divided

1 orange,  sliced into thin pieces
Directions

Bring back every one of your guests' favorite childhood "grown up" drinks when you serve this fancy, two-ingredient Shirley Temple. Pour the cherry juice and soda into a large pitcher and whisk it together. Then simply pour the beverage into glasses over ice and garnish with cherries and orange slices.