We've all been there. You wear heels to an outdoor wedding or a party only to realize you'll be standing on grass. Cue the violins. This is probably one of the worst combinations in the world of fashion. Grass and heels do not mix. Luckily, a company called Grasswalkers created a product that will allow you to comfortably walk on grass while wearing heels.
The idea is simple: a transparent strip that adheres to the bottom of heels, allowing the heels to have a sturdy, flat surface to walk on. Grasswalkers will fit all types of heels from stilettos to stacked heels. Once you are done with them you can just toss them out!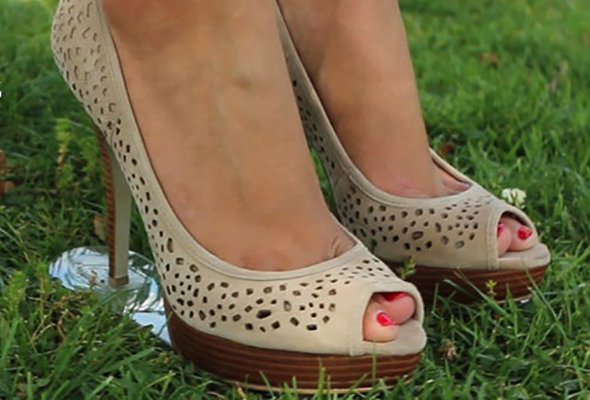 There are other products similar to Grasswalkers (Solemates) but they don't give you an entire surface to walk on, they simply protect the heel. One customer said, "I used them for my outdoor wedding, so did my mom and some of my bridesmaids. They were perfect! You couldn't see them under my dress & the girls with short dresses still looked great because the clear plastic disappears in the grass."
"Grasswalkers are amazing! We had a party in our backyard and all my friends were asking how I could stand up so straight and walk so easily. Because they are clear, you can barely notice them!" another said.
Don't miss 11 Amy Schumer quotes that sum up your life and The Bachelorette drinking game!
[Photos: The Bridal Bar]