When we first heard that Sally Hansen was launching a "waterproof" nail polish line, we thought it was the most ridiculous-sounding thing ever. I mean, isn't all nail polish waterproof? Turns out their new formula contains an Ultimate Shield Complex that helps polish stay on through the wear and tear of everyday living. In other words, you don't have to worry about your nails chipping or becoming dull-looking while washing your hands, washing dishes, taking showers and so on. It's seriously the worst when a fresh new manicure gets all gross looking after just one day.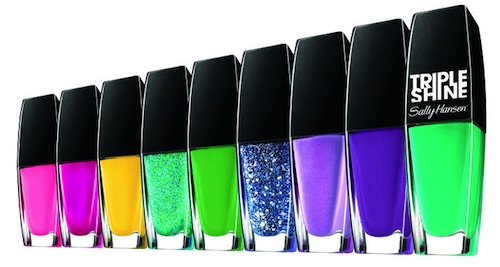 The Sally Hansen Triple Shine Collection contains 29 bright and glittery shades that will add a pop of color to your wardrobe in an instant. And let's not forget the shine factor. Word on the street is that these polishes provide the best shine in polish history, and since they're only $4.99 each, we purchased several shades to try out.
Don't forget to check out ugly christmas sweater nail art, Beyonce's new album and the best-selling beauty products of the season.