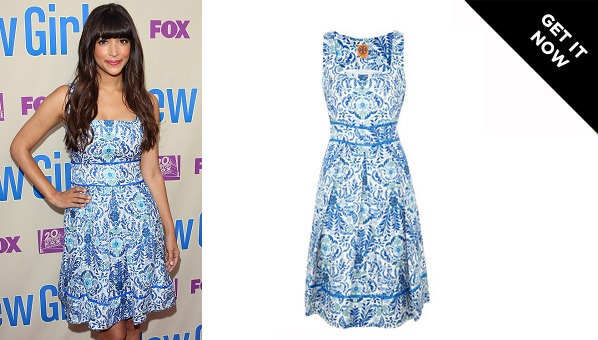 Thank New Girl Actress Hannah Simone For Finding Your Go-To Summer Dress
Garden party anyone? Hannah Simone, rising star of New Girl, showed up to a screening wearing a floral dress that has spring written all over it. Her Tory Burch Ramona Floral-Print Dress ($270, down from $450) may be a bit on the conservative side, but it's ideal for just about any outdoor event this spring and summer. The A-line silhouette looks good on every body type and the blue print works for all skin tones. Plus, it's on sale! Shop Hannah's dress below. Tory Burch Ramona Floral-Print Dress ($270, down from $450) [Photo: Splash News] Don't stop now! Shop more celebrity style such as Rihanna's Isabel Marant tank,  Jessica Alba's Matt Bernson sandals and Alessandra Ambrosio denim cutoffs
Marriage Made in Heaven: Tracy Reese Capsule For Anthropologie Is HERE!
Like bees to honey, Tracy Reese's sweet ladylike sensibility is the perfect match for Anthropologie's vintage vibe, so we're super excited her collaboration came out today. While the weather hasn't exactly been springy, these dresses make up for it in spades. Inspired by the lush garden adjacent to the Frida Kahlo museum in Mexico City, Reese's seven-piece collection of dresses capsule collection includes lacy fabrics, bold prints and feminine silhouettes. But we don't have to tell you - see them for yourself in our slideshow above! SHOP the Entire Tracy Reese for Anthropologie Collaboration   By the way, Karen Walker's Anthropologie collaboration, (entitled "Hi, There") is still available, so check that out if you're a fan (seriously, who isn't?). Look out for more of Anthropologie's awesome series of collaborations, (called Made in Kind); we're excited for the collaborations with UK's design darling Charlotte Taylor and Byron Lars whose dresses were worn by the likes of Michelle Obama. Check out all of this week's best sales and deals, online sample sales, our fave floral dresses, flat sandals and pumps.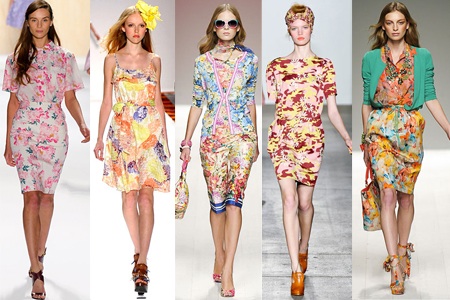 There Is No Such Thing As Clashing In Florals This Season: More IS More For Spring
Let your floral fantasies go wild this season. Bold colored patterns of pretty flowers evoke warm feelings of tropical islands and  umbrella drinks. Avoid fussy details and let the floral dress take center stage. Pair with nude heels or everyone's favorite, the sand espadrille. See our hot picks below. (more…)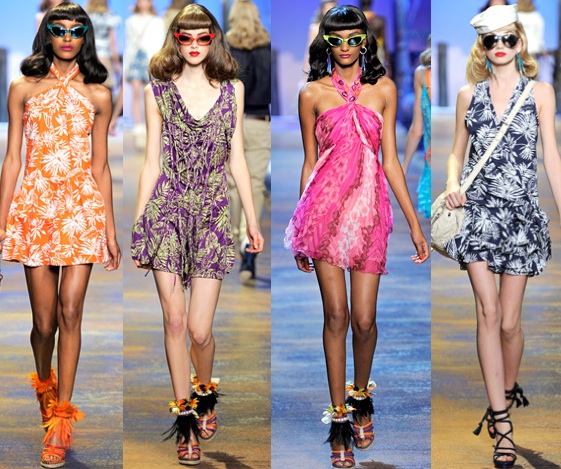 How To Wear Hawaiian-Inspired Hibiscus Prints Without Channeling Tommy Bahama
Christian Dior Spring 2011: Hate to say it, but John Galliano has always been pretty good at  trend forecasting. Last summer, I took a gamble on a hibiscus-printed mini swing dress from a thrift store (granted, I didn't have much to lose---it cost me no more than $8). And while I felt a little American tourist-y in it the first few times I wore it, I eventually learned to love it---primarily because it became the most complimented item in my closet. I can honestly say that every time I wear it, someone makes a comment about it (which is rare living in a city where no one comments on anything). Maybe it reminds them of their favorite island vacation. That, or their affinity for piña coladas. (more…)
Got Nothing To Wear And Have Less Than $100? These 5 Floral Dresses Are For You
From left: Paul & Joe, D&G and Isabel Marant, photos courtesy Style.com Floral dresses paired with cool accessories exude effortless style--it's the easiest way to give your wardrobe a little bit of punch. You can wear them so many ways, which is why we think you should see the ones we picked, below--they're all under $100. And while you're at it, we highly recommend you check out Nordstrom's half-yearly sale--it's almost over and there are so many great deals to be had! (more…)
Rachel Roy Doesn't Call It The "24 Hour Dress" For Nothing: Wear This One Everywhere
Rachel Rachel Roy's 24-Hour dress, $73.99 from $99 Little black dresses, as great as they are, don't work as well in the spring and summer--you need something a little more bright and fun during sunny days. True story: A friend and I, once, both wearing little black dresses two summers ago, happened upon an NYC tiki bar, complete with sand and pina coladas. As we sat down to order, the bartender asked, in all seriousness, "Did you just come from a funeral?" Spare yourself: grab Rachel Roy's genius "24 Hour Dress" ($73 from $99) and you'll always be ready for wherever these long summer days take you. Now if only there were 24 hour shoes... Check out more with our guides to maxi dresses, flat sandals, white jeans and summer dresses.
Miranda Lambert Dressed Her Bridesmaids In Cowboy Boots And Floral Dresses
Country stars Blake Shelton and Miranda Lambert tied the knot on May 14 -- and while we love Miranda in her mother's wedding dress, we're crazy for her bridesmaids' outfits, too. They wore Old Gringo cowboy boots with custom Priscilla of Boston floral dresses:  the recipe for a country-chic bridal party and awesome wedding pictures. If you are planning an outdoor wedding or just want the undying gratitude of your b-maids, consider the laid-back look: (more…)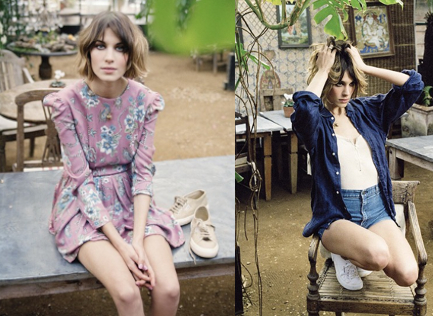 Superga Sneakers: The Latest Thing Alexa Chung Has That We Want
When Alexa Chung did her first Alexa Chung for Madewell line, complete with funny doodles on t-shirts, we were into it, but we didn't realize how long Alexa's fashion star would last. She brought back the clogs, made jean shorts non-trashy, and proved to us that button down shirts were no longer meant for the office. We stalk her Twitter and quite frankly, just love everything she puts on. Lately, she's shared her favorite Madewell picks, which, btw, sold out almost immediately. Now that she's the face of Superga sneakers, we find ourselves wanting a pair. (more…)
This Is No April Fool's Joke: Get The $34 Old Navy Floral Dress Celebs Are Clamoring For
Whoa: Carmen Electra, Louise Roe, Joanna Krupa and LaLaVazquez all chose the same Old Navy dress I love seeing celebs in super inexpensive dresses, like this Old Navy Ruffled Chiffon Sundress ($34), which is still available in EVERY size. Need I say more? It's the perfect spring/summer staple you'll reach for again and again. And at this price, you can afford to get it in all three colors. Thanks to The Daily Mail for spotting! Get it now: Old Navy ditzy floral sundress ($34). It won't last long! Check out all of this week's best sales and deals and our guides to the best maxi dresses for spring.
Top 5 Floral Dresses. Don't Be The Last To Get One.
Floral prints are no longer just for grandma's curtains. Floral dresses that were big in the '90s are back again, only this time, they look chicer, as no one's wearing them layered with t-shirts a la 90210 this time around. See our favorite top 5: Proof floral print dresses can be sexy, this Dolce Vita  Hope Dress ($123.20, down from $171) is a6 winner. Go for strapless with vintage details, like pin tucking and buttons down the front. Modcloth's Posie a Question dress ($62) fits the bill and the price is right. Leave it to Rebecca Taylor to design the floral dress that works on everyone's body--with roomy dolman sleeves and an elastic band in the middle ($315). Your go-to floral dress for baby showers, brunches, and even daytime weddings, Maggy London's print stretch cotton sheath ($118) is classic and festive. We love peplum--it's the best shape to hide your tummy. This floral version by Aqua ($88) is no exception. See our entire guide to floral dresses, and then get a pair of comfortable heels, flat sandals or oxfords to complete the look. Not into floral? See our favorite maxi dresses and summer dresses instead.
Deal of the Day: Up To 50% Off Fun Flats From Nordstrom
Like leggings, ballet flats seem tired if they're too plain.  That's why we'd recommend picking up a new, gussied-up pair from Nordstrom while they're on sale. Snakeprint is super stylish yet subtle.  We like a little extra hardware, too.  ($60 from $120.) These jewel-toned flats from Steve Madden are exactly what I need to give my skinny jeans-and-a-tee outfit a little kick ($47 from $80.) Perforation is just oh-so-contemporary, and these DV by Dolce Vita flats are a prime example ($50 from $70.) For more options, check out our guide to flat shoes, and for great picks to go with new flats, peruse our guides to skinny jeans and pencil skirts. More Sales and Deals: 80s Purple: Save an extra 10% off sale items and regularly priced clothing with code extra10 Gap:  Take $20 off a pair of jeans from the just-launched Premium Denim 1969 collection Ralph Lauren:  Save up to 65% during the end-of-summer sale
News: Designers Showing Up On Gossip Girl, Jessica Simpson Wants To Know What You'd Do For Beauty, And More
1. Designers must be the new starlets - both Tory Burch and Georgina Chapman (of Marchesa) are guest-starring on the upcoming season of Gossip Girl.  If you're looking to cop some of the show's style, we'd recommend starting with a good pair of skinny jeans. [WWD] 2. Jessica Simpson and her hairstylist Ken Paves will star in a new reality show, The Prince of Beauty, in which they travel around asking women about the lengths they'll go to for beauty.  We'll stay away from celebrities talking about beauty in order to just stick with celebrity-inspired beauty, we think.  [People StyleWatch] 3. The tanning bed has been officially declared a carcinogen, but apparently tanning businesses aren't seeing a drop in customers.  We really think the opposite should be true, and we've got plenty of great self-tanning advice if you're looking to make the switch. [NYT] 4. A former Abercrombie & Fitch employee (in Britain) who sued the retailer for being moved to the stockroom once they learned she had a prosthetic armed has won her lawsuit.  We're glad for her, and we have good picks to get preppy duds elsewhere. [BBC]
Top Picks From Anna Wintour's Editor-In-Chief Style
As we impatiently await the release of The September Issue, the upcoming documentary about the trials and tribulations of creating Vogue's fall fashion bible, we invite you join us for a brief look-back at some of the outfits that style icon, and resident Condé Nast despot, Anna Wintour has donned over the past year. After all, you may not always like what Anna wears to the various fashion shows and hoity-toity New York events she attends, but that icy stare of hers seems to command that you certainly should. Check out some of Anna's most notable looks (which must be paired with Stevie Wonder-esque sunglasses to achieve the full effect) and find out where to get them for less. Anna's love of florals is well-known - she was photographed wearing this Caroline Herrera design three times this year – and has shown us that you can sport this springtime pattern in all seasons. Here's a similar look from What Comes Around Goes Around ($199 from $398) which, in true Anna fashion, can be worn with tights and knee-high boots come September. Chic on the street with her daughter, Bee, Wintour dons a striking A-line floral skirt with a white button down for a very classic working-girl look. For autumn, wear a gathered skirt ($16) like Anna's with a fitted sweater tucked in. Photographed in promotion for The September Issue, Wintour takes a power pose in this dark green sweater with a tie-neck. For the same refined style, try this Marc by Marc Jacobs Tie-Front Top ($198) in poppy. For more high-fashion tips, browse our celebrity style guides: we've got picks for best celebrity sunglasses, jewelry and handbags.