The Scary Reason You Shouldn't Use Tech Gloves With Your iPhone
The One Thing You Should Never Do When Wearing Gloves
With the weather getting colder and colder, it only makes sense that we stock up on coats, scarves, ear muffs and of, course gloves. Wearing gloves is a must when the temps drop. Otherwise, you will end up with dry hands (aka worst thing ever). And if you're too concerned with having your limbs available to text in the frigid weather, well, then get some tech gloves! Whatever you do, cover up your hands in the winter! However, when we're wearing these comfy hand blankets, we don realize just how many things we're touching.  That's why when wearing gloves you should never touch your face. The amount of germs that can be transferred from the object you touched to your face are just too many to count and can lead to unnecessary breakouts and even illness. So, before you go scratching your eyes or holding your cheek, take off your gloves! And wash them often. Don't forget to check out the scary reason you shouldn't use your iPhone in bed and the one color that makes you look smarter [Photo: Shutterstock]
Everyone On Your Holiday Shopping List Deserves A Pair Of These $22 Cashmere Gloves (You, Included)!
Bring on the Black Friday deals, baby! The big day may not be until the end of the week, but please believe the deals are already here! The one sale you shouldn't miss out on today? Portolano cashmere gloves on sale for just $22.50 (down from $63!) at Neiman Marcus Last Call. I bought a bunch of these for myself when they were on sale last year and this time around I'm stocking up for everyone on my holiday shopping list. My mom? My sister-in-law? My office secret santa? They're all getting these amazing cashmere gloves because they're so soft and last season after season. There are tons of colors available right now, so stock up before the price goes back up! Portolano Cashmere Gloves, Black ($22.50, down from $60) Portolano Cashmere Basic Knit Gloves, Yogi Ivory ($22.50, down from $63) Portolano Cashmere Basic Knit Gloves, Eggplant ($22.50, down from $60) Portolano Cashmere Basic Knit Gloves, Violet ($22.50, down from $63) Portolano Cashmere Basic Knit Gloves, Winter Blue ($22.50, down from $60) Portolano Cashmere Basic Knit Gloves, Light Heather Gray ($22.50, down from $63) Portolano Cashmere Basic Knit Gloves, Azalea Pink ($22.50, down from $63) Portolano Cashmere Basic Knit Gloves, Nile Brown ($22.50, down from $60) Portolano Cashmere Basic Knit Gloves, Plumberry ($22.50, down from $63) Portolano Cashmere Basic Knit Gloves, Sugar Blue ($22.50, down from $63) SHOP PORTOLANO CASHMERE ON SALE NOW Be sure to check out the best drugstore beauty products and 25% off these gorgeous watches. [Photo: Neiman Marcus Last Call]
Hats, Gloves And Scarves Start At Just $9 At Club Monaco's Winter Clearance Sale
If you thought winter was on its way out the door, think again. It's windy, cold and raining here in NYC and we're seriously beginning to question Punxsutawney Phil's ruling earlier this month. But here's some bright news on an otherwise gloomy day--Club Monaco is having a massive sale on winter accessories! I'm talking hats that used to be $90 are now just $9 and cashmere scarves that were originally $150 are now just $29. Now before you reason, "Winter is almost over," allow me to remind you that it will still be cold enough for hats, gloves and scarves for at least another month. And unless you plan on permanently relocating to the Caribbean, there's also next winter (and the one after that, and the one after that). So stop whatever you're doing and refresh your winter accessories collection because these prices are too good to pass up! Eloisa Textured Hat ($9, down from $89.50) Adele Cashmere Scarf ($29, down from $149.50) Jayna Knit Glove ($19, down from $79.50) Daylina Infinity Scarf ($19, down from $98.50) Daylina Knit Hat ($9, down from $69.50) Robeeka Scarf ($29, down from $129.50) SHOP THE CLUB MONACO WINTER ACCESSORIES SALE NOW Don't miss our favorite bright finds on sale at J. Crew Factory and designer dresses on sale. [Photo: Club Monaco]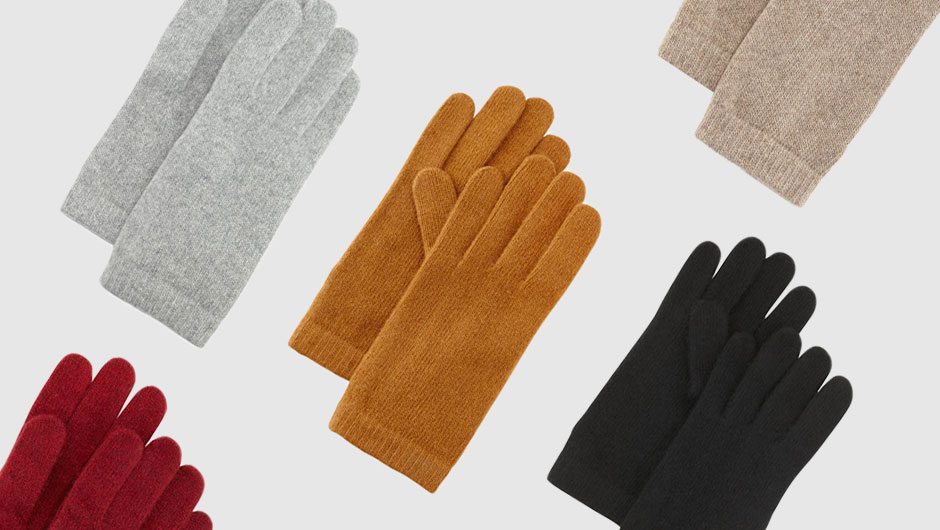 We Found The Perfect Last-Minute Gift At Neiman Marcus Last Call–$22 Cashmere Gloves!
Between holiday parties, last-minute gifting and finishing the year out with a bang, we're guessing you're super busy this time of year. Lucky for you, we found the perfect, no-fail gift for everyone still remaining on your holiday shopping list so you don't have to. Even better? It's super affordable, too! Behold, the most luxurious cashmere gloves in every color of the rainbow currently on sale for just $22.50 at Neiman Marcus Last Call. Everyone knows cashmere is a crowd-pleaser, so whether you're shopping for a friend, your sisters, your mother or even your boss, these will not disappoint. And at $22, you can totally affordable to get a pair for yourself, as well. Shop below! Portolano Cashmere Gloves - Black Portolano Cashmere Gloves -Toffee   Portolano Cashmere Gloves -Ashton Red Portolano Cashmere Gloves -Light Heather Grey Portolano Cashmere Gloves -Camel Portolano Cashmere Gloves -Royal Blue Portolano Cashmere Gloves -Yogi Ivory Portolano Cashmere Gloves -Teal Portolano Cashmere Gloves -Nile Brown Portolano Cashmere Gloves -Sugar Blue Portolano Cashmere Gloves -Purple  Be sure to check out Olivia Wilde's pretty bikini and the most popular dry shampoo at Sephora. [Photo: Neiman Marcus Last Call]
Hats, Scarves & Gloves From $5–For When You Inevitably Lose The Ones You Have
When winter hits, your gloves, scarf, and beanie are just as much a part of you as your iPhone. And for those who are prone to losing their precious gadget, the chances of misplacing cold weather accessories are pretty high. While replacing your iPhone can cost you a pretty penny, we managed to find affordable winter weather staples that won't break the bank if you happen to lose them. (Although, we highly suggest you don't and hold no responsibility if you do!) Check out our slideshow of winter-friendly items you won't want to forget the next time you go out. [Photo: Damsel in Dior] Don't forget to check out: how to wear a beanie, why you should buy yourself an infinity scarf, winter boots that don't actually look like winter boots, and 19 fashion and beauty hacks for winter.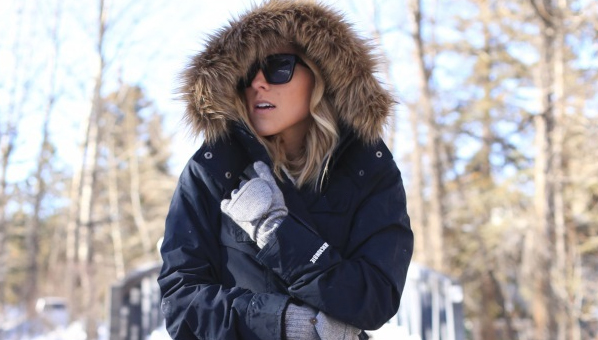 What To Wear When It's Really, Really Cold
200 million people will be affected by the Arctic Blast this week (if you have the day off school or work--jealous!!). So, what should you wear when it's really, really friggin' cold outside? The answer is more is more--pile on the cold weather accessories (tech gloves, slouchy knit caps, plaid scarves), wear multiple layers including the warmest coat you own, pull on some shearling-lined boots and cover as much of your face as possible. Luckily, there are some really cute winter accessories, warm coats and weatherproof boots on the market now. Click through the slideshow above to shop them all. [Photo: Damsel In Dior]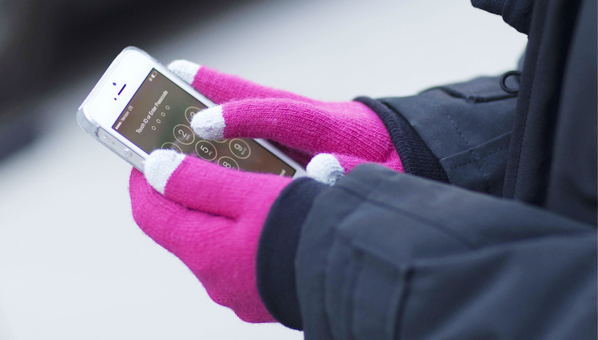 21 Cute Pairs Of Tech Gloves That Let You Text Without Frozen Fingers
The temperature may be mild now, but don't be fooled--it's supposed to snow in NYC on Wednesday and then go down to the 30s on Thanksgiving and Black Friday. Brr! So unless you like texting with frozen fingers, I highly suggest you invest in not one, but a few pairs of tech gloves this season because you know you're bound to lose at least one. They're not novel anymore so everyone from Marc Jacobs to Kate Spade makes cute styles that don't look like something your uncool dad would wear. Click through the slideshow to shop our faves. Be sure to check out all the shoes on sale at Neiman Marcus, Gwen Stefani's leather pants and stores with shareable wish lists. [Photo: Shelby Rodriguez]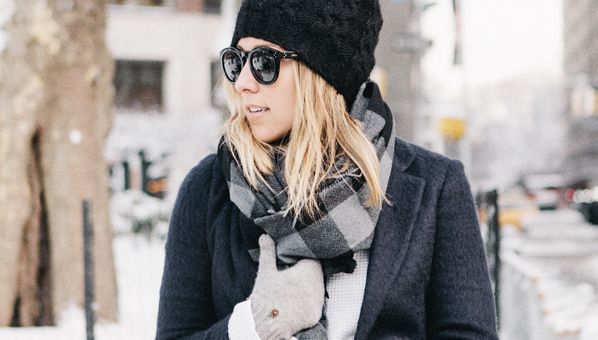 Last-Minute Gift Idea: Winter Accessory Sets (Genius!)
When it comes to holiday shopping, there's always those last-minute purchases that need to be made—but without any clue as to what to exactly get. Our solution for that? A winter accessory set. Usually containing a paired combination of a knitted hat, scarf, and gloves (or sometimes all three), these instant presents are beyond useful. Plus, you won't have to think twice about sizing since most sets fit, well, most. The tricky part to these convenient last-minute holiday gifts are finding winter sets that actually look like you put the time and effort into buying them, rather than as if you nicked them off the shelves willy-nilly. So we picked a few accessories that come with trendy designs, quality knits, and are ready to face the colder temps to come. Check out our slideshow to see what you'll be giving at your upcoming holiday party. We suggest stocking up on a few in case your second cousins surprise you at Christmas dinner. [Photo: Damsel in Dior]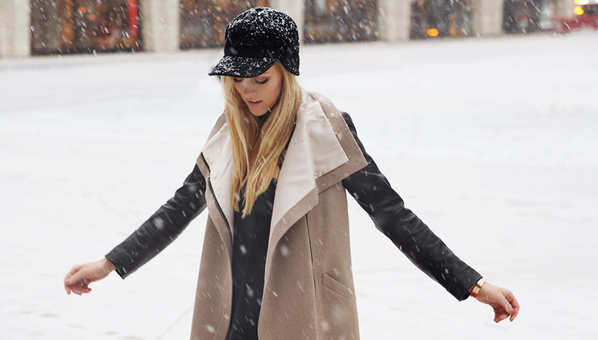 Winter's Not Going Anywhere: How To Hold Over Your Closet 'Til Then
Believe it or not we still have over a MONTH of winter left (the first day of spring is March 20) and according to the groundhog, we're going to get cold weather for every minute of it. I know, I know. But what about all of the brand new spring and summer clothes you've been seeing everywhere? Well, you've got to be patient because those cute tops and dresses won't be seeing the light of day anytime soon. (Unless, you have some wonderful island getaway planned in the future and for that, we're totally jealous.) So what's a girl to do until then? Might we suggest a second round of shopping? A ton of winter garments are on sale, so you're actually getting a good deal on most of your purchases. And now that you've started to realize that this polar vortex and snow is seriously not going to leave you alone, you might as well stock up on the winter necessities that you've ignored to buy for the past month or so. Check out our slideshow for tips to make your wardrobe super warm and stylish. [Photo: Peace Love Shea] Don't forget to check out these winter style stories: more cold weather clothing tips, winter coats, and winter boots we saw at Sundance.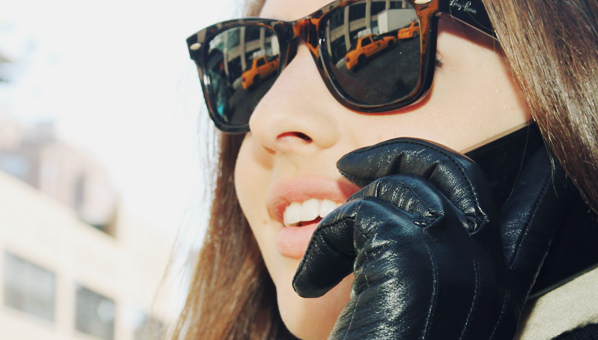 For Those Of You Who Don't Know: Tech Gloves Come In All Different Styles Now
The idea of "tech gloves" is generally a bad one, conjuring up images of relatively nice looking gloves or mittens with black dots of juxtaposing fabric on two finger tips. Wearing them is like wearing a sign that says "I just can't get off my phone, even when it's 12 degrees outside." Yea. We get that. Luckily, though, the tech glove industry is booming and no longer are they off-brand, overpriced or plain ugly. From cashmere-lined to leather, suede to zipper-detail, there's a tech glove out there you probably would have bought with or without its smart phone capabilities.  Now, the texting with a warm hand aspect is just a cherry on top. These 13 pairs don't even look like they were made for texting. [Photo: Glove.ly]
Our First-Annual Gloves Awards: The Best Leather, Tech, Shearling & More!
The Polar Vortex might be out of the way, but that doesn't mean we're off the hook with freezing temps this season. Winter is just getting started! We all know the importance of scarves, tights, and cashmere to keep ourselves warm, but what about our hands? Nothing feels worse than numbingly frozen fingertips. So we picked out our favorite pairs of gloves, from leather and teach to shearling and prints, to keep those paws toasty up until spring. (Oh spring! Please hurry!) Check out our slideshow so you can stock up on your own pair now. And don't forget to check out: the entire Peter Pilotto x Target collection, shop Julianne Hough's perfect shirt and get a first look at Rita Ora x Adidas
Tech-Friendly Gloves That Won't Cramp Your Style – Or Your Texting Capabilities
Your fingers are typically an afterthought when dressing to stay warm. And when you do finally remember gloves, all of your touch screen gadgets are rendered useless. But don't let your compulsive need to check your Twitter feed wreak havoc on your precious digits. We've rounded up the cutest, gadget-friendly gloves that are both functional and cozy. See them all in the slideshow. Don't forget to check out Kate Middleton's Aquatalia boots, Wildfox's Clueless-themed lookbook, and Ciate's foil manicure.
Cold Fingers Are So 2011: 7 Text-Friendly Gloves You Can Shop Now #OMG
We've been through it too. It's freezing out, your phone rings, and your cashmere gloves can't seem to slide that silly bar to unlock your iPhone—leaving you with a missed call or even worse, a voicemail. And who checks their voicemail these days? Now, thanks to good ol' technology and a few fashion lines that have heard our pleas, you can swipe, slide, pinch, tap, and scroll as much you want without the fear of getting frostbite. Shop the best gloves, fingerless gloves, and other super-warm essentials.
8 Super-Warm Essentials Just Shy Of Long Underwear (But Those Are Pretty Sweet, Too)
Even though right now the weather feels like spring in New York, the cold is bound to come back once again--and it could be just as unpredictable as the Halloween Nor'easter that caught all of us off guard. Forget a Halloween costume--all I wanted to wear that night was cashmere. That's why I've put together this handly survival guide: to keep you toasty all season long. (more…)
Sea Of Shoes Really Knows How To Get Us To Put On A Sweater!
As much as I resist dressing for winter (I'll go as long as I can without putting on a winter coat) the style blogger outfit inspiration I'm digging today is making a case for some chunky Aztec cardigans. (more…)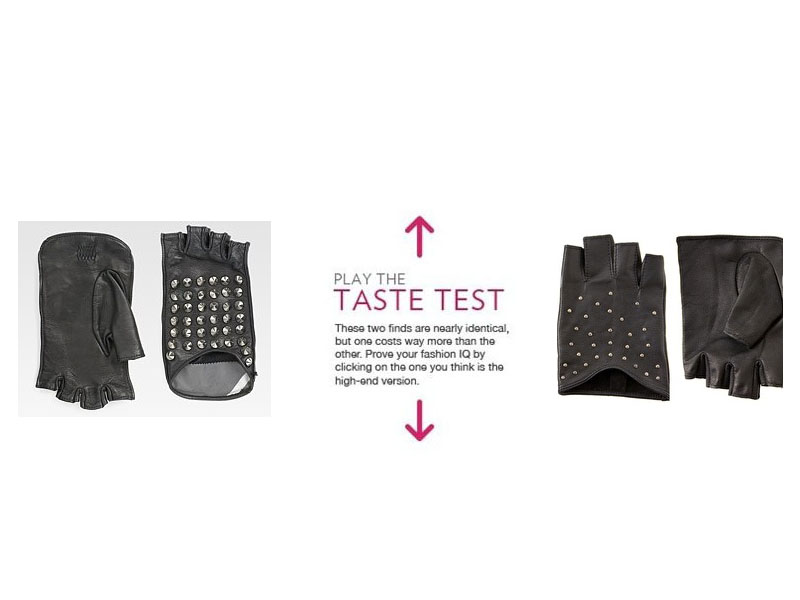 Can You Tell Which Studded Fingerless Gloves Cost $234.50 More Than The Others?
Find more designer lookalikes with all of our Taste Tests. Shop our guides to the best gloves and the best fingerless gloves. Join our e-mail list for exclusive updates.
It's A Miracle: Cold Weather Accessories Are On Sale…While It's Still Cold Out.
Just like it's hard to find bikinis on sale in summer, it's usually hard to find cute cold weather accessories for less. So if your hands and neck are cold because you refuse to wear the ugly scarves, pom-pom hats or mittens you got over the holidays, do yourself a favor and get bundled up. Show off that manicure in a chic pair fingerless gloves or load up on other gloves, hats, scarves on sale while demand is low. Money-saving tip: Stock up now and give them away next year. See our favorite sales and deals below: Don't stop there: check out more winter 2010 trends, shop our guides to the best heavy scarves, the best gloves, and the best winter hats. Join our newsletter list for exclusive SHEFinds updates.
Can You Tell Which Bright Cashmere Gloves Cost Twice As Much As The Others?
Keep guessing with all of our Taste Tests. Shop our guides to the best cashmere and the best gloves. Join our e-mail list for exclusive updates.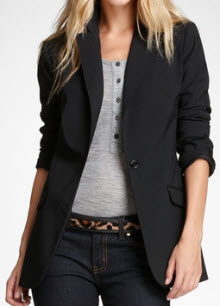 10 After Christmas Sales: Get What You Really Want For Up To 70% Off
Did your wishlist get lost in the mail on the way to the North Pole, or did you  just get coal in your stocking? Never fear: now's the time to pounce by getting yourself the stuff you really wanted...on sale. Let's get shopping--it's been a long week and you certainly need some retail therapy (I know I do): 1. Tory Burch - Get an extra 25% off sale items with code EXTRA25. Try out this beautiful Tory Burch tailored blazer that will never fail you for just $148.12, down from $395. (We did the math for you.) 2. Net-a-Porter - Don't miss out on even further reductions on amazing designer items like these Diane von Furstenberg glitter heels for New Year's and beyond. ($147.50, from $295.) 3. Bloomingdale's - If you didn't get that perfect gift, there are tons of sales here for up to 50% off. This Cole Haan crossbody bag is a no-brainer at $166.60, from $238. 4. Shopbop - Get something truly amazing with that extra Christmas money from your stocking. This drapey lavender Rachel Pally dress will be just the right move. ($138.60, from $198.) 5. J.Crew - Take an extra 30% off the final sale at J.Crew, plus free shipping on orders over $150 with code SHOPNOW. This sweater jacket takes the cake for just $59.99, from $128. (Bonus: wear it in the fall as a jacket.) 6. Nordstrom - Up to 50% off great finds of all kinds, like this cool Timex watch ($29.90, from $50.) 7. Saks - Today only, get 70% off designer pieces--there is so much good stuff you're going to HAVE to check it all out yourself. (Plus free shipping on orders over $200.) We're partial to the effortless chic Ports 1961 dress from the runway that's marked down to $178, from $595. Whoa. 8. Topshop - Up to 50% off tons of styles, plus jewelry and shoes. These Dakota faux fur boots are comfortable and seriously cozy on days where it's frigid outside $80, from $160. 9. Zappos - Practically everything you could want is marked down--try these Marc by Marc Jacobs leather fingerless driving gloves, with a little ruffle ($78.50, from $98). 10. The Outnet - Get up to 70% off designer pieces that are seriously in demand, like these Chloe sunglasses ($99.50, from $285). Check out all of our favorite sales and deals (there are TONS!) plus all of our best find of the day picks, and all of this week's online sample sales.
Can You Tell Which Lace Fingerless Gloves Are Forever 21 And Cost $70 Less?
Press your fashion luck with all of our Taste Tests. Shop our guides to the best fingerless gloves and the best cocktail rings. Subscribe to our virtual mailing list for SHEFinds in your inbox.
Forget The Frost Bite: 8 Gloves Too Pretty For Shoveling Snow
It's really freakin' cold out and it's only getting worse. Since we won't be feeling the sun anytime soon, there's no reason to let your hands suffer. You're going to want to grab some heavy lotion and a warm pair of gloves to get you through this season. But there's no reason to sacrifice style for warmth - check out these awesome gloves that are as cozy as they are cute: Check out more winter trends. Shop our guides to the best winter gloves, the best heavy scarves, and the best winter hats. Join our e-mail list for stylish SHEFinds updates.
Your Coat Is A First Impression You'll Wear All Season. Make Sure It's Up To Date.
Your coat can either make you look totally put together or an unfortunate victim of fashion roadkill. Here, we've grabbed three winter coat trends straight from the runway and shown you how to re-create the look in the real world, without looking crazy. We've paired the right gloves, scarves, and hats with it, so you'll be ready. Follow the author of this post on Twitter @shefindseileen. Got a question? Tweet it! Check out our guides to the best hats, celebrity scarves, gloves, handbags under $250, and peacoats. Join our e-mail list for exclusive fashion updates.
How To Wear Fingerless Gloves Without Looking Like A Hobo
As busy girls, we're constantly texting, e-mailing, using our sometimes-manicured fingers for pretty much everything. But when cold weather hits,  the bulky mittens and static-cling gloves can slow us down. Thanks to fingerless gloves, our digits can do their thing. And forget the hobo stereotype, we're about to tell you how to rock this trend without looking like you live in a cardboard box: Start off with a basic, cozy pair of fingerless gloves, like these MICHAEL Michael Kors Fingerless Knit Driving Gloves ($48). A cute accessory - say, this ABS Allen Schwartz Chain Link Bracelet ($129) and this Mixed Plaid Scarf ($15, down from $28) - add pretty, yet professional touches to this potentially grungy trend. Finish it off with a warm jacket, such as this Betsey Johnson Heart Button Peacoat ($170, down from $300), and you'll be ready to text as well as stay warm. Believe it or not, you can pull off Rihanna's rocker look, thanks to these Juicy Couture Embellished Fingerless Gloves ($45). Continue with a classic leather jacket - we love Old Navy's verison ($175) and a pair of feminine yet edgy earrings like these Kate Spade Candy Ribbon Hoops ($79). Throw on a pair of Volcom Sienna Skinny Jeans ($51) and watch Ke$ha envy your outfit. Dare to wear more risky trends with all of our how to wear posts. Shop our guides to the best fingerless gloves, the best heavy scarves, and the best trendy coats. Join our e-mail list for exclusive fashion updates.
Can You Tell Which Leather Gloves Are Topshop And Which Are Prada?
For more top picks, don't forget to check out our guides for the best in gloves, leather jackets, and faux fur. Sign up for the SHEFinds newsletter for even more fashion updates.
Text, Tweet And Email To Your Heart's Content In These Michael Kors Fingerless Gloves
Michael Kors is no stranger to technology (he tweets regularly) which is good news for your hands this winter. He's designed these awesome wool, camel-colored fingerless gloves so you can stay warm, look chic, and text all at the same time. Oh, and don't forget the fact that you'll save money. These are under $50: Grab these MICHAEL Michael Kors fingerless driving gloves ($48) and hold onto them--it's not often fingerless gloves come this chic. A tip: if you're prone to losing your gloves, ask for another pair for the holidays. You won't regret it. Follow the author of this post on Twitter @shefindseileen. Check out more of our best sales and deals, plus all of our best find of the day posts, and 9 more awesome fingerless gloves] to choose from, handpicked by our expert editors.
Betty vs Joan: Which Mad Men Halloween Costume Would You Wear?
The ladies of Mad Men are hotter than ever this year and we love the idea of dressing up as them for Halloween, especially since the clothes are oh-so-covetable. With the Janie Bryant for QVC line, and so many vintage inspired dresses at ModCloth - it's especially easy this year: For starters, the curvaceous Joan Holloway, with her form-hugging dresses and mod accessories, is one costume that will make your guy's mouth drop. Paired with her signature red hair, this firey Wardrobe Essential Dress ($79.99) from ModCloth is exactly the type of piece Joan would wear around the office. But it earns bonus points for being totally wearable (and wallet-friendly!) in the real world, too. Leopard is everywhere this year, and this Janie Bryant MOD Retro Animal Print Handbag ($79.75) from Mad Men stylist Janie Bryant's QVC line, will be the perfect complement to your siren-red dress. Joan often accessorizes with brooches and this MOD Multi Color Floral Motif Pin/Enhancer ($72.50), also from Janie Bryant's QVC line, looks like it could have been found in a vintage store. Just throw on a pair of great pumps and a swipe of red lipstick, and you're all set, Ms. Holloway! But Joan isn't the only Mad Men-inspired Halloween costume we have in mind this year. There's also Betty Draper, whose more demure sexiness is wrapped up in ladylike frocks and lace gloves. This Rose Menagerie Dress ($117.99), also from ModCloth, has Betty Draper written all over it. And we're already planning on wearing it to garden weddings come spring. These White Cat-Eye Sunglasses ($11.91) look exactly like the ones Betty wears on Mad Men and, conveniently, the cat-eye trend is huge this year. Rock them with a leather bomber jacket once they've served their Halloween purpose! The key to this look, though, might just be a pair of sweet lace gloves ($2.98). If you'd like, add on a headband and a ladylike purse, and you're good to go! Feeling more Jersey Shore this Halloween? Find out how to turn yourself into Snooki. Or, go the pop star route as Lady Gaga or Katy Perry. Then, check out our guide to the best dresses, sunglasses, and brooches.
Convertible Leather Gloves: Get Three Pairs For Price Of One
Michael Kors is known for his designs that actually accommodate women. His spring '11 runway show alone featured cool flat shoes--the reason, he said, was he didn't want women to carry their heels in their purse anymore. If only everyone were so thoughtful. Michael Kors hits another grand slam with these Michael Michael Kors convertible leather gloves ($150) . Check 'em out: Whether you're in the mood to wear them short, medium length, or (my favorite and the most dramatic) full-length, you've got choices. Isn't that what fashion should be all about? I certainly think so. Check out more best find of the day posts, all of our sales and deals, and our guides to the best blazers, leather jackets, flat black boots,  under $100 boots, clogs, skinny jeans, and leopard print shoes, too, so you never miss a trend.
Best Find of The Day: Mittens That Won't Leave Your Fingers in a Bunch
We've all been there; it's freezing, you're afraid to remove your gloves for fear that hypothermia might cause your fingers to fall off, but you just must send this an important text. With most ordinary gloves you would be hard pressed to spell half the message correctly, but not so with these Juicy Couture 'Iconic' Pop Top Mittens ($40.90). Cute-as-a-button and practical, too, these fingerless gloves and quasi-mittens made of luxurious rabbit hair and cashmere let you function like a normal, 10-fingered human being, without having to suffer from the cold. To boot, they are long enough to keep your wrists shielded from the wind. For more cozy finds for the cold months check out our buying guides to Winter Fashion.
The Warmest Accessories For The Coldest Days
Bundle up! Time to get ready for the coldest days of winter. Bundling up is in--even on the red carpet. So take a cue and do it in style: We love this plaid trapper hat--it's cute, and lined in faux-fur to keep your head and ears away from the wind. Knit legwarmers are a life-saver on days when it's so cold you can hardly bear to leave the house. You can always take them off easily if you start to get steamy inside. Wrap your hands in these suede gloves lined in cozy shearling. You won't regret it. For more winter must-haves, peruse our guides to the best coats to wear over party dresses, and of course gloves and scarves.
Deal Of The Day: Take 50% Off Leather Gloves From Lord & Taylor
A sleek pair of leather gloves is surely the most elegant way to stay warm - get one of Lord & Taylor's classic, chic designs on sale now and heed our tips on how to wear them right. These simple leather gloves ($29 from $58) have a certain crisp feel to them that we just love; plus, they are lined with silk, which sounds good to my aching fingers. Take fancy to a new level, with this regal, (genuine) fur-trimmed style ($32.50 from $65)  in black, brown, or a gorgeous tan. Double up on warmth with leather on the outside, cashmere on the inside and a vintage long length. These gloves ($36 from $72) come in ten shades, including girly purple and pink. Be sure to take a look at our guides to the best in gloves, scarves, and faux fur for for more fashionable winter picks. More Sales and Deals: Ann Taylor LOFT: Take 30% off your entire purchase Shoes.com: Save 15% off your entire purchase with the code TAKE15 SkinStore.com: Save 20% storewide with the code HOL20 Nine West: Take 30% off dress shoes
Winter Accessories Under $150: Fingerless Gloves, Infinity Scarves, And Faux Fur Galore
Today on Better.tv, we're showing off our favorite winter accessories trends: fingerless gloves, infinity scarves, and the now-ubiquitous faux fur. (Hi Rachel Zoe!) Best of all: all the items you see here are under $150. Also: Find even more faux fur, infinity scarves and fingerless gloves in our hand-picked shopping guides. Faux Fur Faux fur is showing up on everything from vests to hats to shoes this season. We love the luxurious look of this faux mink wrap ($40 – and from Target!) for pairing with holiday party dresses or even jeans and a tee – it's more versatile than you'd think. This vest ($150) from Stefani Greenfield's stellar HSN line is also a cold-weather workhorse. If you'd prefer your faux fur in small doses, try a fluffy hat ($15), or these cool socks ($39) that can freshen up the look of your boots with the fur cuff that peeks out the top. Infinity Scarves This of-the-moment scarf shape makes getting that effortlessly chic loop totally simple – just throw it over your head. Echo's chunky single-loop scarf ($45) is the simplest – it sits around your neck like a cowl-y collar. Wear Roxy's Glow Infinity Scarf ($28) or Echo's triangle pattern scarf ($35) the same way, or double-loop them for a cozier fit. Fingerless Gloves Since we're all tied to our Smartphones these days, fingerless gloves make communicating on the go a breeze: fingers are free to type and text. Free People's Doubs gloves ($28) have adorable metal buttons, and Mossimo for Target's pair ($11) is extra long for extra warmth.
If You Can't Afford To Wear Prada, Maybe You Can Read It Instead
We've been enamored of fashion-world books recently - the Sartorialist's is a standout - so we were excited to hear from WWD that Prada will be releasing a 706-page book of its own, aptly titled Prada. While I can't wait for the leaden coffee-table book (the exact release date hasn't been announced, but all signs point to soon), The Devil Wears Prada will just have to cover for tomes with the brand name in the title.  I'd also like to point out that, should you purchase the Prada book, you'll probably want to handle it with kid gloves - literally.  An appropriate route to take might be Prada's own lambskin gloves. Whether you're looking for an easier way to read during your cold-weather commute or just like the fashion-forward look, a pair of fingerless gloves will do the trick.  Pair them off with a designer handbag to truly cop a Prada-approved look.
Top Five: Fingerless Gloves To Make Your Hands Your Latest Fashion Accessory
Some of you may have thought this bad girl-chic trend had hit its limit, but we beg to differ. The time is nigh to whip out creative handwear, so forget about expensive jewels and accessorize with our top five fingerless gloves. For some wrist bling, forgo your tired bracelets and choose this cute, ruched, wool blend glove ($28) with trendy gem embellishment at the cuff. Give these leather fingerless gloves from Portolano ($150) a try; they're almost reminiscent of wrist warmers. For classic wool gloves ($30) that will always do the trick, try a design by Carolina Amato. These convert from mittens to fingerless easily and come in a variety of colors. These long cashmere gloves ($55) will keep your arms super toasty and your fingers free.  They come in black, red, or white, in addition to this gray. For that moto-chick look of the moment, save your leather money for a handbag and get this faux Deena and Ozzy pair ($28) with perforation for added effect. We've always got the latest trends covered, so don't hesitate to sift through our guides for the best in leggings, boyfriend jeans, and thigh-high boots.  And of course we've got more fingerless gloves for you to check out.
Entertaining All-In-One Winter Warmth From Peter Jensen
Weird though it may be, we actually think this scarf and gloves combo by eccentric designer, Peter Jensen, is sort of genius. Think about it - it keeps your neck covered and your hands warm, and you'll never lose a glove. For those of you who aren't familiar with Jensen's work, he's known for his oddball creativity; his collections have featured imitations of Greenland's traditional clothing, handbags shaped like huge watermelons, and most recently, perhaps in a nod to Mary Kate and Ashley's fashion forward headgear, bunny ear sunglasses. I think Jensen may have stolen that bag from my mom at the beach circa 1990, but if it puts you in the mood to prep for next summer now, we prefer fruit tones to actual fruit on our handbags. Try this slightly more elegant Tory Burch tote, and for somewhat more wearable statement headgear, take a look at Marc Jacobs' giant "Runway" bow headband. For similar tips, shop our guides for the best in really big totes, gloves, and cheap scarves.
Betty Gets Down With Her Bad Self (Well Sort Of, Almost) In Florals
In an excellent episode of Mad Men (both style and plot-wise) Peggy was promiscuous once again, Don sealed the deal with hotel big wig, Conrad Hilton (and passed some bad judgment with some creepy 19-year-old hitchhikers), while Betty had an interesting meeting with Henry Francis, a man from the Governor's office. It was very clear that Mr. Francis' intentions were not just to help Betty save the Pleasantville Reservoir, and judging by the fitted frock she wore to their appointment, it looks as if Bets may have a cheating heart in her as well. We know it's summer in Mad Men land, but a floral sheath with tights and some knee-high boots can do the trick for fall. If you're feeling dainty, it may be tough to find a wearable pair of white lace gloves these days, but why not bring Draper's look into the twenty-first century with a fingerless style in black? Find your ideal version of this fashionable Betty Draper ensemble; check out our guides for the best in sheath dresses, sunglasses, and gloves.
Taste Test: Which Fingerless Gloves Are A Steal?
Test that fashion IQ with in our Taste Test library. And pair your new gloves with a cozy scarf and hip jacket.
Fashion Top Five: Fingerless (And Abbreviated-Finger) Gloves
The pair of convertible fingerless gloves/mittens I bought late in the fall has become completely indispensable. Because it has always been annoying to take off your glove to rifle around your bag and find a lip gloss. Why these did not explode in popularity until now, I have no idea.These cashmere gloves ($31) are the no-frills version, in a pretty Kelly green. Convertible gloves ($12) are my personal favorite, because they offer the option of protecting fingers2009-01-26 from the lately ridiculous cold when you don't need to use your hands. Portolano takes the fingerless thing a step farther with these gloves ($11, were $55), which free up the entire top part of your hand. Wear these long gloves ($24, were $48) with ¾ coats, or scrunch them down a bit for extra warmth with your regular jacket. The military-esque detail on this pair ($15) lends a bit more style.
Top Five: Gloves Always Look Better On. Foolproof Fashion Gifting
Everyone appreciates a good pair of gloves when it's freezing out. The ones below would make an equally great – and relatively inexpensive – present to yourself. A whimsical take on elegant gloves, these Lady Button Gloves ($15) are kind of endearing, with the contrast stitching and little buttons.J. Crew has an adorable (though I'm not sure original) name for all the highly practical glove-mitten hybrids popping up: Oshawa glittens ($15). We love them in this sunny yellow. Contrast-cuff leather gloves ($130) are so ladylike – and can extend the season for your ¾ sleeve coats and sweaters. Cashmere gloves ($33.15) are a budget-friendly but still luxurious gift. These come in eight other colors. With UGG sheepskin gloves ($145), you get all the coziness of Uggs, but these are glamorous, not clunky.Check out more options below:
Cocktail Attire Comes Out To Play On Gossip Girl… Even Chuck Gets Festive And Sparkly
The backstabbing, the lies, the deceit - it never ends, does it? And you never know what to expect. Another episode of Gossip Girl leaves us wondering "What's next?" But more importantly, it leaves us asking "Where can I get those clothes?" The majority of the cast donned mostly prom-ish attire at the Snowflake Ball in last night's episode, including one very glittery tuxedo on Chuck. Surprisingly, it was the youngest cast member of all who wore something we ladies who've actually graduated from high school would consider for our upcoming holiday party. Get Jenny's downtown chic look and upstage all the boring tube dresses you'll see on New Year's Eve. Start with this black bubble-hemmed dress with a slight sweetheart neckline, fitted torso, and rouched waist line ($54.50). Opt for plain sheer black tights to give a more grown-up appeal to your ensemble. Wolford tights ($46) are the most luxurious, but we also suggest Donna Karan ($14) if you don't want to spend too much on hosiery. Staying warm as you bar hop (or go from the driveway to the front door of someone's home) is essential this holiday season. This black fur wrap ($625) is guaranteed to keep you toasty. These jeweled leather gloves ($195) are a unique (and functional) accessory for a night out.
Halloween: Got Dog?
Be a bad ass while catching the bad guy this Halloween... be Beth the Bounty Hunter!Come on, you know you want to! What good girl doesn't like the thought of dressing up like a seriously tough chic who can hang with boys? Beth Chapman (aka "The Huntress") is the soul mate and bounty hunting partner of Duane "The Dog" Chapman from A&E series fame. She is described as a "peroxide princess paradigm; merging larger-than-life hair and cleavage with brains". What's not to love?You might be surprised to find some of the following necessary objects in your closet or your old uncle Lou's attic. Better yet, scour your local Goodwill store...The OutfitRock a short black skirt, hot black pants or even your old (and probably really tight) stone-washed jeansAdd black cowgirl boots, the tougher the betterDon't forget the black leather jacketAnd for the final touch... boob falsies Hair & Make-UpRat out your hair or buy a really big blonde wigPink or white lipstickLots of black eye linerA good deal of blushPress-on nails ExtrasTie a bandana around your arm (preferrably an American flag)Black Oakley-style sunglasses1996 cell phone on waistbandFingerless glovesBounty Hunter GearOfficial "Dog The Bounty Hunter" tee shirtOfficial hatFake badgeFake handcuffs (or real ones if you want to use them later!)Fake gunFake walkie-talkieCheck-out this lovely lady. If she can do it, you can too!
Good Answer: Use Vaseline to Keep Your Patents Shiny
Our loyal readers are probably familiar with our 'Good Question' posts where we pick out reader questions from the boards and help resolve them. But we have noticed that you readers also have great answers and solutions of your own. Here is an example of what we're talking about:Question: How do I keep my patent leather items looking their best? Answer: If you have 7 minutes, a soft cloth and a dollop of petroleum jelly, you can make your patent leather handbag or shoes shiny in no time: 1. Take a soft cloth and rub a good amount of p-jelly onto you accessories. (Rub it until there are no streaks.) 2. Let it dry for 5 minutes.3. Use another part of the soft cloth and polish your handbag or shoes. It will not make your bag/shoes sticky but it will make them shiny! Scuffed up shoes or purses are not a good look. I have been a patent leather lover for years and my Nana (grandmother) taught me this tip. It's easy, it's fast, it's inexpensive and most of all you will look put together. Good tip reader! Here are some great patent leather finds for you to practice on: We'd love to hear all of your questions and answers. So, start posting!
Deal Of The Day: Up To 40% Off Gloves At Nordstrom
Um, how cold has it been this week... Don't make the same mistake I made the other day and forget your gloves at home. Avoid frost bite (which I probably now have) and keep your digits warm and toasty in a nice new pair: Hook these North Face Fleece Gloves (were $25, now $16) to your purse and you'll never forget them anywhere! An added bonus, these traditional cabled cashmere gloves (were $142, now $85) of Nordstrom's eponymous line come with an ultrasoft matching scarf. The big trend this winter for gloves is the extra-long opera length style. Juicy Couture gives us exactly that with these fox fur trimmed cashmere lovelies (were $150, now $90). MORE DEALS:Find something special with MAGICAL GIFTS UNDER $100 at ICE.com. SAVE 20% + Overnight FREE SHIPPING.FREE SHIPPING on any order over $165 at Forzieri. Enter Code: 410055. Expires February 15th.
Gossip Girl Style: Pearl Jam Wore It First, But Blair Brought The Plaid Back To Life
Spotted: Fabulous outerwear almost being upstaged by a shameless plug for underwear (which we'll breeze right past, pausing only to note that La Perla seems much closer to Eleanor Waldorf's taste level). The ladies of Gossip Girl have been wearing the most stunning coats, hats, and boots of late, and who can blame them? They certainly can't be expected to hit the ice rink in Central Park or sip cocoa on the steps of The Met without donning the most covetable of cold weather wear.Blair's icy personality was no match for her toasty skating get-up, including an ivory Lothians Tam from Anthropologie ($98) and oh-so-cute capelet and skirt combo. Play style superwoman with similar plaid capes from Helen Welsh ($83) or Dakota Martin ($297). Or opt for the supershort Trina Turk capelet ($178) Blair sported in the Thanksgiving episode. Finish the ice princess look with a pink cashmere turtleneck from Yaya Aflalo ($46) and snow white tights from Bebe ($19). Cop Jenny's Constance Billard choirgirl look by pairing a black-and-white herringbone coat with a ruffled bottom ($794) with a kicky candy apple red beret, gloves and scarf from Ralph Lauren (marked down to $387 from $845). Looking for something in a more Humphrey-esque price range? This stylish Soia & Kyo Belted Houndstooth Jacket at Nordstrom costs only $220.You can't traverse the slushy Upper East Side in any old boots. Serena's thigh-high Chinese Laundry flat boots ($100) will keep your legs and feet warm. And the timeless red Burberry trench ($695) in which she strolled through the Christmas market is a show stopper and perfect snowstorm topper.Finally, we've been noticing quite a lot of plaid in the UES. Blair mixed and matched to great effect in 'Roman Holiday,' and she's been sighted in Diane Von Furstenberg's Siddell three-quarter sleeved black and cream coat ($900) and Fremont's tan and blue Capulet plaid coat ($396). Our little Jenny, too, has taken a few mismatched plaid risks, pairing a coat similar to Jenne Maag's belt-waisted plaid coat ($150) with a bold tam o' shanty that we're not quite sure about. She's also rocked Tocca's Alessandra Windowpane coat ($660) in deep red. With the school uniforms these girls are forced into, you would think they'd get their fill of plaid during the school week, but we must admit we're kind of digging their daring. What do you think of the mismatched plaids trend? Is Gossip Girl doing for plaid now what the Seattle grunge scene did for it in the '90s? And is that a good thing or a bad thing?
What To Wear For New Year's Eve
Where will you be partying tonight? We checked in with our writers around the country to see what outfits the stylish gals of various cities will be wearing, and here's what we found out. Whether you're scheduled to appear in New York, Chicago, Atlanta, Miami, Washington, D.C or somewhere in between (California gals can check out the warm weather picks from Florida), we hope this will help you pull together the most flattering look for the biggest night of the year. Here's a brief look at a few of the items, then click over to read the rest.1) Miami: a cute dress, strappy heels, and a bikini are an absolute must. 2) New York: a shimmery dress and killer cocktail ring will help you take the Big Apple by storm. 3) Washington, D.C.: A Milly dress and Hollywould pumps look conservative enough to talk politics all night but cute enough to land a future senator for breakfast the following morning. 4) Atlanta: A Southern bell should have the perfect dress, so we've got five we think would work anywhere from a hot downtown club to a deb's countryside ball. 5) Chicago: In the windy city, warm yet stylish outerwear is as important as what you wear underneath.
Taste Test: Which Opera Length Gloves Cost Less?
A couple months back, we spilled the beans on the best selling Carolina Amato Opera Length Gloves. These elegant accessories made from buttery leather were selling out despite a high price and limited availability. Come the end of December, they remain just as popular, but they've also got a decent competitor from a rival brand that's marked $100 off their price tag. Can you tell which ones are the pricier version and which ones are on sale? Speaking of sales, be sure to check out all the post-Christmas markdowns and test your shopping knowledge with other Taste Tests.
What To Wear For New Year's Eve: Chicago
If you're going to brave the Lake Effect chill in Chicago this New Year's Eve, you're going to need to stock up on cold weather essentials to help you arrive at your final destination in the same stunning shape in which you left the house. While this may mean toting your adorable slingbacks to save them from the slush and salt, don't worry about having to hit the party scene in sweatpants. Whether you're sashaying to the chichi Chicago clubs or heading to an intimate gathering with friends, you need a set of stylish "get there gear" to keep you toasty en route. Make it look like your trek was warm and pleasant when you shed all those layers and unveil your real New Year's garb. 1. Start out by thinking on—and of—your feet. Nine West's Yogini rubber Wellington boots ($59) are cheeky and have a slightly edgy patent leather look to them. They'll protect your tootsies from freezer burn and will help you keep traction on slippery sidewalks much better than your sexy party shoes. 2. While you're thinking about protecting your digits from temps in the negative digits, consider picking up a pair of long, sleek black leather gloves from Banana Republic ($128). The long length makes them a little dressier than your everyday gloves, and the black leather is timeless and so chic. 3. A festive night calls for festive outerwear, and Armani Exchange's sequined black scarf ($68) provides just enough sparkle for your journey. It's not over-the-top (you don't want to look like the famous Times Square New Year's ball), but it's got that extra gleam to ring in a sparkling new year. 4. Since you don't want to arrive at your New Year's festivities with painful, red ears or mussed hair, sophisticated fox fur earmuffs from Michael Kors ($22) are a must. Go ahead and spend time on your updo, knowing it won't get crushed by an unwieldy hat (though the wild wind is another story.) 5. If you're going to be spending any time out of doors, you'll have to adjust your beauty regimen to make it in the Windy City. Always carry a tube of soothing Burts Bees lip shimmer ($4); it's the same formula as their healing beeswax lip balm, but with a hint of color and a little pearly shimmer--perfect for a party. And don't leave home without Dr. Hauschka's miraculous hand cream ($23). It's a must-apply every time you come in from the nippy air. Finally stash all your New Year's beauty loot in the lovely Cora bag ($110) from Chicago bag designers 1154 Lill Studio. Its Victorian-style flocking and delicate gold chain are gorgeous, and it's the perfect size for all your essentials.
What A SheFinds Writer Wants For Christmas: Bryn T.
Let the countdown begin. With only a handful of shopping days left before Santa arrives, it's time to lay your cards on the table and admit what you really want for Christmas. Still not sure? Take a look at the top five gifts I'd love to find under my tree. 1. The Lanvin Patent Shopper gets top billing. This gorgeous bag holds anything, and its modern sheen makes any ensemble look ultra chic. But with the sky-high price of $1,600, I might have to keep dreaming. Stylish alternatives are the Sigrid Olsen patent tote ($228) or the cracked patent Luxembourg Shopper by Andrea Brueckner (borrow it for just $26/week at BagBorroworSteal.com). 2. Made Her Think Jewelry is inspired by concepts of romance, mortality, and spirituality. The pieces are provocative and one of a kind. I covet the Sentimental Skull Ring ($77) embedded with baby Swarovski crystals. 3. As we've noticed this season, extra long gloves are on the rise. As seen on the most fashionable women about town, these gloves create an elegant look while providing extra warmth. And when you find an affordable pair made from cashmere ($47.70), well, that's just plain heaven. 4. Even if there's nothing left to put in it after holiday shopping, the Marc Jacobs quilted leather wallet ($395) is a chic gift I'd be thrilled to receive. 5. Perfumer Christopher Brosius has created a collection of unique fragrances for his line, CB I Hate Perfume. Among my favorites is Winter 1972 ($60), which magically bottles everything splendid about the season – from the crisp white snow to the warm fire and delicious eggnog. This scent and others are available on his website.
Deal of the Day: Up to 30% Off Leather Gloves at Saks
Cheer up ladies, we know that it's cold and nasty out and that tends to be a mood dampener. But think of it this way--winter brings so many more exciting things to buy. Of all the great winter items we could have chosen from Saks' Designer Sale, we went with gloves this time. Enjoy:Saks' own label is just as fabulous as any of the designer ones, as proven by these flirty little suede gloves (were $150, now $105) with adorable patent leather bow accents. Remeber our tips about keeping suede clean.These luxurious Armani Guanto Gloves (were $365, now $256) are lined with rabbit fur that peeks out just slightly from the extra long cuffs.Definitely one of the hottest glove styles out there, these genuine python Maison Fabre Driving Gloves (were $235, now $165) have a rocker chic look, so live on the wild side in them. MORE DEALS: FREE SHIPPING on all Saks orders! Use code HOLIDAY7. Offer valid through 12.16.07Get 30% off all footwear and apparel (exclusions apply) valid 12.3-12.7 only at Store.Reebok.com!ICE.com HOLIDAY GIFT GUIDE - Save An Extra 15% + Free Shipping
Victoria Beckham's Nordic Style Made Simple
What: The Fair Isle trend returns! Why: Victoria Beckham was recently more covered up than usual in a stylishly conservative Fair Isle sweater by Alexander McQueen. This trend pops up every winter, and I have never really taken to it. The sweaters just always seemed so dowdy to me. But thanks to an injection of crisp new colors and playful shapes, the Fair Isle is back in action. So here are a few of my new seasonal favorites: 1. Mrs. Beckham opted for a fitted version of the classic sweater, but you may choose to oversize it and pair with some leggings or skinny jeans. Try the button-down cardigan ($178) from French Connection as a cozy option. If different colors are more your forte, there are plenty of palettes to choose from, ranging from deep purples to metro grays. 2. Instead of a sweater, you might choose to procure a handbag that sports the noticeable knit. Blake Lively was spotted with the Stella McCartney bag ($1,195) but Gap makes an adorable, budget friendly version ($14.99) as well. 3. And for those of us who want to stick to the cold weather basics, hats, scarves, and mittens come in fresh new patterns and colors this season that spice up the Fair Isle look without losing that classic appeal.