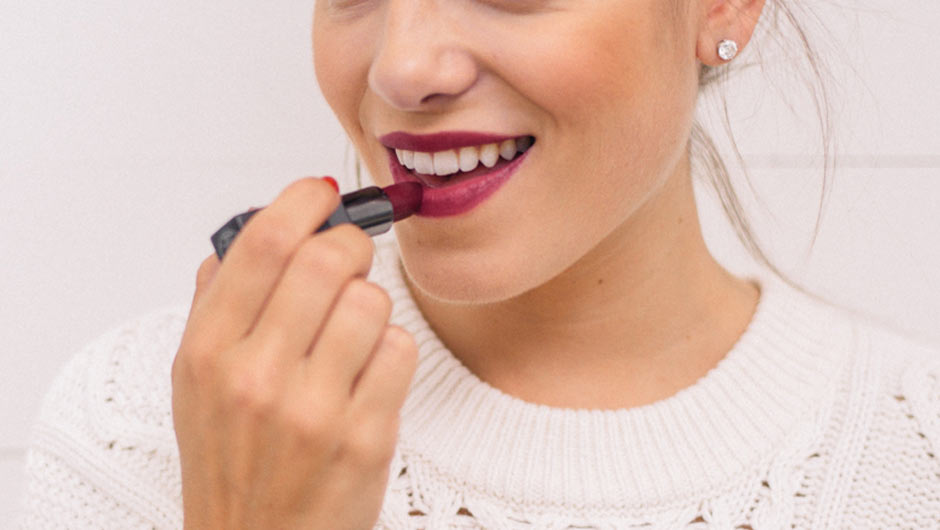 Here's How to Smudge-Proof Your Lipstick For The Perfect Pucker
A statement lip always looks great - that is until it accidentally smears on your sweater or begins to fade with a special smooch. Getting your lipstick to last through any situation has long been a mystery for many women. But we did a little research and finally found the secret to achieving the perfect, long-lasting pout. Read on to discover how to get the desired look! Step 1: Exfoliate Nothing detracts more from a bold lip than a flaky, dry texture. To avoid this dreaded effect, you'll want to start by exfoliating your lips. This makes them smooth and allows them to better absorb color. For a quick concoction you can make at home, mix sugar and water. Or, you can try French Girl Organics Rose Lip Polish from Anthropologie. Clean your lips with a damp washcloth once you've given them a thorough scrub. Step 2: Prep This next step is super easy, especially if you're already in the process of doing your makeup. Apply some foundation or concealer to your lips to create a neutral base. Not only will this make your lip color more vibrant, but will prevent it from transferring on anything (or anyone) throughout the day. For the best results, opt for a waterproof foundation. Tarte's Amazonian Clay Waterproof 12-Hour Concealer is a great option! Step 3: Line  Use a lip liner in the color of your choice (we recommend one that blends well with your lipstick shade) to trace the edges of your lips. This task is extremely important, as it creates a barrier so your lipstick can't bleed outside the border of your lips. If your hand is a little shaky, try a reverse lip liner for a simple, mistake-free finish. Step 4: Use a Lip Brush Although this step isn't absolutely necessary, using a lip brush makes it much easier to apply your lip hue since the tool's angled brush allows for extra precision. As an added bonus, you can take it with you wherever you go - many feature a retractable brush so no lipstick traces will get on the inside of your bag. Step 5: Blot After you apply a first layer of color, blot your lips with a tissue to remove any excess oil or product. Step 6: Powder   There's two different ways you can apply translucent powder to your lips. One option is to use your finger to dab on the powder. Alternatively, you can divide a two-ply tissue in half and use one half to cover your lips while you brush on the powder (this option prevents the powder from getting anywhere else on your face). This step sets and seals your color so you won't experience any slippage or fading. Step 7: Apply Final Coat For a bold effect, apply a second coat of lipstick over the powder. With the foundation as your base, there's no chance of your color budging! For even more amazing beauty tips, check out Once And For All, Here's How To Tint Your Eyebrows At Home and How To Keep Your Lips From Getting Chapped. [Photo: Shutterstock]
The Huge Mistake Women Make With Their Lips In Winter
Once And For All, Here's How To Heal Dry, Cracked Lips #SheFindsSoutions
Cold weather is generally rough on skin, but the harsh temps are even worse on sensitive areas like the lips. That's why a lot of us find ourselves dealing with super dry and flaky, cracked lips around this time, which is no fun at all! But what's a girl to do? Well, there are actually a few little tweaks you can make that will help you heal and prevent dry, cracked lips in no time. 1.Keep hydrated. Get in the habit of drinking those eight glasses of water a day because dehydration may be the cause of your dry lip problems. 2.Don't forget to apply lip balm (and often!). Listen up. Do not walk out of your house without putting on some type of lip balm or lip ointment. After all, these moisturizing balms form a barrier that protects you from the cool winds. But applying once just won't do. Make sure you are applying throughout the day to lock in moisture. 3.Try using nourishing oils. In addition to store bought lip balms, you can also use coconut oil to help heal your dry lips by using several times per day. 4.Go for a natural remedy. A trick that you could try on a weekend afternoon is to use honey to help heal lips. Just apply throughout the day as if it were a regular lip balm. [Photo: Shutterstock]
The One Drugstore Lip Balm You Should Start Using, According To A Dermatologist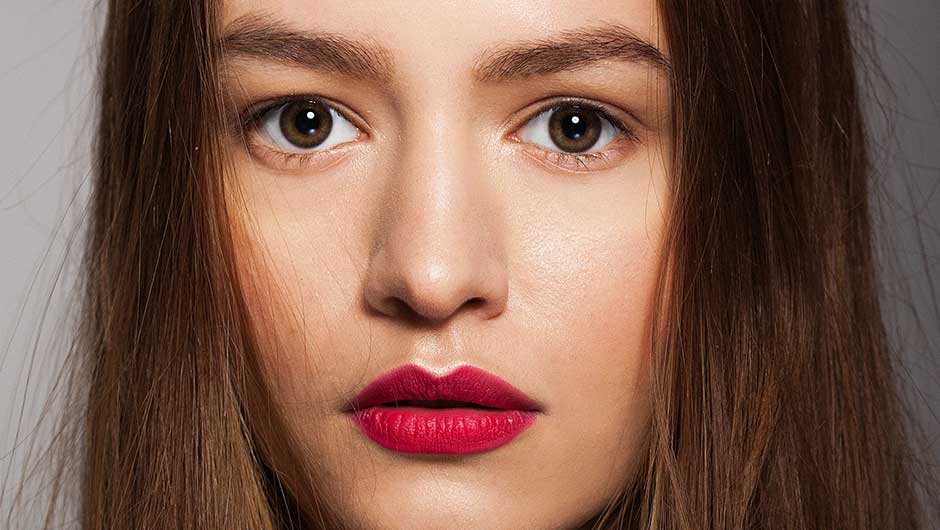 This Is How To Find The Best Lipstick For Your Skin Tone, Once And For All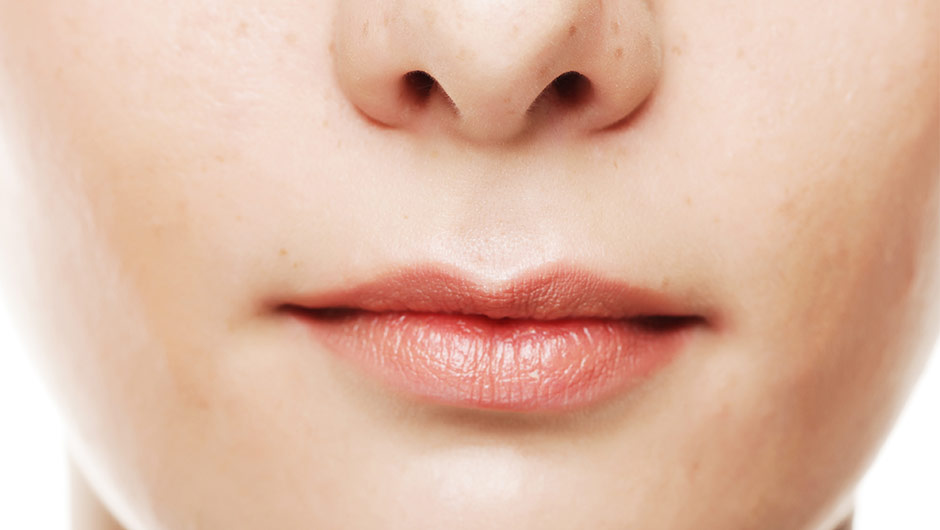 Everything You Need To Know About Lip Reduction, The New Plastic Surgery Trend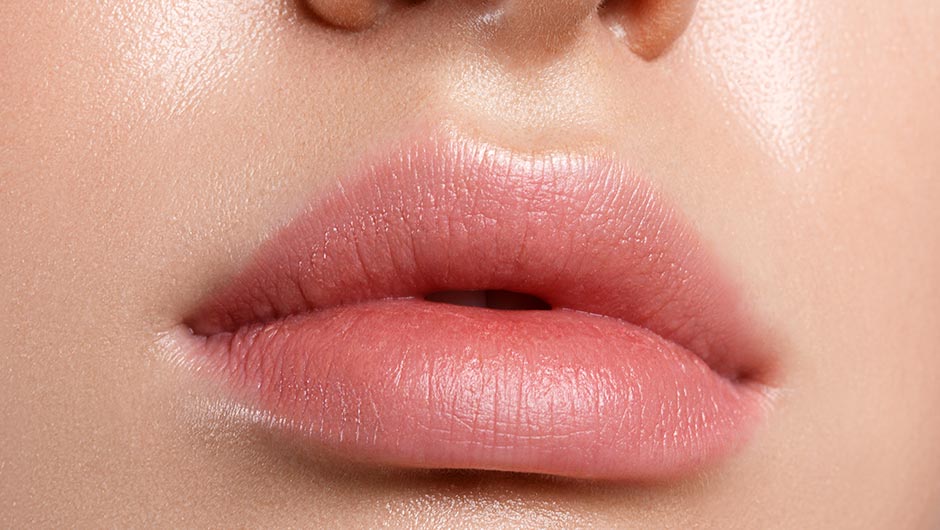 How To Fake Bigger Lips Without Injections, According To A Dermatologist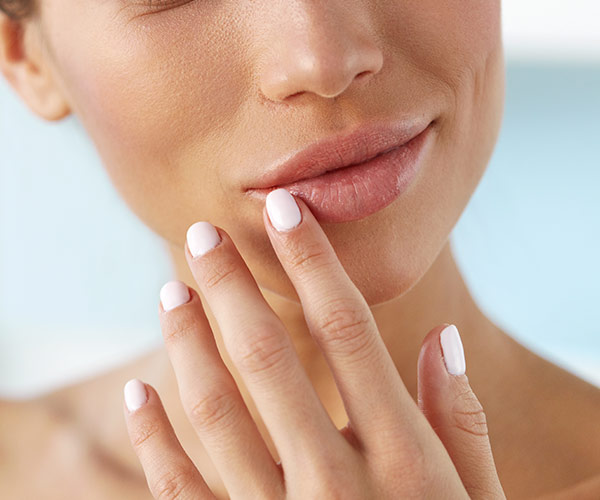 This Lip Gloss Is Like An Instant (And Affordable!) Lip Injection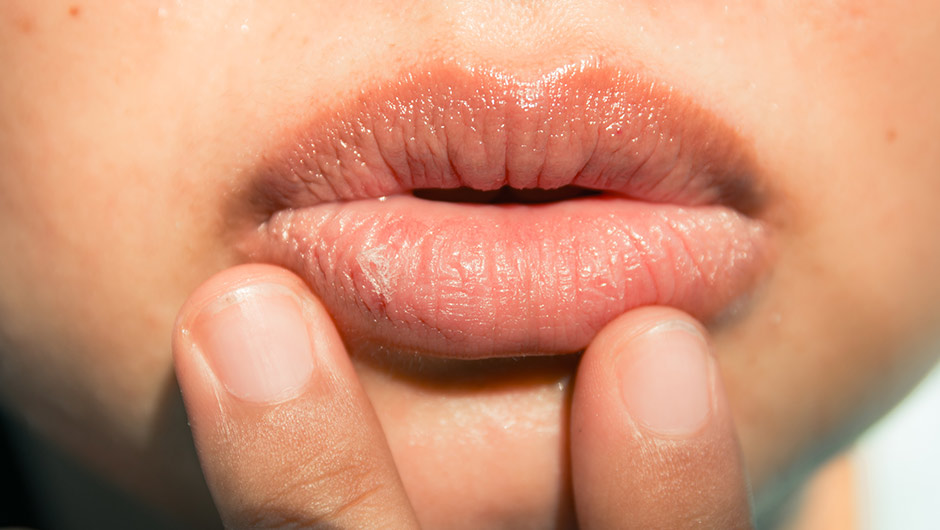 The Worst Thing To Eat If You Have Chapped Lips, According To A Dermatologist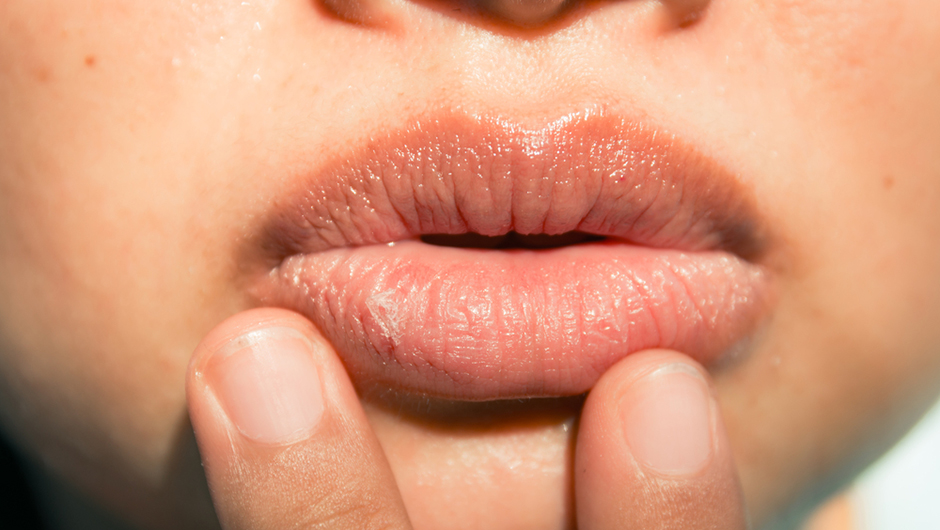 The One Thing You Should Never Do To Dry Lips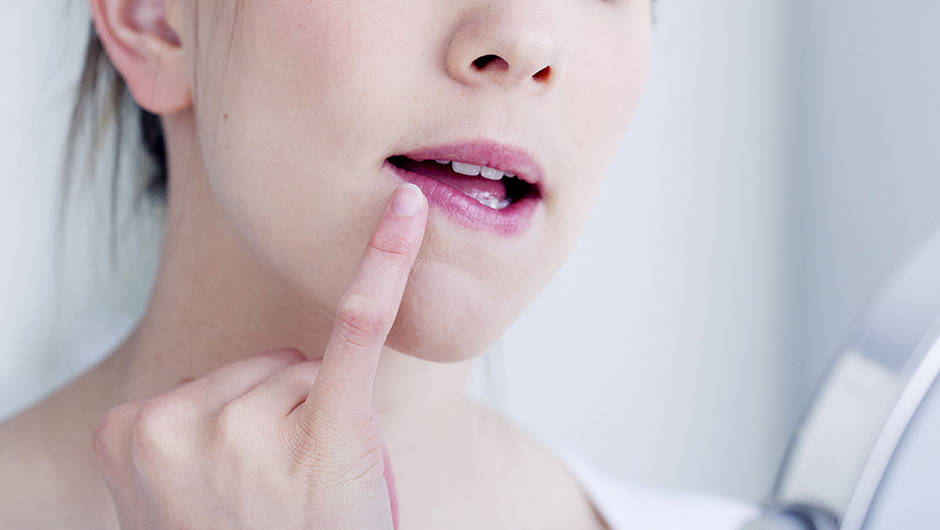 The One Thing You Should Never Put On Chapped Lips, According To A Dermatologist
Winter means chapped lips and chapped lips mean days of uncomfortable torture where we can't rock our favorite red lipstick without obsessing over cracks and dryness ruining our look. No matter how vigilant you are about applying balm and exfoliating weekly with natural ingredients like honey and brown sugar, it's difficult to avoid getting chapped lips once temperatures drop. In order to ensure they heal as quickly as possible, there is one thing you should never, ever put on your poor, dry lips. "Avoid menthols (Carmex, Blistex)," says Dr. Tsippora Shainhouse, a board-certified dermatologist in Beverly Hills and Clinical Instructor at the University of Southern California. "These will irritate and sting broken lip skin, which can lead to further lip-licking and lips to become more dried out and chapped." You should also avoid scrubbing lips with abrasive products and ingredients and rely instead on a gentle exfoliating lip ointment that contains fruit acids, Shainhouse says. When it comes to your makeup routine, one popular lip product isn't going to do chapped lips any favors. "Matte lipsticks can look cool, but they can dry out your lips and make them more sensitive to potential contact irritants and allergens in your lipsticks, including fragrances, parabens, dyes, and preservatives," Shainhouse says. "Avoid fragranced and flavored products. These can cause a contact irritation or even a contact allergic dermatitis on already-broken chapped lip skin. Stick with fragrance-free, soothing products that moisturize and create a seal." The best thing you can do to help soothe chapped lips is to use lip products with natural oils and butters (cocoa butter, shea butter, argan oil, cononut oil, avocado oil) that will create a protective layer to hold in moisture and seal and smooth the outer epidermal layer of the lips, Shainhouse says. And remember: the sun may not be scalding hot, but that doesn't mean you should forget to treat your lips daily with the most important skincare ingredient of all: sunscreen. "Don't forget to wear sunscreen on your lips, even in the winter," Shainhouse says. "Lips have thin skin and very little melanin, so they have minimal innate protection from aging and damaging UV rays. UV can reflect off of snow, just as easily as water and sand. Use a moisturizing or protective balm with SPF 15 or higher." For more beauty tips, check out 5 cheap skincare products dermatologists swear by and once and for all, does foundation actually clog your pores?  Follow me at @lisacfogarty on Twitter.
NYX's Matte Lip Cream Vault Just Dropped, Is The Motherload For Lipstick Lovers
If you literally *cant own enough* lipsticks, you might have a problem (but that's another story). You also might need to get your hands on this new Soft Matte Lip Cream Vault that just launched yesterday, September 6th, from NYX. https://www.instagram.com/p/BJ0wUh5AP5h/?taken-by=nyxcosmetics The limited edition Vault includes mini tubes of all 34 the brand's bestselling Soft Matte Lip Cream shades, as well as 2 brand-new ones, Bangkok and Los Angeles. READ MORE: 9 Cult Lipstick Colors Every Woman Should Try At Least Once Retailing for just $64 and packaged in a giant display box, the set is an incredible deal. That comes out to just $2 per lip cream--which by the way is super pigmented and creamy, so application is a dream. GET IT NOW Soft Matte Lip Cream Vault ($65) Here's a list of all the shades included: Bangkok (Exclusive) Los Angeles (Exclusive) Amsterdam Stockholm Tokyo Antwerp Istanbul Addis Ababa Buenos Aires Sao Paulo Abu Dhabi Monte Carlo Milan Sydney Zurich Athens Cairo Ibiza Prague Cannes Copenhagen Transylvania Morocco Berlin Paris Moscow Rome Manila Dubai READ MORE: 6 Universally Flattering Lipstick Shades That Look Good On Everyone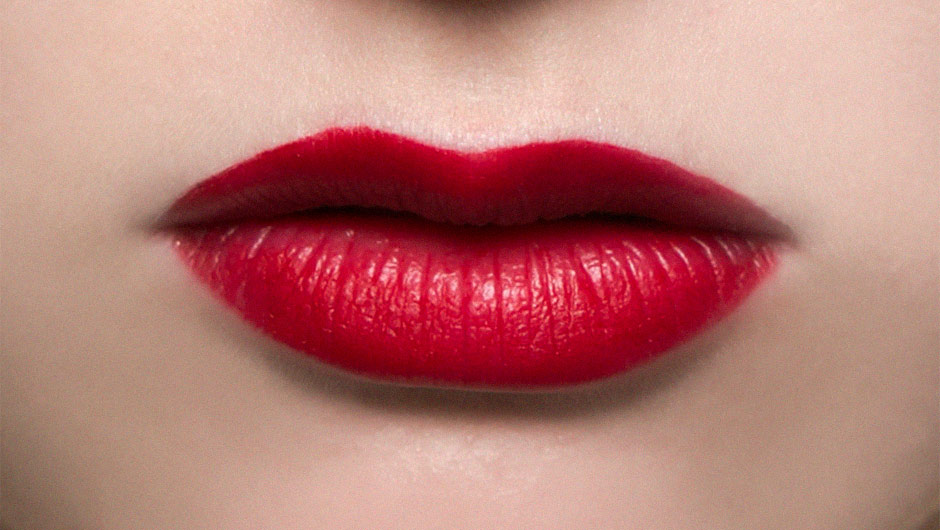 Once And For All, How To Prevent Lipstick From Getting All Gross And Gunky In The Center Of Your Lips
You apply lipstick in the morning and it looks amazing--for the first hour. Even if you're not drinking, eating or licking your lips, there's a good chance you'll soon check your reflection in the mirror and gasp: what is that gross gunk in the center of your lips? That sticky, thick mess that is ruining your look is often caused by dry lips and over applying your favorite shade of lipstcik says Lauren Carelli at Blushing Brides. Don't worry: the solution to handling it is so simple it will blow your mind. "The biggest mistake people make is re-applying over gunky looking lipstick without wiping off the existing product," Carelli says. "When lipstick starts to cake your best bet is to wipe away the remaining product, then moisturize with your favorite lip balm before reapplying lipstick. This way there is no leftover product to mess up your perfect pout." Keeping lips moisturized is the number one way Carelli says you can keep lipstick in place. If your lips are dry or chapped, you may be picking, biting and licking at them without even realizing it, which can contribute to that nasty lip gunk. Carelli recommends whipping up a lip scrub (a bit of vaseline or honey and brown sugar is all you need) and applying it to your mouth 2-3 times a week to keep lips healthy which, in turn, makes color stay on longer. "Add a drop of vanilla or peppermint extract for a yummy twist on things," she says. "After applying lip color, using a concealer stick around your lips will also help to create a barrier so color doesn't run or smudge as much. Make sure to blend it so you don't have an awkward rim! I've also put a tissue over my mouth and lightly dusted with a setting powder to ensure longevity." Hydration + exfoliation + a few good lipstick tricks of the trade = bye, bye to center lip gunk! For more beauty tips, check out Hack: How to turn eyeshadow into lipstick and 6 Lipsticks that will make your teeth look whiter. Follow me at @lisacfogarty on Twitter. [Photo: Imaxtree]
Find Out What Your Lip Shape Says About You
2016 is the year of lips, Kylie Jenner made sure of it. Obvs, you don't have to have collagen treatments to have an amazing, expressive pair. Every size and shape is beautiful and unique and says something different about its owner. What do your lips say about you? A) Thin Lips If you have thin lips like Duchess Kate Middleton, you are independent all the way. Not to say that you don't appreciate companionship, you totally do, but you don't need anyone to validate your sense of self-worth. When you set your mind to something, NOTHING can stop you — you're basically Beyoncé (with thin lips). [caption id="attachment_552669" align="aligncenter" width="383"] Picture by: James Whatling [Splash News][/caption]B) Full Lips If you have full lips like Miss Jolie, you have a natural desire to nurture those around you. Your friend group considers you a surrogate mother of sorts — you'd never dare let them down. While your selfless care for others is admirable, make sure that you're letting the right people in — don't let self-servers abuse your kindness! [caption id="attachment_552668" align="aligncenter" width="500"] Picture by: Xavier Collin/Image Press/Splash [/caption] C) Rosebud Lips If you have round, rosebud lips like model Lindsey Wixson, you're used to getting what you want. People are drawn to your carefree demeanor and personable approach — they want to please you. This is an awesome perk (obviously), but  you hate to feel like you're relying too heavily on others. Step back when you feel this way and try to think for yourself before you employ the help of friends. Picture by: Jackie Brown / Splash News Don't forget to check out: Find Out What Your Wedding Bouquet Says About You and Find Out What Your Belly Button Says About You [Photo: Ashley MacDonald]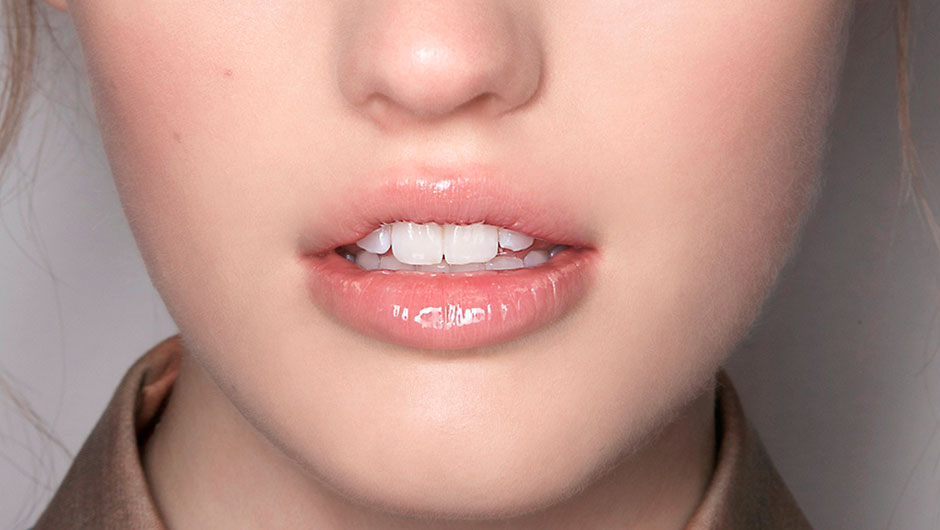 Once And For All, Is There A Difference Between Lip Gloss And Lip Balm?
You're in a rush to get out the door and your lips are chapped. You can't find your lip balm, so you grab a tube of lip gloss, apply a dab and immediately notice your lips feel smooth and hydrated. Is it possible you've been spending money on two products when one suffices? Don't put all your eggs in the lip gloss basket just yet. Lip balms and lip glosses have very different functions, says celebrity makeup artist Margina Dennis. "Lip balm is typically a treatment product and its purpose is to protect lips from getting dry or chapped or help to heal after this happens," Dennis says. So where does lip gloss fit in? Think of this product as the pretty wallpaper you put up, only after you've primed your walls, uh, lips. "Lip gloss is designed to add luster and shine to the lips to make them appear fuller and or brighter," Dennis says. "Some glosses have a plumping agent in them to to further the appearance of fuller looking lips." Another important distinction? Lip balm is not chapstick, which Dennis describes as a "preventative product that is designed to protect the lips from getting chapped, but will not cure chapped or dry lips once that has happened." Looking for some expert product picks? Dennis recommends 100% Pure Lysine and Herbs Lip Balm, which is designed to heal lips after they are dry and chapped. As for lip gloss, Dennis says Laura Mercier Lip Plumper plumps the lips "without that uncomfortable feeling that some other lip plumpers have," while Bobbi Brown has a fantastic line of sheer, opaque lip glosses that have a "tacky texture that helps them to adhere to the lips" so that you don't have to reapply every 30 minutes. So in summary, lip balm + lip gloss = best lips ever. For more beauty advice and news, check out the best lipsticks for $10 or less and 6 at-home remedies to soothe dry lips. [Photo: Imaxtree]
How To Keep Your Lips From Getting Chapped
If there's one body part that suffers most during winter, it's our lips. No matter how well we take care of our skin, some of us feel like we're continually plagued with dry, irritated chapped lips. They hurt, they're unsightly, and they're a real nuisance when trying to apply a festive red lipstick. So once and for all, let's figure out how to keep them from getting chapped before the damage begins. "Your skin is much more sensitive in cooler weather, and the skin on your lips is especially thin, meaning it's more delicate, sensitive, and susceptible to irritation and sunburn," says Dr. Jill Waibel, founder of Miami Dermatology & Laser Institute. "The winter air wicks moisture from the skin so to avoid chapped lips, it's important to keep the right products on you to moisturize whenever you're feeling them dry out." One of the biggest problems is that some of us are turning to lip balms or chapsticks that we think are going to be helpful, but that actually contain ingredients that only create more damage. "Stay away from products with Phenol, an ingredient in many medicated lip balms that is very drying," says Dr, David E. Bank, founder and director of The Center for Dermatology, Cosmetic & Laser Surgery. "Once you apply the balm, the dryness prompts you to reapply and so on and so on. As an alternative, look for lip balms that contain moisturizing ingredients such as petroleum, lanolin, cocoa butter, aloe vera or panthenol." Bank also cautions against licking dry lips, which has the opposite effect of keeping them hydrated. You should also be cautious of over-doing it when it comes to exfoliating chapped lips (a soft bristle toothbrush or washcloth is adequate) or using products that contain drying agents such as alcohol, salicylic acid, camphor, or citrus. While you're at it, it might be safer to skip chapstick altogether, says Adriana Martino, skincare expert and founder of SKINNEY Medspa. "Over using chapstick can cause more chapping," Martino says. "Use a lip balm instead. La Mer The Lip Balm is definitely a splurge, but very hydrating. On a budget? Use Rosebud Salve or Lypsyl Intense Protection." Waibel's lip protection product suggestions include Aquaphor, which she says is a moisturizer that is sure to bring your lips back to life. "It's thick and creamy and provides an immediate and soothing relief and improved look to the lips," Waibel says. "I also recommend Dr. Dan's CortiBalm, which was developed by a dermatologist and is medicated with hydrocortisone that can provide relief to the most severely chapped lips." If you're shopping for a new lip balm, Waibel recommends looking for products that contain lanolin, which treats cracked, dry, irritated skin. "Of course, it's important to remember that the sun can penetrate clouds and still cause harm even in the winter months," she says. "Make sure your chapstick has SPF to protect from harmful UV rays. I recommend EltaMD Lip Balm UV Broad-Spectrum SPF 31 as this will provide relief for cracked lips and also protect them from further damage and irritation." For more beauty tips, check out this cool new spray-on nail polish is happening and the easiest way to get seriously radiant skin.
7 Lipstick Mistakes That Are Aging You
As we age, our lips (like everything else) lose their natural collagen. It stands to reason then that even those of us who possess Angelina Jolie-like lips aren't going to turn 60 and have the same lips we had at 16. Before you pull a Kylie Jenner and submit to a series of lip fillers, however, you can start taking better care of your lips now to ensure they look their best later. you may simply need to take a long, hard look in the mirror and change the error of your cosmetic-applying ways. Here are 7 mistakes to avoid so your lips--and your face, in general--always look youthful. 1. Not moisturizing/exfoliating lips. Treat your lips the way you would your skin--as a part of your body that craves hydration in order to avoid the dryness commonly associated with aging. "The first step before applying any lipstick, and most important, is properly moisturizing lips to help prevent fine lines from being accentuated, while also make lips appear fuller," says makeup guru and founder/CEO of Skinn Cosmetics, Dimitri James. "This includes using lip balm and staying hydrated by drinking plenty of water. Buff any dry, flaky skin off chapped lips with Skinn's Sugar Lips Scrub. Made with real sugar and special butter blend, the added exfoliation will leave lips smooth and create a perfect base for lipstick." 2. Skipping lip liner--or wearing one that's too dark. "Lip liner is often overlooked, but can be a girl's best friend if properly used," James says. "Darker-than-lipstick lip liner is a major no. Liner should be the same color as the lipstick! The best choice is to use a matte neutral lip liner and extend it to the lip line. Fill in with a matte lipstick like Skinn's Plasma Fusion Four-in-One Lipstick. With an outer layer infused with Argan Oil and Rosehip Oil, lips are left soft and nourished and the richly pigmented color is guaranteed to last all day. Lips will look bigger and fuller, without the added age." 3. Forgetting to remove long-wearing lip products. They might seem like an excellent idea in theory--long-wearing lipsticks promise to stay on your lips for hours and hours. But they can also make your lips flaky, which ages your appearance. "Long-wearing lip products can be very drying because they typically don't have emollients in them which is what makes them stay so well. If you are wearing these types of lip products make sure you remove them when you get home and apply something nourishing to your lips--something with Shea butter, Vitamin E, or a special lip oil," says Pearl Dworkin at Glamologie. "Stay away from strictly petroleum lip products as these are occlusive and don't let moisture in or out which can ultimately be dehydrating--which causes premature fine lines to appear." 4. Overdoing it with lip fillers. You can't win sometimes. A larger pout can make you look more youthful, but acquiring the one-size-fits-all mouth you often see on reality TV stars can have the exact opposite effect. "Fillers can be aging and look fake if overdone," Dworkin says. "There are new fillers for the lips that are specifically made for those fine lines and it doesn't add as much bulk. If you are thinking about doing a filler it might be better to start with half a syringe since you can always add more." 5. Sporting blood-red lips. It isn't that you can no longer rock red lips after a certain age; it's that you have to be cautious about the types of products you use. "Wearing lipstick that is too dark (especially on thin lips) can age you and make you look tired," says makeup artist Margina Dennis. "If you want to wear a darker shade, try wearing it in a sheer gloss from or a sheer lip balm so that it isn't such a stark look." 6. Making 'em matte. Don't worry about what's in style at the moment--too-matte lips aren't for everyone. "Lip color that is too matte can draw attention to aging lips," Dennis says. "Either applying a lip balm before a matte lip color, or trying one of the newer matte lipsticks that have a suede texture, will minimize seeing the appearance of the lines on the lips." 7. Forging ahead with frosty lip colors. Frosty or metallic lip colors may have worked in the '80s (and they hardly did then, either), but if you were rocking the trend the first time around, it's a surefire sign you should step up your lip game. "Wearing colors that have such a hard sheen can looked dated and age you," Dennis says. "Moisturizing formulas are better." For more beauty tips, check out why you should never use face scrubs and how to lighten your hair without dye.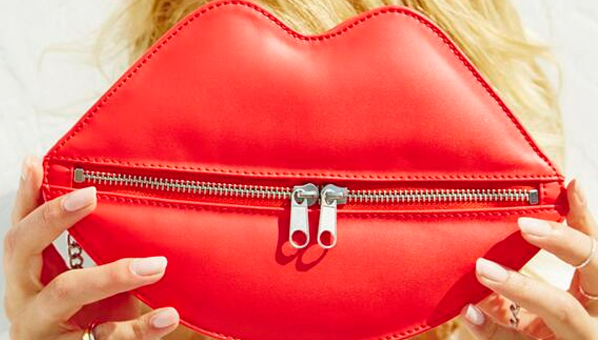 You Can Still Wear Red Lip Clothes & Accessories, Even If You Hate Lipstick
I've pretty much stopped buying anything floral. It just all looks the same to me. So I've been on a mission to find a new trend that's fun and doesn't take itself too seriously. Enter: Lips. It all started when I saw this Instagram from Ashley Benson's H&M campaign (more on that here). Like, come on, how freakin' sweet is that bag?! Then I did some digging to find that the Saint Laurent Spring 2014 show actually featured a ton of items with red lips printed on them. But that's not the first fashion house to do it. British designer Markus Lupfer been making sweaters for years with embellished pouts. Endorsed by cool girl celebrity? Check. Seal of approval from the fashion world? Check. What other evidence do you need that lip prints and lip-shaped accessories are trending? Shop our favorite pieces, including the H&M bag, in the slideshow. For more trends we're into now, check out: light sweaters for summer and fall, shorts that look like skirts and blazer vests [Photo: H&M]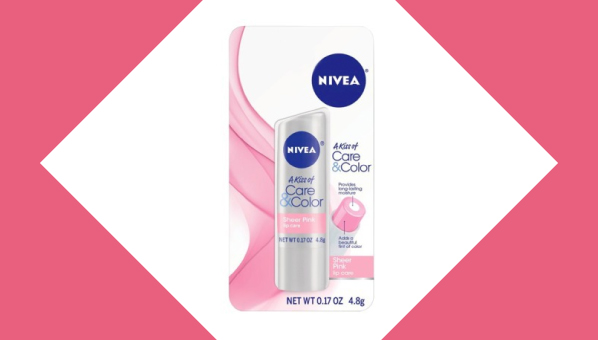 Ditch The Lipstick And Wear Nivea's Kiss Of Care & Color For Your Hot Date Tonight
Alright ladies, admit it. We've all been in that awkward date situation when you want to go in for the goodnight kiss (which you should ALWAYS wait for the guy to do first), but at the last second you realize your lips are all chapped and jacked up, so you don't do it. You avoid the situation and bail. Though nobody really wants that to happen (unless the date was terrible), it's kind of hard to avoid, until now. We're constantly reading articles and tips on the perfect lipsticks to wear for date nights, but that whole concept just doesn't make sense. First of all, no matter what kind of lipstick you choose, it's going to end up crusty and cracked after a long night, since you can't wear chapstick and lipstick at the same time. Am I right? Second, nobody wants to kiss someone who's wearing bright red lipstick or sticky lipgloss and get that stuff all over their face. They just don't. Case closed: guys hate lipstick. But we love it! So what are girls supposed to do? Our friends over at Nivea found your answer. Nivea's new A Kiss Of Care & Color ($4.49) is all you'll ever need for date nights and beyond. This hybrid lip care stick is literally a lipstick, lipgloss, and chapstick all in one little tube. It comes in five shades, Sheer Pink, Sheer Berry, Sheer Crimson, Sheer Coral and Sheer Caramel, and provides long-lasting moisture. Your lips will be so smooth, soft, and kissable, you'll never want to use lipstick or gloss again. So whether your're going on a hot date this weekend, or you just don't want to bother with lipstick, you NEED to check out Nivea's new lip care stick. You won't be disappointed. Nivea A Kiss Of Care & Color Lip Care 'Sheer Pink' ($4.49) For more beauty products,check out: beauty award winners, MAC x Lorde, and OPI x Coca Cola.
'Kiss My Dress' Isn't A Diss — Lips Are Everywhere This Season
There is no better way to elude love than with some lip printed items, including a flirty DVF wrap dress, a ruby gold ring, or fun printed iPhone case. This little icon seems to be popping up all over the place and what a great way to play with prints this spring.  I feel myself reverting to some middle school glamour - tights with lips on the knees?  Lip charm necklace? Why not. Our favorite picks come with serious smooch power and literally lip smackin' goodness. Spread the love. Shop guides to the lavender spring moment, Hunger Games inspired jewelry, and printed pants.
Help Your Lips Have A "Balm"
During my pre-teen years, I had a serious addiction to Bonnie Bell Lip Smackers. When my mom finally permitted me to wear color makeup, I started paying lip service to lip balm's glossier, more colorful sisters: lip gloss and lipstick. Those two took up residence on my lips and haven't budged since…until I discovered a few lip-smacking balms worthy of blatant Lip Smacker-like worship. MAC Suntints SPF 20 Liquid Lip Balm lends just a blush of color, and really works to hydrate and protect delicate lip tissue. After a few days of wearing Suntints, my lip texture felt smoother. I'm "balmed" over by Pinkie Tinge, a sheer pink laced with gold pearl that brightens my natural lip color. The cute tube of VanityMark Dr. Kiss is already scoring high marks with me. The lip balm is packed with vitamins A, C and E, antioxidants, and kukui nut oil to seal in moisture.  It leaves behind a pleasant mint-y zing, tastes like vanilla, and utilizes 4% of the same ingredient used in '80s-era mood lipsticks. That's right. This balm mood-changes, which translates to an initial translucent blue that, seconds later, lifts to a light, pretty pink color that's unique to each wearer. Groovy. If you seek a balm sans harsh chemicals, Korres Lip Butter will sate your natural leanings. I happen to like the sheer vanilla shade, because it tones down my natural lip color into a softer version of itself. Beyond that, it's ridiculously good at cheering up chapped lips with a mix of shea butter and rice wax. As the weather cools down and dries up, try out all the best lip balms to keep from getting chapped.  While you're at it, protect eyes with tried-and-true eye cream, and go after your feet with the best foot creams.
Lipstick That Will Have You Cheating On Your Gloss
What: Maybelline ColorSensational Lipcolor, $7.50 Why: Even though I adore makeup, I find that I very rarely wear lipstick. I'm just more of a gloss kind of gal. But when I was introduced to Maybelline's ColorSensational Lipcolor, lipsticks made it into my beauty rotation—perhaps because the honey nectar-infused formula never has a dry moment on my lips. The line features 48 colors in all, with four major color families: Pink, Natural, Plum, and Red. You're guaranteed to find a lipstick color perfect for you within each family, and you may find yourself stepping outside of your comfort zone, as I did. Get Yours: drugstore.com Find more beauty picks in our guides to lip balms, fragrances, and concealers.