Aspiring Street Stylers, Take Note–The Dos And Donts Of Pulling Off Shorts With Tights
It's that time of year again, you know, when fall is in the air but you still don't want to let go of your warm weather wardrobe. You just want to wear shorts all year long - and we don't blame you! Well speaking of, who's to say I can't bust out my shorts well through December? Pulling off shorts with tights isn't easy, but it is doable. You just have to stick to a few very important guidelines. For example, denim or dark-colored shorts are always your best (read: safest) bet. Also, at least one week's worth of leg exercises should happen before you pair your shorts with tights. And let's not forget, cutoffs are fine, but daisy dukes are definitely not (unless you're a supermodel, that is). So let's get started. As a rule of thumb, black opaque tights are your go-tos. They not only provide a sleek monochromatic look, but they'll keep your legs warmer than a sheer version. Plus, they pair well with any type of shoe - whether it's a Mary Jane or peep toe. For a bolder option of this amazing look, you can try a patterned pair of tights. Mini polka-dots are always cute, while knit cutouts are super artsy - although the latter definitely won't keep you as warm. To pull of the look, you'll want to put together exactly the right outfit. Opt for a pair of tweed shorts, which were practically made to be worn with tights. Or channel your inner Blair Waldorf and pair your shorts with a long coat, which not only creates a sophisticated flair but helps keep your bum warm, too! And if all else fails, remember that you can never go wrong with all-black everything - there's a reason why it's the standard dress code for all New Yorkers! Feeling adventurous? You can even wear your favorite pair of shorts sans tights and still look fabulous! To protect bare legs from the cold, wear the shorts with over-the-knee boots. Available in all kinds of styles from suede to snakeskin, they're so chic, we probably won't have to tell you twice. For the brave bare-legged folk, leather shorts are also a much warmer option than a more lightweight pair. Try them with a cute pump and a slouchy pair of socks, and you're good to go! Overall, it's important to remember that no matter how you choose to wear your shorts, fit is key. Shorts that are too tight can make you look trashy, while shorts that are ill-fitting or too baggy won't be doing your curves any favors. And who would ever want that? You've officially been warned. To nail the look this season, click through the slideshow for must-know intel on how to wear shorts with tights. Then, treat yourself to these perfect black shorts and these black tights. And for even more fashion know-how, check out how to wear maxi skirts in winter, how to wear leopard without looking trashy and how to wear metallic jeans.
Psst! Now Is The Time To Stock Up On Cute Shorts Under $25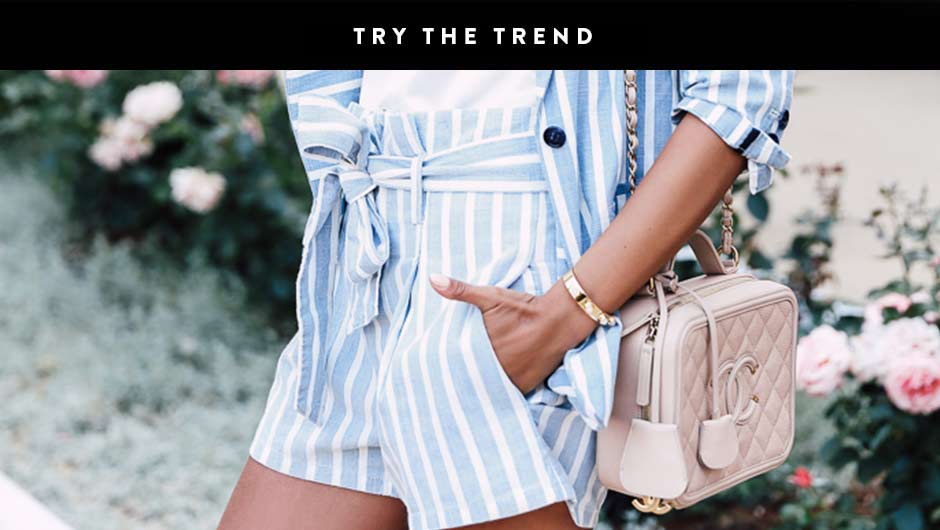 Want To Fake A Slimmer Waist? Throw On A Pair Of Tie Waist Shorts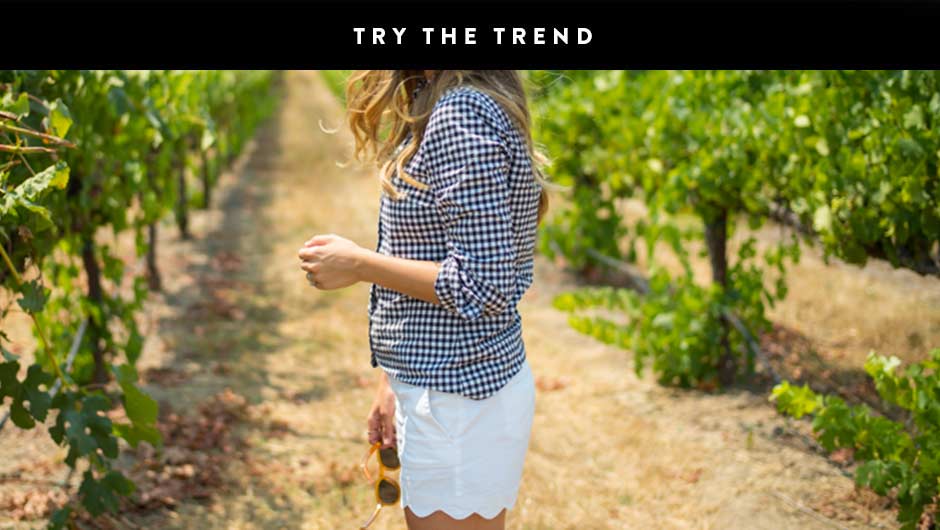 Tired Of Denim Cutoffs? Switch Things Up This Summer With A Pair Of Scalloped Hem Shorts
These Are My Go-To Denim Shorts For Summer–They're Soft, Not Too Tight And Look Good With Everything
If you've been searching for the perfect "cool girl" pair of denim shorts for this summer, you can stop looking! I found the best pair of super cool shorts for this summer. The Topshop Ripped Mom Shorts are my new go-to. They came in the mail last week and I've been obsessed ever since. As we speak, I'm rocking these shorts over a super cute one-piece swimsuit on the beach and they look so. good. They also look amazing with a crop top and sneakers, or a sweatshirt and sandals! The ways you can mix and match these shorts are endless. The thing I love the most about these shorts, is that even though they're denim shorts, they don't feel uncomfortable at all. A lot of denim shorts I've owned in the past are tight and uncomfortable, but these feel so soft. Not to mention, they fit so well. They're super flattering, but not tight on my hips or waist. You can thank me later, but right now check these out for yourself! Topshop Mom Shorts ($60) Don't forget to check out gingham print shoes and the leave-in conditioner you need if you're going heat-free this summer.
Nordstrom Has Tons Of Awesome Denim Shorts On Sale For $30 Or Less Right Now
Summer is officially here, which means it's time to bust out the denim cutoffs! Don't have a go-to pair? We can fix that. Nordstrom has an amazing selection of must-have denim shorts and right now, tons of them are on sale for under $30. Yes, really; denim shorts that look good with everything and can be worn all summer for less than $30. Better snag a pair below before they're gone. They definitely won't last at these prices! BP. Fray Hem Denim Shorts ($26.98, down from $45) Jagger Frayed Cutoff Denim Shorts ($28.80, down from $48) Rose Bowl Denim Shorts ($28.80, down from $48) Triangle Hem Denim Shorts ($28.80, down from $48) Volstone Micro Denim Shorts ($29.40, down from $49.50) Release Hem Denim Shorts ($29.40, down from $49) Fray Hem Denim Shorts ($29.40, down from $49) BP. Cuffed Boyfriend Shorts ($29.40, down from $49) SHOP DENIM SHORTS ON NORDSTROM NOW Don't miss $37 Kate Spade wallets and the best full coverage underwear. [Photo: Nordstrom]
4 Types Of Shorts You Should Definitely Own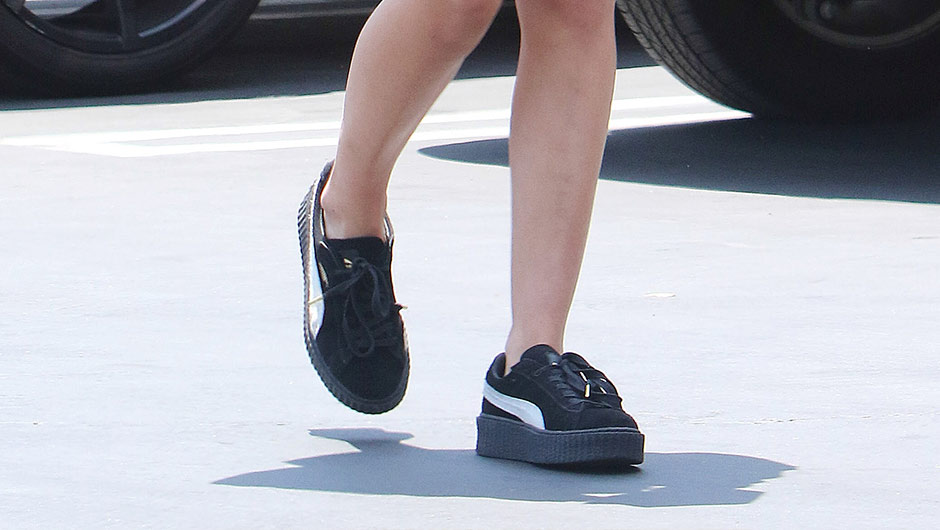 These Are The Best Sneakers To Wear With Shorts
When It's Too Hot For Denim Cutoffs, These Floral Print Shorts Will Be Your Lifesaver
Shop Our Favorite Shorts With Bow Details For Summer Starting At Just $19
Shop The Best Denim Cutoff Shorts For Summer Under $35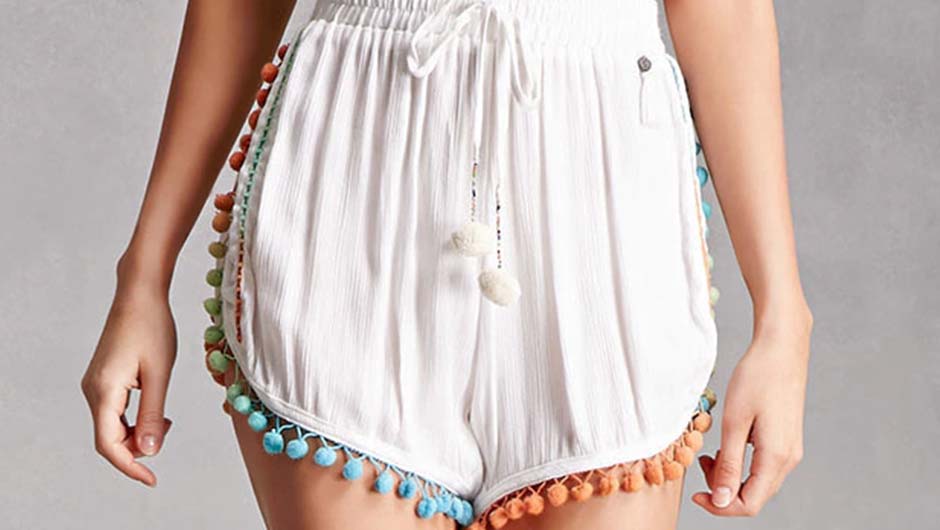 Perfect For The Beach Or Brunch, Pom Pom Shorts Are A Wardrobe Essential This Summer
When It's Too Hot For Denim Cutoffs, These Pretty Printed Shorts Will Be A Lifesaver
Drop Everything–The Perfect Denim Cutoff Shorts Are On Sale For Just $29.99 Right Now
Just how do I know these shorts are perfect? I own not one, not two, not three but a whopping four pairs of these Levi's 501 shorts. (Want proof? Here's me wearing them in Mexico. And again in Hawaii.) Yes, they are that good. Now before you think you have to be super skinny and svelte to pull off these cutoff shorts, you're wrong! Full disclosure: I don't have a thigh gap and they are my absolute favorite denim shorts. They're actually the only shorts I own now. After I tried them last year, I gave away all my others and replaced them with these 501 in every color and wash. The best news of all? They're currently on sale for less than $30 at Zappos! My advice? Get every color ASAP because they are amazing and you'll wear them all summer. Levi's Womens 501 Shorts ($29.99, down from $49.50) Levi's Womens 501 Shorts ($29.99, down from $49.50) Levi's Womens 501 Shorts ($29.99, down from $49.50) Levi's Womens 501 Shorts ($29.99, down from $49.50) PS: There are actually loads of amazing steals in the Zappos sale section. They have adidas Superstar sneakers on sale, crazy cheap Havianas flip flops and even Hunter rain boots! Be sure to check out these crazy cute cutout leggings and Converse sneakers on sale. [Photo: Zappos]
Can Someone Please Explain What Is Wrapped Around Kendall Jenner's Ankles?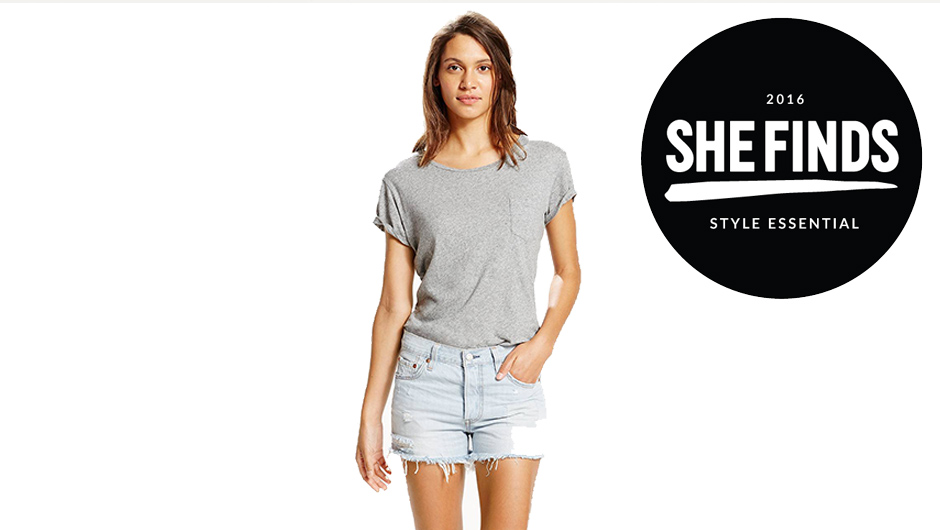 These Are The Best Denim Cutoff Shorts If Your Thighs Rub Together
No matter how much I work out, I will never have a thigh gap. It's a fact that I've accepted. But denim shorts that rise up in between my legs when I walk? I refuse to accept that, which is why I made it my mission to find a pair that looked great, but also stayed in place. The winner? Levi's 501 Shorts ($49.50). The 2.5 inch may seem short, but rest assured there's no visible butt cheek and they hit in just the right place to prevent bunching. I already own three pair--they're that good. A few notes of caution: sizing can be a bit tricky. My usual denim size was way too small and tight, but the size up was perfect. I could even afford to go two sizes up to achieve the slouchy "boyfriend" look. Also, I would advise against washing them after every wear (use these guidelines instead!) and drying is definitely a no-no to prevent shrinkage. Have another pair of denim shorts you love? Please share in the comments! 501 Shorts ($49.50) Be sure to check out where to buy Rihanna's PUMA creeper shoes and how to wear a denim skirt. [Photo: Levi's] Follow me on Insta!
Summer's Best Denim Shorts Under $50: Ripped, High-Waisted, More
PHOTO: Is Kim Kardashian Trying To Bring Back Spandex Biker Shorts?
Love or hate her style choices, there's no denying that Kim Kardashian isn't afraid to take fashion risks. Her latest leap of faith is wearing spandex biker shorts. Yes, they are exactly like the ones you're picturing from 1991. Kim visited the Snapchat headquarters wearing the shorts in question, paired with an oversized, studded motorcycle jacket, a white long-sleeve lace-trimmed top, and burgundy sandals. Of course, she accessorized with a thick black choker, so hot right now. Tbh, I don't really get the look she's going for, but I'm not the one going to the Met Ball or landing Vogue covers. So maybe it's time to break out the spandex biker shorts... In case you're looking for a pair, here's a good one: Outdoor Voices Biker Shorts ($60) Don't forget to check out: Lauren Conrad is coming back to The Hills and Khloe Kardashian's new boyfriend [Photos: Splash News]
Designer Denim Shorts And Skirts Start At Just $29 At Saks Off 5th Today!
SHEfinds receives commissions for purchases made through links in this post. If you're on the East Coast or in the Midwest, it may feel like warm weather will never come, but trust me: spring and summer will be here before you know it. And because you can't wear pants and jeans forever, I suggest you head over to Saks Off 5th ASAP. Why? There are loads of super cute designer shorts and skirts on sale starting at just $34.99. I'm talking J Brand, 7 For All Mankind, Frame, Genetic Denim and more all for less than $40! Want even more good news? All the items we're loving below are an additional 15% off with code EXTRA15 at checkout. Hurry and shop now so you're ready when spring weather arrives later. Genetic Los Angeles Farrah Frayed Denim Shorts ($34.99, down from $138) Paige Indio Zip Denim Shorts ($39.99, down from $169) 7 For All Mankind Washed Twill Cut-Off Shorts ($34.99, down from $148) Genetic Los Angeles Gordon Distressed Denim Skirt ($39.99, down from $163) J Brand Low-Rise Printed Cut-Off Shorts ($39.99, down from $158) FRAME DENIM Le High Denim Mini Skirt ($39.99, down from $169) 7 For All Mankind Distressed High Waist Shorts ($44.99, down from $189) J BRAND 7036 Lela Distressed Denim Skirt ($48.99, down from $228) SHOP MORE DENIM DEALS AT SAKS OFF 5TH NOW Don't miss Nordstrom' $12 accessories sale and the Bloomingdale's friends and family sale.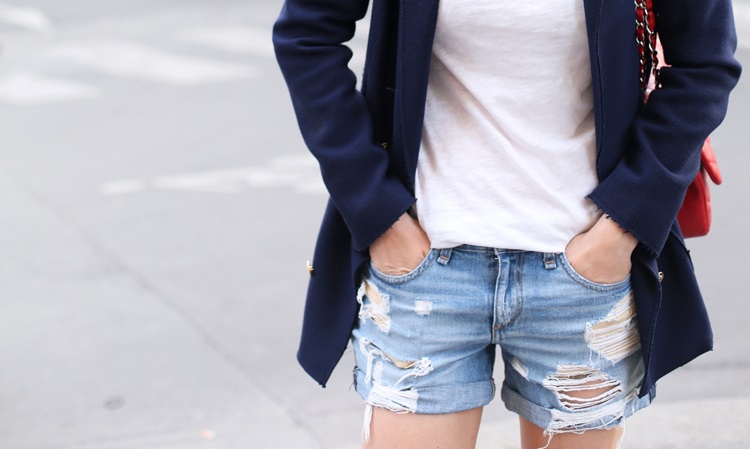 26 Denim Shorts Outfit Ideas That Will Get You Seriously Pumped For Summer
Gwyneth Paltrow Wore Long Silk Shorts And Looked Pretty Darn Cool Doing It
Gwyenth Paltrow can be a bit, umm, out of touch, at times, but we have to give props where they are due. GOOP recently wore these Mother of Pearl Kidd Border-Print Silk Shorts ($450) and she kinda slayed it. Long, printed silk shorts don't exactly sound like the easiest item to pull off, but on Gwyneth they look pretty awesome. Brave enough to try the look yourself? Shop GOOP's exact shorts below. Mother of Pearl Kidd Border-Print Silk Shorts ($450) Be sure to check out Alessandra Ambrosio's denim romper, Kourtney Kardashian's flare jeans and Julianne Hough's leather backpack. [Photo: Splash News]
Ditch The Dresses And Skirts–Wear These To Work This Summer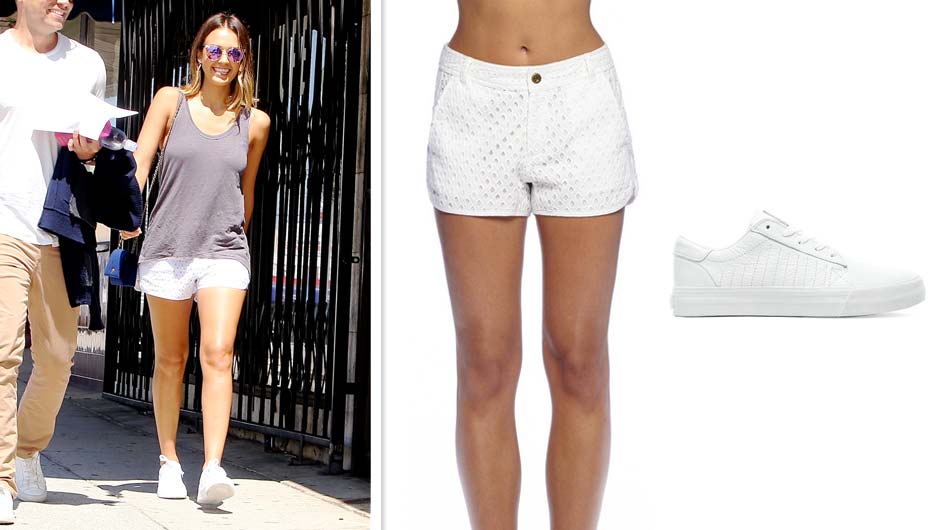 We Have A Feeling You'll Appreciate The Price On Jessica Alba's Eyelet Shorts
You have been diligently working on that perfect summer glow (with lots of SPF of course) and now you need the wardrobe to flaunt it. Jessica Alba, always tan and toned, showed off her glow in these Michael Stars Eyelet Shorts ($128) and Supra Belmont Sneakers ($95) while running around with her children in Cali. Now truth be told, we'd pay a small fortune to look as good as Ms. Alba, but luckily we don't have to. Both her shorts and kicks are super affordable! Snag both her items below. Michael Stars Eyelet Shorts ($128) Supra Belmont Sneakers ($95) Don't miss Blake Lively's sandals, Kendall Jenner's chambray shirt, and Jessica Alba's trouser jeans. [Photo: Splash News]
If Cutoffs Aren't Your Thing, Try Boyfriend Shorts Instead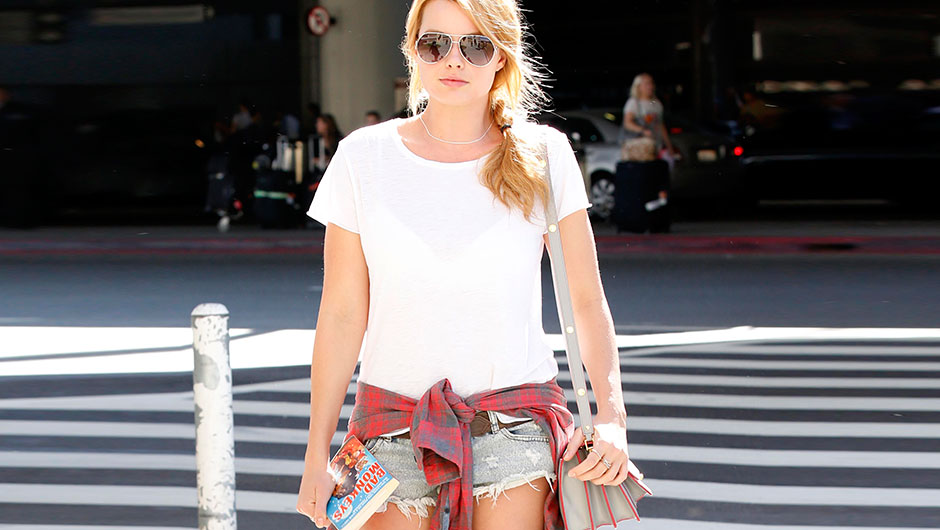 Who Wears Short Shorts? These Celebrities Do!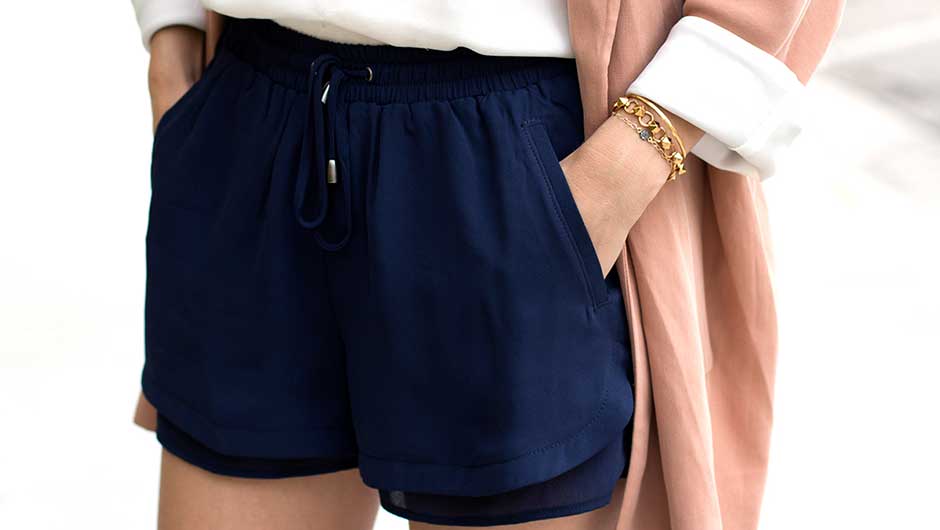 Jogger Shorts Are The Only Shorts You'll Need This Summer
Jennifer Lawrence In Cutoffs Is So Refreshing Since She's Not A Stick (Go, Girl!)
When it comes to house hunting, we know Jennifer Lawrence will find something amazing- -which is exactly how we feel about this outfit she wore to go house hunting in NYC last week. The Oscar winner wore Rag & Bone/JEAN The Cutoff Shorts ($175) with Gianvito Rossi Halter-Strap Sandals ($695) and carried this woven Elizabeth and James Basketweave Mini Bucket Bag ($445). Yes, we literally love each and every piece of this look, including the straw fedora and casual gray top she chose. Just because it is hot in the city does not mean your style has to melt too. Shop her denim, heels and bucket bag below! Rag & Bone/JEAN The Cutoff Shorts ($175) Elizabeth and James Basketweave Mini Bucket Bag ($445)   Gianvito Rossi Halter-Strap Sandals ($695) Don't miss out on Vanessa Hudgens' romper, Beyonce's white jeans, and Rihanna's leather tank top. [Photo: Splash News]
Do People Actually Wear These Super Short Cutoffs?
Your Summer Shorts Should Be Bright & Printed, Just Like These Pairs
Paperbag Pants & Skirts—AKA The Cool Way To Wear An Elastic Waistband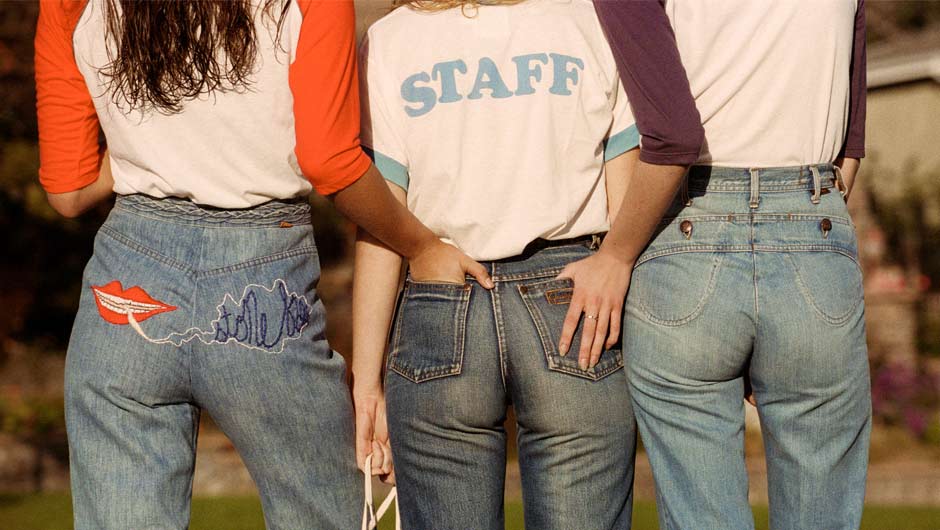 This New Collection Totally Nails 70s Summer Camp Fashion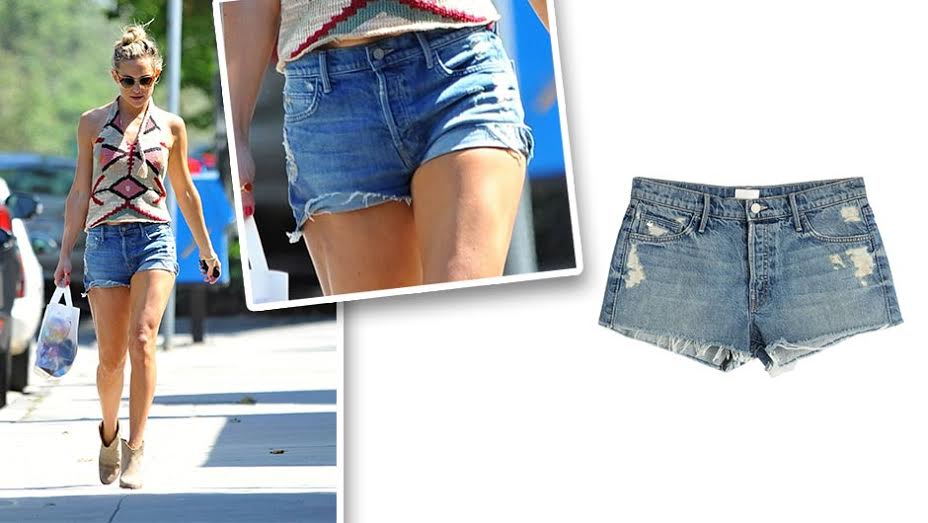 Kate Hudson In These Denim Short Shorts Is Giving Us Serious Can't-Wait-For-Summer Vibes
Okay, first things first: let's all take a minute to give Kate Hudson major props for those legs. She is slaying in these Candice Swanepoel + MOTHER The Stunner Fray Shorts in Hijacking The Runway ($285). Also, she is making us wish it was hot and sunny like ASAP. If you're lucky enough to live somewhere that is warm right now, you have no excuse--snatch these babies up ASAP! And even if you don't, it will be warm soon enough so treat yourself to a pair, too. Candice Swanepoel + MOTHER The Stunner Fray Shorts in Hijacking The Runway ($285) Be sure to check out Beyoncé's black and white skirt, Kate Hudson's Michael Kors bag and Jessica Alba's studded sandals. [Photo: Splash News]
Stock Up On These Flattering Tulip Shorts For Spring
For The Girls That Hate Booty Shorts: Long Shorts Are BIG For Spring
Is It OK To Wear Short Shorts If You're Over The Age Of 50?
CNN Newsroom anchor Carol Costello recently wrote a piece titled, "I'm 53. I'll Wear Short Shorts If I Want." She shares her opinion on J.Crew's latest Style At Every Age editorial, in which the retailer declares short shorts are not for women who are over the age of 49. But this only touches on a larger topic that Costello describes as, "schooling older ladies on what they should or shouldn't bare." Back in 2010, Oprah.com published a story claiming woman of a certain age should not wear Uggs or neon nail polish. We even have a list of 30 Things You Should Not Own Over The Age Of 30. Do you agree with these lists or are you on Carol Costello's side? Let us know in the comments below! READ CAROL'S FULL STORY HERE [Photo: Shutterstock]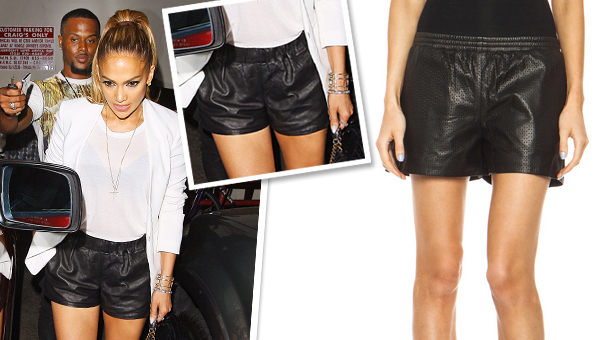 Your Summer-To-Fall Wardrobe Needs Jennifer Lopez's Leather Shorts
If there's one thing your summer-to-fall wardrobe needs it's leather shorts. They're perfect for the weird in-between weather when it's too hot to wear pants but just doesn't feel like summer anymore. Jennifer Lopez is already one step ahead of you on this. Girlfriend is 45-years-old and looking gooooood in her Vince Boxer Leather Shorts ($322, down from $495). If you want her pair, you better act fast. There's only one size left. Boxer Leather Shorts ($322, down from $495) For more celebrity style, check out: Emmy Rossum's LOFT dress, Beyonce's denim skirt and Gwen Stefani's overalls [Photo: Splash News]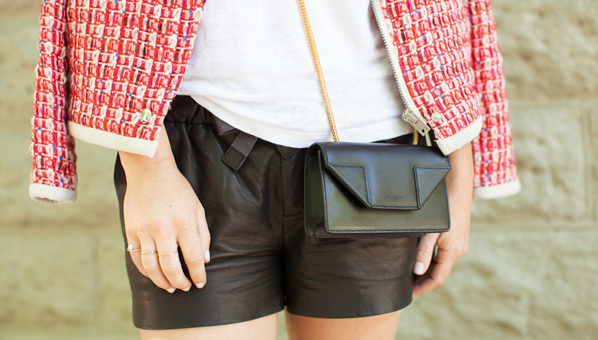 16 Shorts You Can Wear To Work Because August Is The Hottest Month EVER
Even though you may think summer clothing, like sleeveless dresses, denim shorts and muscle tanks, isn't important anymore, you're wrong. August is the HOTTEST month in the year: so go all out with your deodorant. Dressing for work in the heat can be tricky, but we have the answer: shorts. Yes, you read that right, you can wear shorts to work. A lot of people believe that these bottoms aren't appropriate for the office, but we say otherwise, especially when the temps are hitting close to or at 90 degrees every day. And since every office has a different dress code, we put together three different ways to wear shorts to work, so take advantage of it! The men in your office have to sweat it out in their suits all day. 1. Long shorts Think in-between regular and bermudas for this length. Usually, these shorts are made with suit material, so it's best to wear them with blazers, cardigans, chiffon tops, button downs and heels to complete the style. They are a little more on the expensive side, but you can take this item from day to night no problem. It's a great investment. 2. Shorts that look like skirts These shorts basically give you a freebee when it comes to dressing up for work. Since they look like skirts, people will assume you're wearing one, except you won't flash people and go all Marylin Monroe when a huge gust of wind surprises you. It's fun to wear flowy, patterned shorts with a solid top and sandals or oxfords. When wearing plain shorts, either pair with a patterned top or go for a monochrome look with a bold necklace. 3. Structured shorts Though these shorts can be on the shorter side, make sure they are made out of a good material that is work appropriate, like cotton or leather. Because you are wearing shorter bottoms than most people, be sure to pair them with shoes that will balance out the look like espadrilles. Match these shorts with nice tops and a statement necklace to look professional. So take a look at this slideshow and buy some workplace-approved shorts to wear. And be sure to check out 10 editors to follow, Spanx jeans  and 7 bloggers to follow on Instagram [Photo: Cheetah Is The New Black]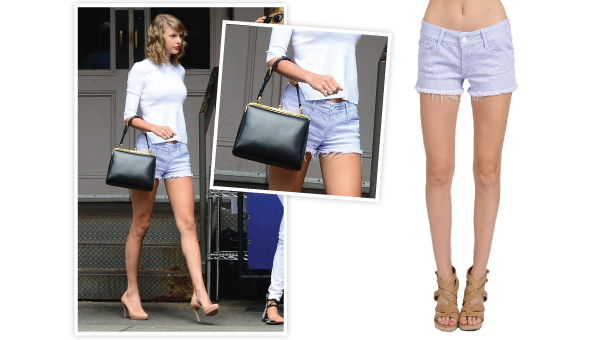 Can We Please Discuss How Taylor Swift's Black Orchid Cutoffs Are 70% Off?!
First the bad news: those cute pinstripe shorts Taylor Swift was snapped strutting around N.Y.C. in? Yeah, they're Black Orchid's Black Star Cut Off Shorts in Skyfall Pinstripe  and they're already sold out. But there is good news! The striped pair may be gone, but the Black Star Cut Off shorts come in loads of other washes and colors and even better, tons of them are currently on sale for up to 70%! Oh yes, we're talking T Swift-approved denim cutoffs for $32, down from $106. Click through the slideshow to shop the must-have shorts on sale. Don't miss out on Reese Witherspoon's Crop Top, Jessica Alba's floral skirt, Kourtney Kardashian's loafers and Beyonce's romper from Etsy. [Photo: Splash News]
26 Shorts That Look Like Skirts, So You Don't Have To Worry About Flashing Randos
It's the end of July, but the heat just keeps on coming. And on top of that, you still need to look presentable for work while making it through your morning commute. Oh, and sweat marks? You're definitely going to need these tips to stop them from ruining your clothes. We totally get it: you are so over summer, or at least the gross sticky feeling that comes with temperatures over 70 degrees. Isn't there a way to look good in the heat without really trying? Your answer: shorts. No, not denim shorts. Flowy shorts! This season, these breathable bottoms are a major trend, and why wouldn't they be? Besides being super comfortable, they have the light and airy look of a skirt, but won't fly up with a huge gust of wind. You may not think that's a reason to skip skirts, but trust us: you do not want that happening. So when you're feeling incredibly lazy and are over putting in any effort, just pull on a pair of flowy shorts and call it a day. Also read up on Olivia Palermo's shoe collection, Reese Witherspoon's adorable two-piece outfit, and Prince George's official birthday picture [Photo: Always Judging]
50 Denim Cut Offs Under $50 In EVERY Color You Could Possible Want
Even though we're still a few weeks away from shorts season, I am SO ready to break out my denim cut offs. For those of you who have been wearing them when it's 65 degrees out...props. I love my cut offs, but not enough to wear them and feel like I'm starring in Frozen. You've probably stalked all the pics of celebs at Coachella, or maybe you were lucky enough to see them in person, but either way, you definitely know they were ROCKING jorts. It made me seriously jealous...but also got me thinking that even though it's too early to wear them, I can still get some new denim cut offs to add to my collection. Since I'm not replacing my jorts, I don't really want to spend that much on them, you feel me? So I decided to look for some under $50 ones, and what do you know, there's A LOT out there. And I felt the need to share my findings with all of you. Click the slideshow to see 50 denim cut offs, in all different washes, for under $50. And don't forget to check out: Michelle Obama's Easter dress, 25%-off sale at Tory Burch and white sneakers are trending for 2014 [Photo: Creators Of Desire]
Did These Brands Really Just Knock Off American Apparel's Shorts?
American Apparel better watch out, because apparently, it is very easy to get ahold of their printed denim and knock-off their shorts. I've actually been eyeing a pair of the American Apparel Sunflower Print Stretch Bull Denim High-Waist Cuff Shorts ($60) for over a year, but I just can't justify spending that much money on festival clothes. But now I don't have to! Three retailers, SheInside, Choies, and Forever 21 are selling look-alikes of AA's most popular high-waisted shorts for under half the price. Come on, American Apparel. Step up your game. Why should we buy your $60 shorts when the cheaper ones are exactly the same? These knock-offs are actually so good, that we can't even tell the difference. Can you? Click through our slideshow to find out which pair is real and which is the AA knock-off. If you guessed right, let us know the comments. For more knock-offs, check out: Karl Lagerfeld knocked off New Balance, pearl chokers, and studded pumps.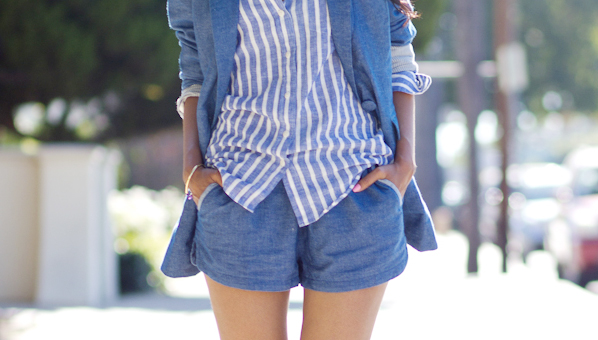 15 Chambray Shorts That Will Have You Saying 'Peace Out, Cutoffs'
You already know our love of chambray runs deep. It's the perfect alternative to denim come summer when you want something lighter and looser than the heavy fabric. We know nothing can replace the fit and feel of a good pair of denim cutoffs, but chambray shorts are just what you need for one of those "I have nothing to wear" days. And you're bound to have a lot of those once we're wearing warm weather clothes on the reg. If you thought the best thing about these bottoms is their soft material, wait until you hear this. Designers like Splendid and Joie added drawstrings and elastic waists to their styles to make the shorts THAT much comfier. If you're looking for a pair to dress up, then check out designs from Vince and 3.1 Phillip Lim, who both created tailored pairs with button closures. We rounded up 15 of the best chambray shorts, in all styles, so you're bound to fall in love with at least one pair. For more trends we love, check out: 50 pairs of spring flats under $50, geometric print pieces and mirrored sunglasses [Photo: Walk In Wonderland]
It Was Love At First Sight When We Saw Fergie In These Heart Print Shorts
An easy way to get into the spring spirit? Bring out the pink! Fergie strutted her post-baby bod in a head-to-toe Stella McCartney pink outfit, including printed hearts. Feelin' the love today Ferg? We are definitely loving on the shorts and since wearing hearts is totes acceptable year round (see Victoria Beckham), we are tempted to snag the Stella McCartney Heart Print Shorts ($775). Yea, that price tag is a little hefty, but think about all the compliments you'll get while everyone checks out your legs. Score a pair below. Stella McCartney Heart Print Shorts ($775) Don't miss out on Sarah Hyland's festival accessories, Selma Blair's bag,  Jennifer Lawrence's sunglasses and Kourtney Kardashian's matching set. [Photo: Splash News]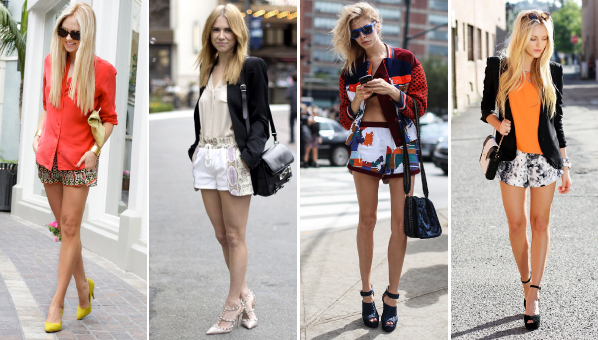 13 Soft Printed Shorts That Are Just As Comfy As Your Pajama Bottoms
We knew that printed pants would be a trend this spring, but printed soft shorts just took lazy-girl style to a whole new level. We first saw them this season styled by some of our favorite fashion bloggers, and we were instantly obsessed. Some would argue that these silky bottoms look like pajamas, and we're the first to admit that they do. But when worn right, printed shorts are pretty great. Who wouldn't want to look super cute and feel like they're wearing PJ's at the same time? It's a win-win situation. Now we're sure this will probably end up being a trend that men hate, but do we really care? Whether you dress them up with heels and a nice top, or dress them down with flats, sandals or sneakers, these are an easy fix to that "I have nothing to wear" problem plaguing all girls. So now that you've seen some of our favorite bloggers wearing them, you can wear them with confidence too! Check out some of the best pairs in our slideshow, because the hot weather is coming and you won't want to be stuck without a pair of these in your wardrobe. If you like comfy printed shorts, you should definitely check out: printed track pants, jumpsuits, and denim cutoffs. [Photo: Always Judging, Peace Love Shea, Lee Oliviera]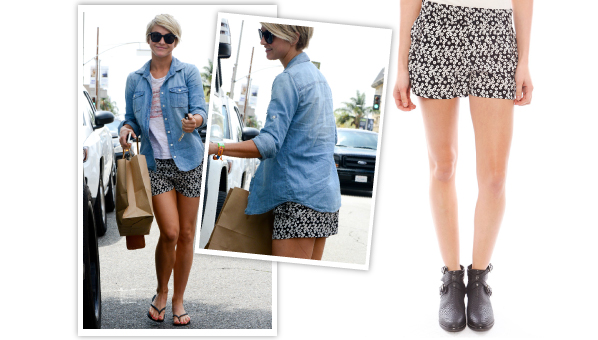 Who Wears Short Shorts? Julianne Hough Does–And We Want Them.
Julianne Hough is probably still recovering from her Coachella hangover--but she's doing so very stylishly, if you ask us. The dancer/actress/triple threat just stepped out in LA wearing these Pam & Gela Daisy print shorts ($195), which we are loving for spring. The printed short shorts are a welcome alternative to the denim cut-off if you feel like you're too grown to wear jorts. Pair them with a chambray shirt like Julianne's and low booties for a just-running-errands-like-a-boss look. Easy peasy. GET JULIANNE'S SHORTS HERE
All The Pretty Ladies Of Coachella Wore Denim Cut Offs–And Now It's Your Turn
The Polar Vortex is officially gone, Coachella just wrapped, and temps are climbing higher on the East Coast. You know what that means--IT'S OFFICIALLY JORTS SEASON, YA'LL. Denim cutoff shorts (which we fondly call jorts) were all over Coachella this weekend, with celebrities like Vanessa Hudgens, Shenae Grimes, Hilary Duff, and Jamie Chung (clad in her trusty denim cutoffs from Lovers & Friends) sporting 'em like old pros. Now, we know jorts are basically a summer wardrobe pre-requisite, but it's been so long since we've been able to rock them, we could use a little inspiration for new warm weather outfits. So, we looked to the stars to help us! Check out these 8 denim cutoff styles the stars wore to Coachella this weekend that we loved--and are giving us a few ideas on how to wear ours this summer! For more celebrity style, don't forget to check out Leann Rimes' white jacket, Kate Middleton's go-to outfit, and Zooey Deschanel's Tommy Hilfiger collection.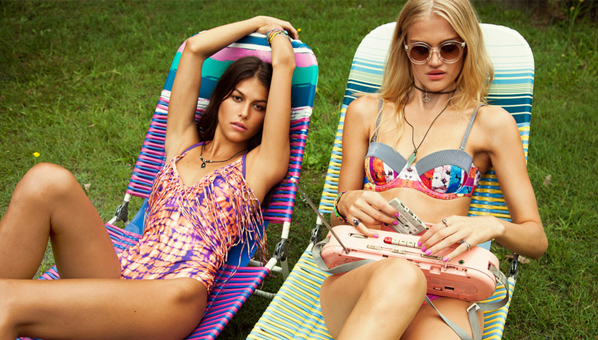 50 Spring Break Essentials Under $50
It's a good thing spring break is almost here, we're seriously over this cold weather. Even if you're not in college and going somewhere to party all day and night, it's still that time of year to take a vacation. So for those of you who have a warm weather getaway coming up, we're putting our jealousy aside and helping you shop for the trip. You're probably wondering where you can get shorts, bikinis and sandals when it's snowing outside, right? Well, lucky for you, stores are waaaay ahead of the game and have plenty of summer clothes available to shop right now! But just because you spent some dough on a flight and hotel, doesn't mean you need to blow even more money on clothes, shoes and bags. We've rounded up the best of the best spring break essentials under $50, so you can save some money for great food and activities on your vacay! Click the slideshow to see everything you need for you trip--take us with you please! And don't forget to check out: 5 collabs you might have missed, the best selfie ever and celebrities who beat acne [Photo: MinkPink]
How To Wear Jogger Shorts (Yes, You Can Do It. No, You Don't Have To Be Gisele.)
We've been seeing sporty jogger shorts everywhere this season. With an adjustable drawstring waistband and a fairly forgiving fit, they're a fun departure from regular shorts and despite what you're probably thinking, they can actually be flattering--if your wear them right. Which of course begs the question: how the heck do you wear them without looking like you're about to embark on a run? We've got a few styling tips that will guarantee passersby know you're headed to the latest hot spot, not the gym. It's easy: 1. Pair joggers with wedges or heels. Elongate your legs, and eliminate any confusion about whether you're about to exercise. 2. If you must wear flats, opt for strappy gladiators. They'll accentuate your gams and play nicely off the sporty trend. 3. Wear a structured, tucked in top. We're big fans of slouchy off the shoulder tees and sweatshirts, but with these shorts, opt for something a little dressier. Otherwise, your outfit may look sloppy. 4. Fit is key. If they're too small, joggers bunch unattractively around your thighs. If they're too big, they resemble pajama bottoms. If you're in between sizes, we recommend going up a size and having your shorts tailored if need be. 5. Go for a wild fabric or crazy pattern. While basic gym joggers are often a solid color, this season's fashion joggers come in a variety of tribal, floral, and other trendy prints, as well as fun faux leather and metallic fabrics. Check out other bottoms we love for summer: light denim, tulip skirts, and slitted skirts! [Photo: Lee Oliveira]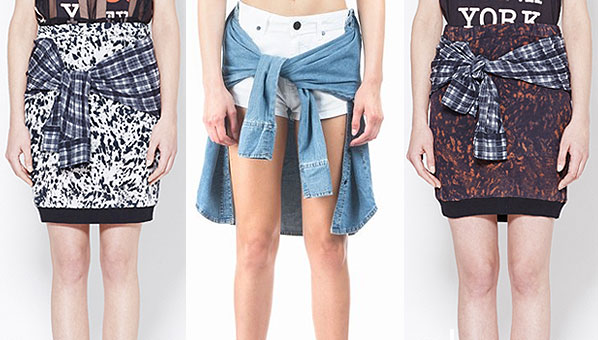 Why Tie A Shirt Around Your Waist When You Can Buy A $270 Skirt With Fake Sleeves?
Now that overalls are making a comeback, it only makes sense that other 90s trends follow suit. And nothing screams, "Angela Chase is my style icon" more than wearing a flannel shirt around your waist. I have to admit, I kind of love the whole "tying a shirt around your pants" trend (talk about convenient). I'm a sucker for 90s nostalgia: There's still a little part of me that wants to dye my hair red, lean up against a locker and dream about Jordan Catalano. When I saw that 3.1. Phillip Lim had a printed pencil skirt with a flannel shirt tied around the waist, I fell in love. Until I realized that the flannel shirt was faux. As much as I love the trend, there's no way I'd pay $270 (originally $450) for a skirt with a FAKE shirt tie around it. Maybe I could justify the price if I got a whole flannel, but just sleeves isn't going to cut it. Seriously, Phillip Lim, for once I don't need your designer expertise, I'm pretty sure tying a shirt around my waist is a DIY project I can handle. What do you think of the trend's revival? Check out the different grunge styles below and let me know what you think. 3.1 Phillip Lim 'Skirt with Shirt Tie' in 'Antique White' ($270, down from $450) 3.1 Phillip Lim 'Skirt with Shirt Tie' in 'Black' ($270, down from $450) Rihanna also jumped in on the trend with a pair of white shorts with a fake denim shirt attached. Her version is slightly more reasonably priced: Rihanna for River Island 'White Rihanna Tied Shirt Denim Shorts' ($125) For more 90s throwback fashion, check out Nasty Gal x Lazy Oaf, Rihanna's new River Island collection and our list of 90s TV style icons.
Is It Just Us Or Are These Current/Elliott Star Print Shorts Kind Of Amazing?
We're seriously digging this season's star print trend, which probably explains why we're currently coveting these  Current/Elliott The Boyfriend Shorts ($208). Not only are they the perfect denim cutoffs, but they're covered in metallic stars--what's not to love? We're thinking they'd be great 4th of July garb. The gold stars will offer a much-needed break from all the red, white and blue, but they're still patriotic. Plus, you could pair these shorts with anything from a plain tee and espadrilles to a gorgeous silk top and wedges. If the Current/Elliott star print jeans are an indication of how popular these shorts will be this summer, we say get yourself a pair now. GET YOUR STAR PRINT SHORTS NOW You'll also want to see this perfect-for-summer scarf, these rose gold flats and this maxi dress.